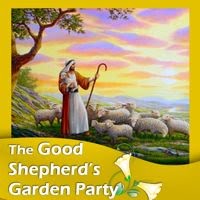 Today was the first "free" Saturday we have had in months (the boys Hockey lessons just changed from Saturday to Wednesday) so the plan was to spend the day working in the yard and cleaning out our little detached garage (so we have somewhere to move our kitchen/dining furniture, washer/dryer, etc. when we begin our remodel) and then have our second Good Shepherd's Garden Party.
I knew that it was going to be a busy day, and that I wouldn't have much time to spend in the kitchen, so I made a few little revisions, to further simplify the menu, and picked up a couple take-n-bake pizzas (while I was in town getting gas for our lawn mower) so that we could have our Garden Pizza Party for dinner.
We all enjoyed the party and I am so glad that this year's plans seem to be working out so well for our family! It is so much easier for me to plan and prepare, it gives my children something to look forward to and work towards all week, and it is so nice that Hubby can join the celebration!
Here are a few pictures from this week's party:
Captain helped me set the table and decorated the chairs with streamers.
Chiquita made our Sparkling White Grape Juice…
… and Twinkle Toes skewered the grapes and added them to the wine glasses.
This was the highlight of the menu to be sure! I served vanilla ice cream, and let the children make their own sundaes. What a treat!
I wasn't planning on including a picture of our pizza in my post. But really, it was SO GOOD! I picked up a Hawaiian Pizza for my children (their favorite) and decided to use my $4.99 coupon for a DeLite (thin crust) Pizza for Hubby and I. I think I have a new favorite pizza… Papa Murphy's new Chicken Pesto Pizza is delicious!! I substituted Spinach for the green onions, but I am sure it would be good either way.
Well, it is getting late and I need to get the children's Mass clothes ready for tomorrow and then try and get a little sleep. I'm looking forward to seeing everyone's Garden Parties over at Catholic Cuisine on Monday!