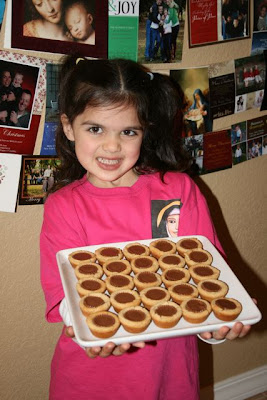 Last week I organized a cookie exchange for the girls and their friends. Each girl was to bring three dozen cookies so they could all assemble a couple cookie trays each, one for their family and one to give as a gift.
Chiquita decided to make Peanut Butter Cup Cookies (aka: Hershey's "Peanut Butter Temptations") as her contribution to the exchange. They turned out so delicious that I picked up a couple more bags of Reese's Peanut Butter Cups so we can make some for our family Christmas Party!
Peanut Butter Cup Cookies
Ingredients:
About 40 (13-oz. pkg.) REESE'S Peanut Butter Cups Miniatures
1/2 cup (1 stick) butter or margarine, softened
1/2 cup granulated sugar
1/2 cup packed light brown sugar
1/2 cup creamy peanut butter
1 egg
1/2 teaspoon vanilla extract
1-1/2 cups all-purpose flour
3/4 teaspoon baking soda
1/2 teaspoon salt
Directions:
1. Heat oven to 375°F. Remove wrappers from candies. Optional: Line small muffin cups (1-3/4 inches in diameter) with paper bake cups. (We omitted the paper bake cups and they turned out great!)
2. Beat butter, brown sugar, granulated sugar, peanut butter, egg and vanilla until light and fluffy in large bowl. Stir together flour, baking soda and salt; add to butter mixture, beating until well blended. Shape dough into 1-inch balls; place one in each prepared muffin cup. Do not flatten.
3. Bake 10 to 12 minutes until puffed and lightly browned; remove from oven. Immediately press peanut butter cup or piece onto each cookie. Cool completely in muffin pan. About 3-1/2 dozen cookies. (Using the small Pampered Chef Scoop, we ended up with almost 4 dozen cookies, though I did have to open a second bag of peanut butter cups.)