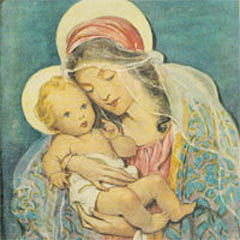 I came home from town this evening to an email from my friend
Shelly
asking for prayers for Liz.
"This sweet family is awaiting the inevitable. Liz has made it to 41 weeks carrying her 7th child. She is so thankful for the extra time with her son, Jedidiah Joseph. You see, Jedi has Trisomy 13…"
We have recently been praying for
Liz's brother
, Father Kevin Peek, and will most definitely be adding Liz and her family to our prayers as well. . . Will you please join me?
I just visited Liz's blog and saw the
beautiful picture
of her with her precious little one, who was indeed born today!!
Leave her some words of comfort and peace.
Let her know you're praying."