We completed the letter "S" on our Alphabet Path last week, and I do plan to post some pictures soon. This week we are taking another break and focusing on Spring Cleaning followed by a Spring Break next week for Holy Week! I'm sure glad I got such a good jump start last year before the baby was born, allowing for all these "breaks." 🙂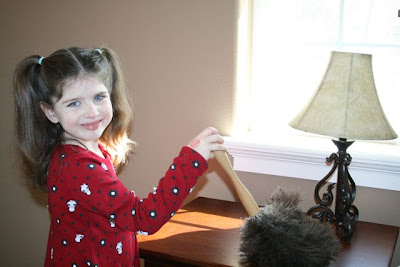 I am still working on filling
those 40 Bags
… I have six left, since I'm trying not to count anything that couldn't be donated (aka: trash). I'm hoping that as we Spring Clean this week we'll be able to fill them up and be finished.
Yesterday we started our Spring Cleaning in the Master Bedroom. I figured it was the one room that had the best possibility of staying clean, so I thought it would be a good place to start.
We all worked together and it didn't take too long at all. It is now the cleanest it has been since
last year
!
I had lots of (much needed!) help and we were able to get quite a few things checked off our list:
Remove Cobwebs
Dust light fixtures
Dust Ceiling Fan
Organize Bookshelf and Dust
Organize Night Stands
Put away any stray items
Clean Under Bed
Vacuum Under Nightstands & Bed
Wash Mattress Pad, Sheets and Dust Ruffle
Clean Windows (Inside)
Clean Mirror
Dust Statue & Crucifix
Dust Clock & Phone
Dust & Polish Furniture
Clean Fingerprints off Door, Walls & Switch plates
Vacuum Room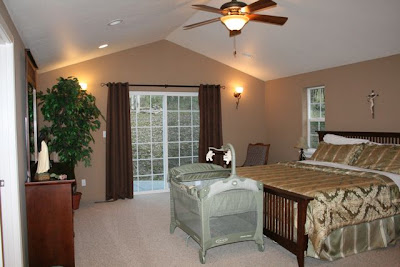 Still to do:
Replace light-bulbs in two of the ceiling can lights
Touch up paint scuffs in a couple spots
Clean Windows (Outside)
Look for Window Coverings
Find Decorative Pot for the Ficus Tree (a birthday gift from my mom)
Purchase new sheets (To replace the flannel, for Spring/Summer)
Fix Rocking Chair (This was another gift from my mom, last year. It was given to her by my Grandma (Dad's Mom) when she was pregnant with me! I need to try and figure out how to stop it from squeaking so badly… Any suggestions?)
Today we are moving on to the children's bedrooms. I've spent so much time in them this past year that I'm hoping we can get all three done today… I guess we will see!