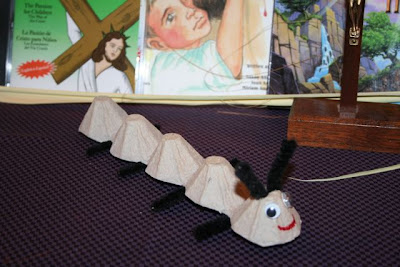 A couple years ago we did an easy little activity that I found in The Fifty Days of Easter for the Christian Family. We are doing it again this year!




A Caterpillar/Cocoon/Butterfly Project
Palm Sunday: Create a Caterpillar. There are many easy ways to do so: Egg Carton Caterpillar (like ours pictured in this post, from 2008), Construction Paper Caterpillar, Pom Pom Caterpillar, out of pipe cleaner, craft foam and Hershey Kisses, like we did for "K" Week, etc. Display the caterpillar in a place that the children will see it throughout Holy Week.

Good Friday: Have the children place the caterpillar in a paper bag cocoon.
Holy Saturday: After the children go to bed, depose of the caterpillar and replace it with a beautifully decorated butterfly.

Easter Morning: The children will open the cocoon to find the butterfly, which is a symbol of the Resurrection! This can then lead to a discussion about Jesus who rose from the dead, and in the future butterflies will remind them of our Resurrected Lord!
"The beautiful butterfly, with the power of flight, emerging from the apparently lifeless cocoon: what could be a more perfect symbol of the Resurrection?"

~ Fisheaters