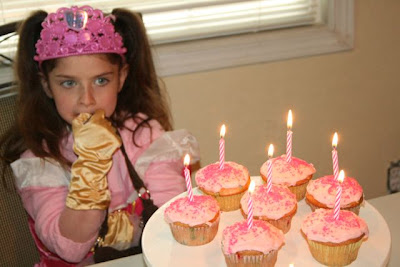 Our contractor is not only doing an amazing job, he has the sweetest family!! His wife, Jamie, surprised us (knowing that I've been on crutches & Sean's out of town fighting fires) with pink cupcakes for Twinkle Toes's 7th Birthday today!!
Since this summer has been so crazy, we had decided to wait until next year to have her "big" birthday party with all of her friends, but it was so nice to have some extra company since Hubby had to miss her birthday. . .
again
! The girls
(the contractor and his wife have 3 girls, all close in age to our 3 girls)
all dressed up and our little Twinkle Toes was able to have an impromptu
"princess birthday party"
after all!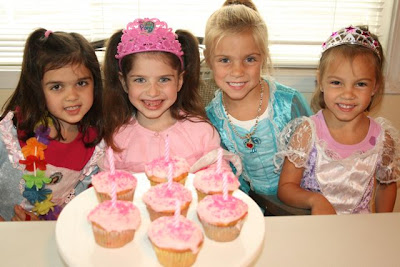 After we sang Happy Birthday and enjoyed the cupcakes, Twinkle Toes opened her gifts. The first gift she opened was some new Calico Critters to add to her collection, the
Hopscotch Rabbit Family
! Aren't Calico Critters the cutest!?! My girls love them!
Speaking of Calico Critters, Rascal surprised his sister this morning with a little birthday celebration scene he had set up in the
castle
last night, after the girls fell asleep. It was so cute!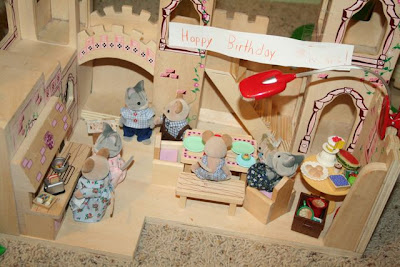 Twinkle Toes also received a new
skirt
/outfit, a
few
fun
cookbooks
to help break in our new kitchen, a
ladybug tree swing
, a few
fairy books
, and an
American Girl Doll
(which she loved, even though it wasn't the full-size version she had been hoping for. . . maybe someday!).
The kids and I all went out to dinner and then picked up a small cake at Baskin Robbin's before coming home. We'll bake the
princess cake
, which we had originally planned to make, to celebrate
just one more time
when her Daddy is home again. We sure miss him!!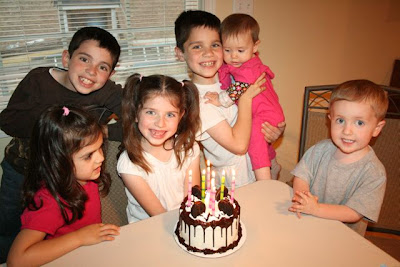 Happy Birthday Twinkle Toes!!