. . . Will you join me in praying?
I haven't had much time to blog lately – between contractors, homeschooling, doctors appointments, and a baby shower I hosted this past weekend – other than the novena to St. Therese Prayers and the giveaway posts. However, I wanted to to ask if you could all add one more very special intention to your prayers…
Last week, on Tuesday, September 21st, after putting a cake in the oven for my mom's birthday, I got online to check our email. I noticed a prayer request that had just come through from our Homeschool Group from my friend Kristin, Rascal's Godmother. Before I could even finish reading the first sentence, my eyes filled with tears and I couldn't finish reading. . . Our dear friend, Danielle, had just received the heartbreaking news that morning that her husband, Major Robert Baldwin – who had just been home for 2 weeks R&R, had been killed in a helicopter crash in Afghanistan.
I cannot even begin to imagine how difficult this is for Danielle and their 4 young children ages 8, 4, 3, and 7 months. Danielle has asked for prayers and I thought I would pass that request on to all of my friends and visitors here at Shower of Roses. I would like to send Danielle and her children a "Spiritual Bouquet" of prayers and was hoping that you all would join me in praying for Rob's soul and that our dear Lord will comfort Danielle and their beautiful children in this time of sadness.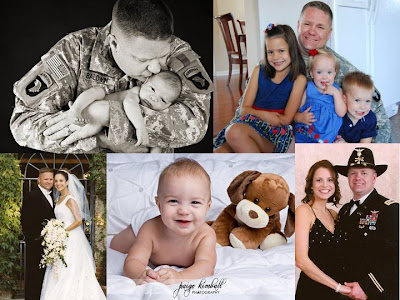 If you could either email me, or leave a comment below (by October 6th), specifying the number and types of prayers that you will offer and I will include them in a card for their family:
______Rosary
______Chaplet of Divine Mercy
______Holy Communion
______Masses
______ Holy hours
______Other Prayers
I've been listening to this song all week, since a friend shared it on Facebook…
Thank you all for your prayers!!