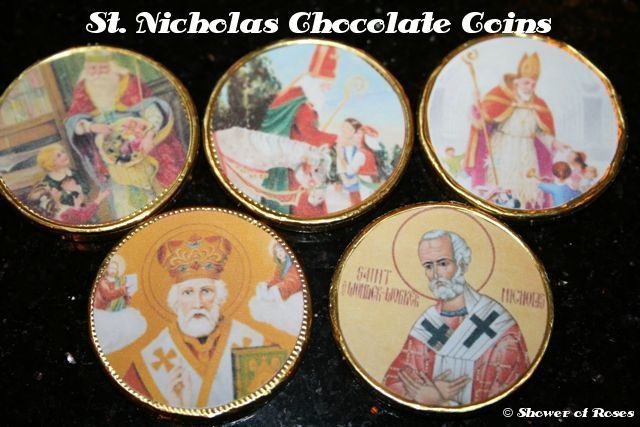 Every year on the feast of St. Nicholas, we give our children Gold Coins, Holy Cards, and a yearly "note from St. Nicholas" telling the children what they need to work on between now and Christmas.
For the past few years I have wanted to order the beautiful St. Nicholas embossed foil chocolates I have seen online, but just haven't been able to spend the money (It all goes towards books, if you hadn't noticed! lol!) and have settled for repackaging the dollar bags of chocolates from the local grocery store. (You can see an example in last years post for the Feast of St. Nicholas.)
This year I decided to come up with my own affordable alternative.  I am so excited!!!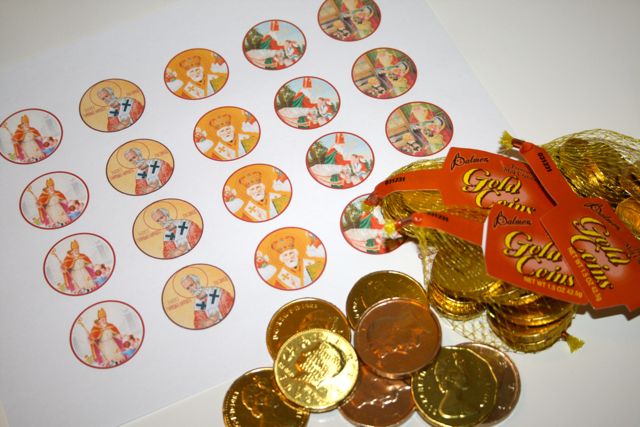 I cropped some of our favorite images of St. Nicholas to fit on the face of the large 1 1/2″ Chocolate Coins (The bags of coins are available for $1.00 per bag at many grocery stores, including the Dollar Store,  or you can purchase a 12 pack for $12.18 at Amazon right now. Update: I now buy them from Trader Joe's in lovely gold bags. Many options are available online), created a word document with all the images adding an optional border to the images, cut them all out, and then glued them to the front of the coins.
Didn't they turn out pretty?!?
I thought I would share my document with you all as an early Christmas Present in case any of you would like to do the same for your children.
St. Nicholas Chocolate Coins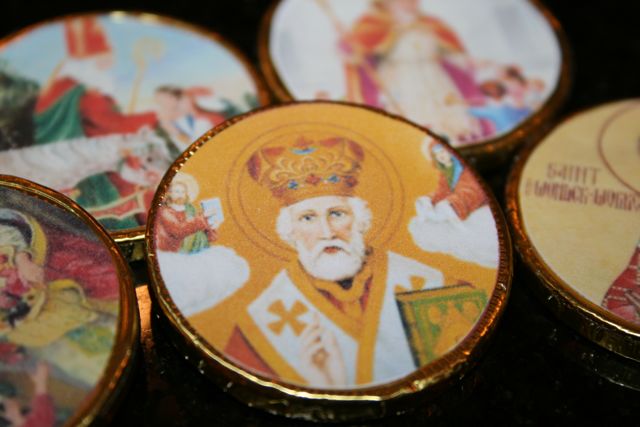 St. Nicholas Chocolate Coins Printable
Making these really got my mind spinning with all the variations I could make so I called my husband and asked him to bring home a few more bags of coins!
So, as a bonus, here are a few other documents I created.  Yes, I stayed up WAY too late! 😉
Christmas Chocolate Coins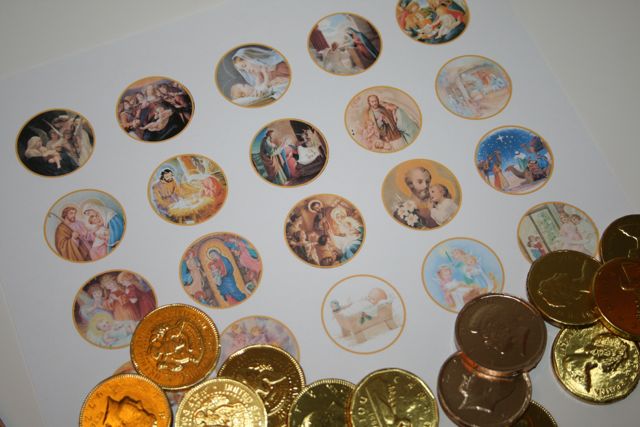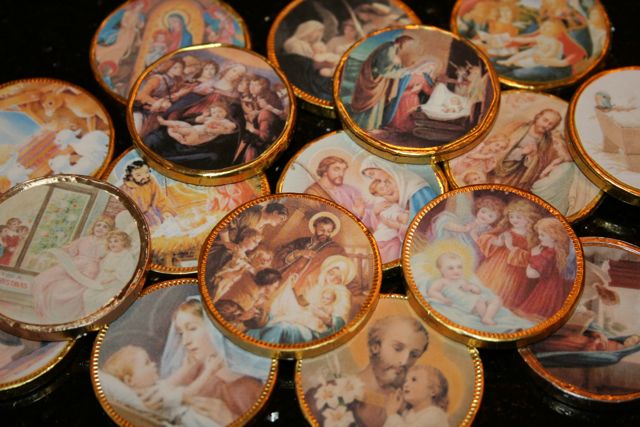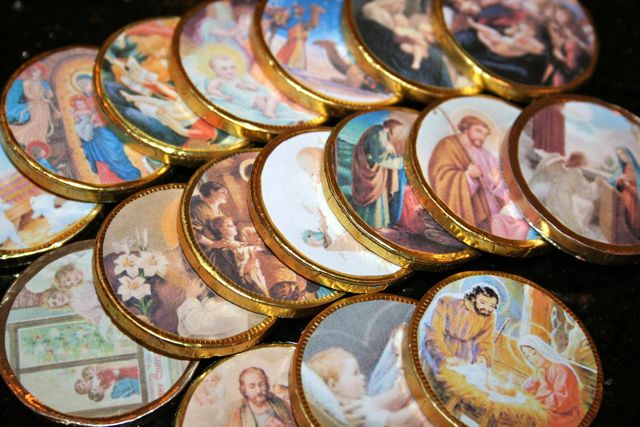 O Antiphon Chocolate Coins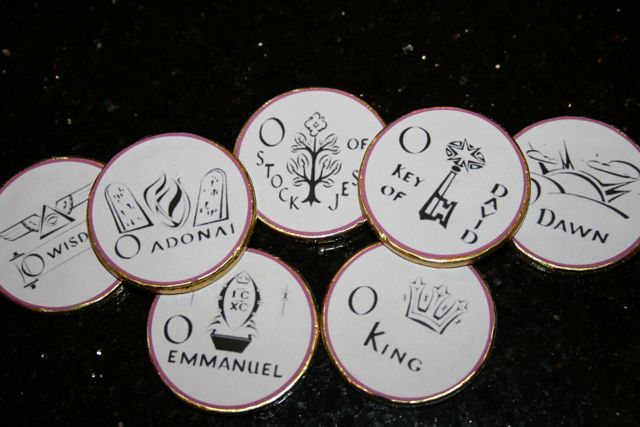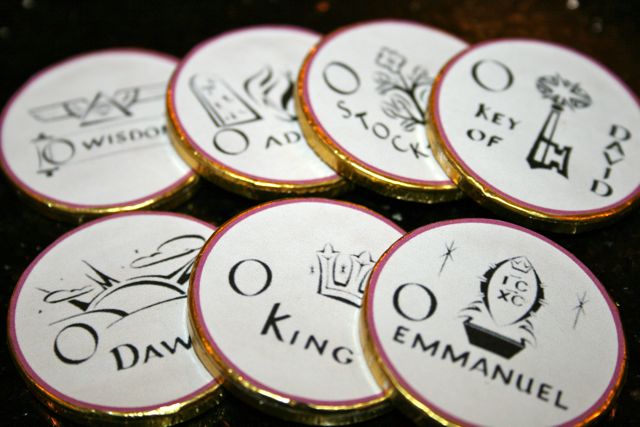 Jesse Tree Chocolate Coins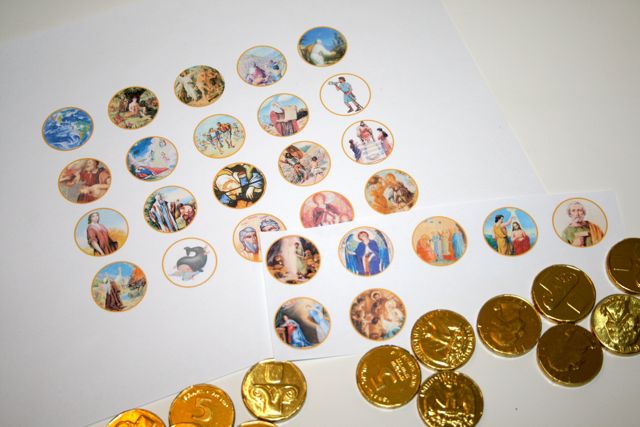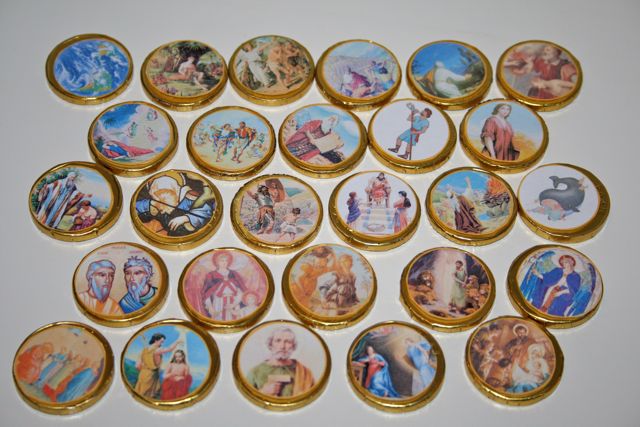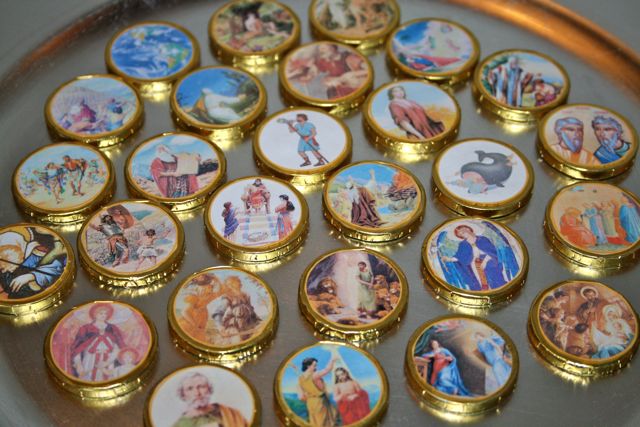 I made our Jesse Tree Coins using the smaller 1″ coins.   These would be a great alternative for ornaments (to go along with the readings and coloring pages) for a Jesse Tree if you attached a small piece of ribbon to hang them with and then they could be enjoyed on Christmas!   I think I will add the set I made to this year's Jesse Tea.
NOTE:  For 1″ Coins, just use the above documents printed at 70%!
I had so much fun making these and my husband loved how they turned out.  He suggested that Chocolate Coins with an image of the children's patron saints would even make great gifts from the tooth fairy!
I hope some of you are able to use this idea!  As always you are more than welcome to link to this post, but I do ask that, if you do, you link directly here and not to the documents at Scribd.  That way, if the documents ever need to be moved, your links won't be broken. (2016 Update: The documents did indeed need to be moved and are now available over at Dropbox. Please continue linking directly to this post.) Also, I always ask that my pictures are not reposted elsewhere without prior permission, but in this case, I will allow the one picture at the very top of the post to be shared if you wish.  Thank you for your consideration in this, I so appreciate all of my visitors here at Shower of Roses!
I hope your Advent is off to a very blessed start!