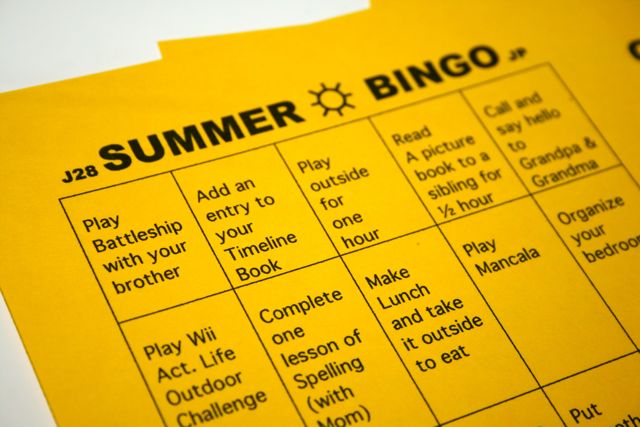 Between summer starting late around here (we were still using our heater a couple weeks ago!) and our home remodel, I hadn't thought much about what we were going to do for summer this year. . . However, now that summer has finally arrived my children are begging to be able to start earning tickets once again.
Although The Ticket to Summer has worked well for us in the past, there were a couple things that I didn't love. . . For some reason my children always seemed to choose the same activities (usually the quickest and easiest ones) to do over and over to earn their tickets. I ended up changing the rules so that they could only do each activity a limited number of times this week (for tickets)… That worked okay, but I still thought it would be fun to change things up this summer. So, inspired once again by my cousin who found the idea here, this year we will be playing SUMMER BINGO!!!
I adapted the template provided and filled it in with our own "tasks." (If you'd like, you can download our template here, though you may have to modify the margins on your computer since it is a word document. Here is also a blank template pdf in case you would like to just write in the activities.)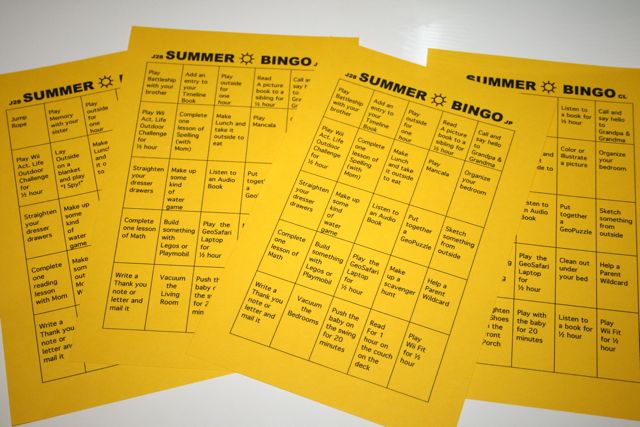 I'm sure we will be adding more ideas throughout the summer, but here is the list of "tasks" we've come up with to get us started:
Indoor Games:
Build something with Legos
or Playmobil

Play Battleship

Play Memory
Play Mancala

Play any board game with a sibling
Play on the GeoSafari Laptop

Put together a GeoPuzzle

Build something with blocks
Play Wii Active Outdoor Challenge
for 1/2 hour
Play Wii Fit
for 1/2 hour
Outside Fun:
Make up some kind of water game
Make up a scavenger hunt
Make an obstacle course in the yard and have a race
Play outside for one hour
Lay outside on a blanket and play "I Spy"
Play card games outside on a blanket
Draw with Sidewalk Chalk

Jump Rope
Make lunch and take it outside to eat
Play Soccer or Catch
Take photos of nature
Get a blanket and watch the clouds
Correspondence and Writing:
Call and say hello to Grandpa & Grandma
Write a thank you note or letter and mail it
Copy a poem and mail it to someone
Write in your journal about something you did recently
Add an entry to your Timeline Book

Write a short report (or narration) on a book you read
Complete a State-by-State Notebook Page
"Extra" Chores:
Clean out your sink
Clean out the beackseat of the car
Mop the hall floor
Vacuum the Bedrooms
Sweep the Deck
Check for Mail
Straighten the shoes by the front door
Straighten your dresser drawers
Clean out under your bed
Organize your bedroom
Wash a car
Dust for 20 minutes (ask mom)
Help a Parent Wildcard (parent chooses)
Reading, Math & Art:
Read for 30 minutes to a younger sibling or parent
Read for 1 hour on the couch on the deck
Read for 30 minutes outside on a blanket
Read for 30 minutes in a blanket fort
Listen to an audio book
Complete one lesson of Spelling (with Mom)
Play Math Shark
for 30 Minutes
Complete one Math Lesson
Play a Math Game
Color or Illustrate a Picture
Make something out of Modeling Wax

Put on a puppet show
Play dress up
Sketch something from outside
Paint outside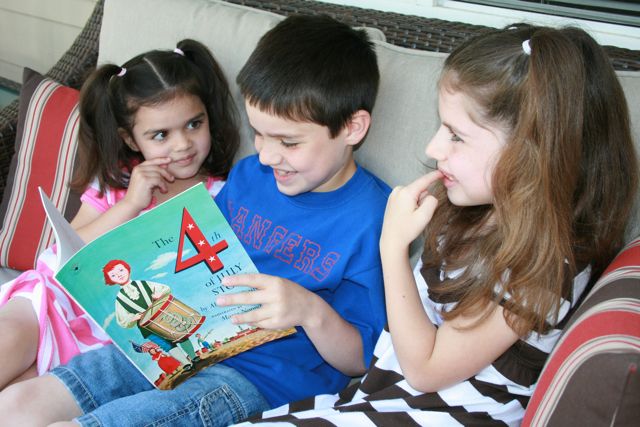 Rascal reading
The 4th of July Story
to younger siblings
I modified the rules and prize options for our family: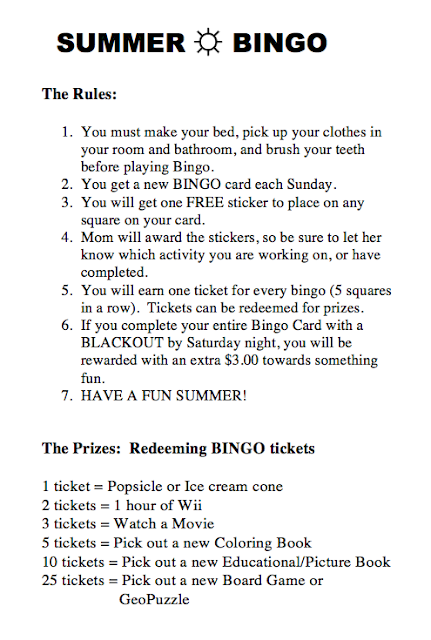 (You can download my word document
here
.)
*Our boys already have plans to combine their tickets to work towards earning this game
!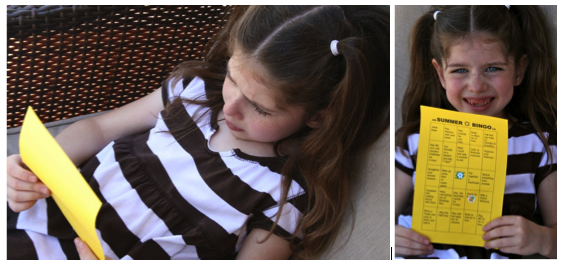 I ended up just making the Bingo Cards (printing them on yellow card stock for stability) and not making the cute little booklets that my cousin made for her children last year. Simple is about all I can pull off this summer! My children don't mind. In fact, they are very excited about the plan for this summer and I am excited that and they have to do a number of *different* activities in order to earn a ticket! So far it is going great and I just love that I am no longer hearing "I'm bored." (I'm starting to wonder if I spoiled my children with the fun Alphabet Path activities this past year!! lol!)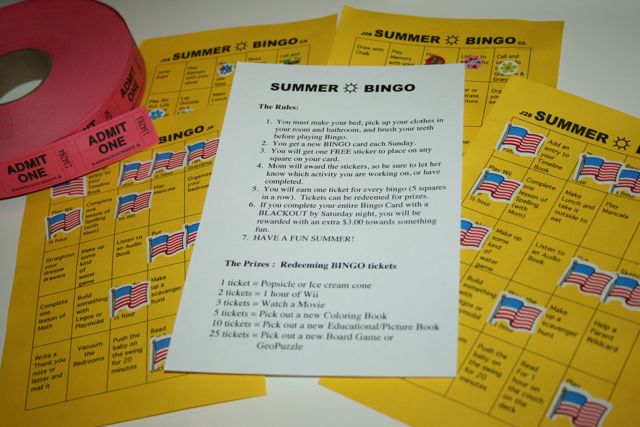 So, how are you planning on keeping your children occupied this summer?