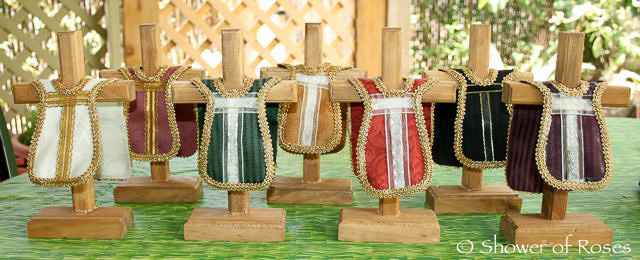 Okay… Because I always try to give credit to where all these great ideas come from (information can get watered down so fast out here in blog land!), this idea for teaching children the liturgical colors of the Church Year was originally shared by Jennifer at Wildflowers and Marbles in 2007. I had just started blogging at the time, and hadn't been blessed to "meet" Jennifer quite yet and missed the post, so my first introduction to this idea was last year when Suzanne (link no longer available) posted her own set. I loved the idea but didn't think it was something I would be able to replicate. I was finally convinced that it was possible by Charlotte, who posted a non-power tool version. Yay!!
Anyhow, after deciding that I did INDEED want to give this craft a try, I could NOT find crosses that would work anywhere. (We are not blessed with a Hobby Lobby in our area and last year they weren't selling online yet.) I finally found a set of 12 wooden crosses online (similar to this one) and placed an order for them. That was last June.
I had every intention to complete them as one of our projects, in addition to our Lap Book, for The Year for Priests, and isn't it just like me to wait until almost the very last minute? Yep, our set was completed with just 2 days to spare.
We almost made a set during "V" week, but at that time another local mom had started talking about Summer with the Saints for this year, and I told her I had the perfect craft for June. I shared the idea, gave her my box of crosses, and decided to wait.
To keep it simple we were originally going to make the vestments out of felt (like Charlotte's), but I just loved Anne's GORGEOUS fabric version. I also wanted to create Traditional Roman Fiddleback Vestments (like Ruth) since that is what my FSSP brothers-in-law wear when offering Mass.
So, as you can see, our inspiration came from many of my online friends!
THANK YOU
to ALL of you!! 🙂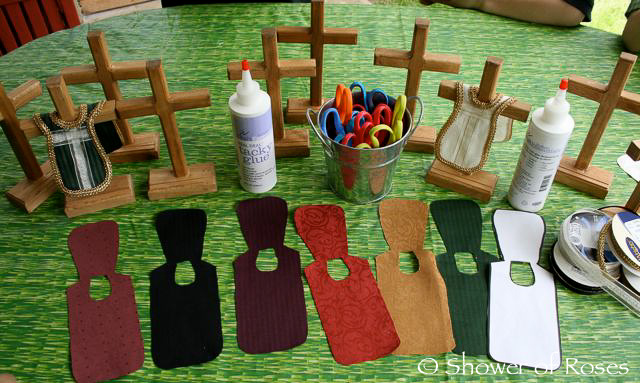 Now, on to our version! To prepare the craft for our children, we first stained the crosses and then headed to the fabric store and found some beautiful fabrics and ribbons. On her way home she stopped by my house and had me make a little pattern for the Fiddleback Vestments. (OOOhhhh!! I was nervous!) It's not perfect, but I was happy with how it turned out and so we pre-cut two of each color so the children could each decorate one or two.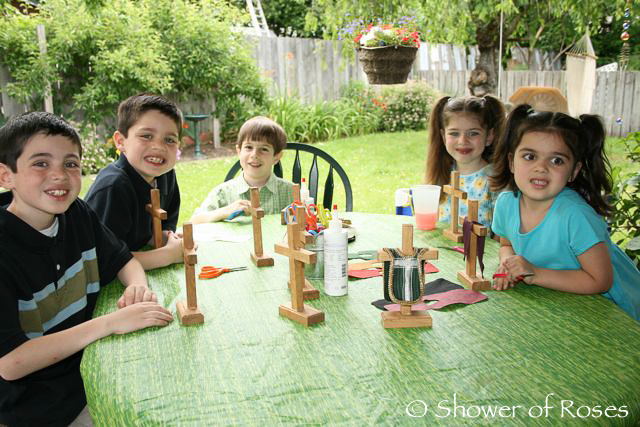 The children all cut ribbon for the front and back and glued it on to their vestments.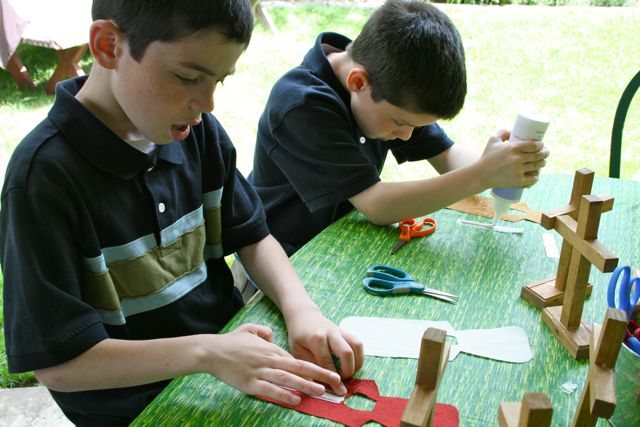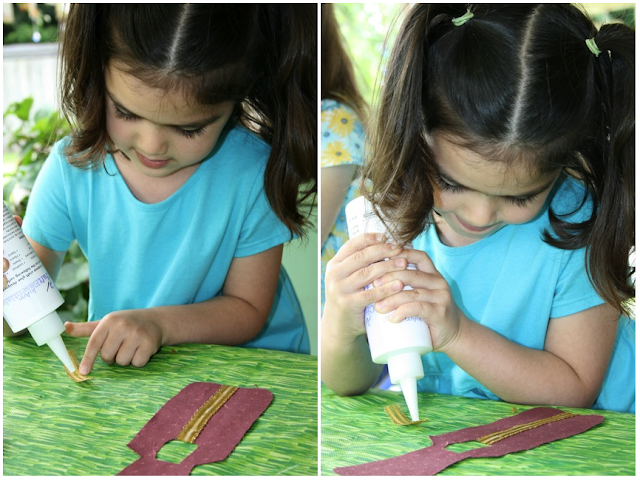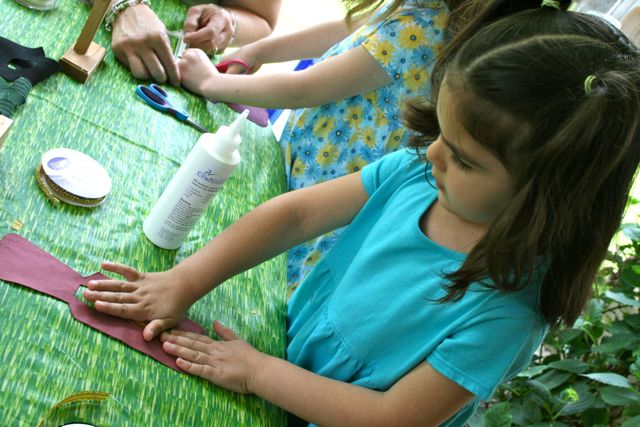 Well, that was about all that they were able wanted to do.
No…this was not the most kid friendly craft.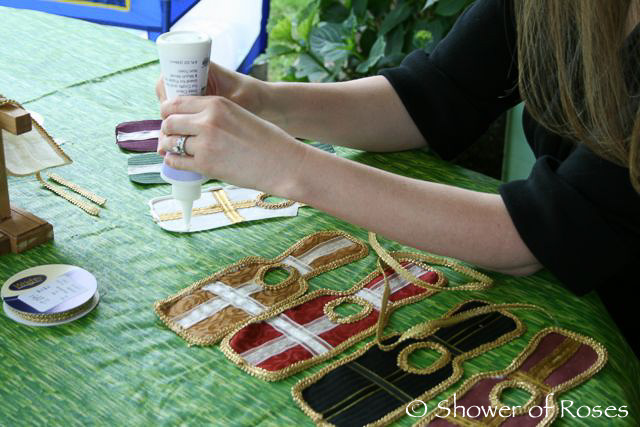 So, while the children ate pizza, I kept gluing… and gluing! 😉
While the children all had a blast playing, we continued cutting out 10 more of each color. The plan is to eventually have a set for each of our children. We'll have a total of 12 though, which leaves 3 extra sets. When they are finished we are thinking of listing them on Ebay (or maybe here at Shower of Roses) as a Fundraiser for my Little Flowers Girls' Club.
After they were (almost) dry we tried them on the crosses.
Here they are with a little information on each color: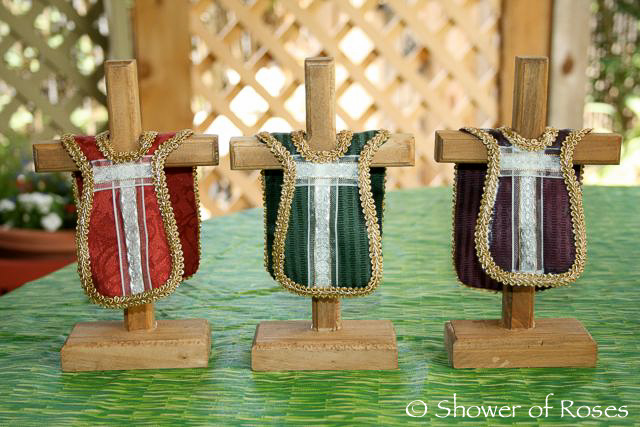 Red
: The color of blood, is used on all feasts of our Lord's Cross and Passion, on the feasts of the Apostles and of all martyrs. Red is also used on Pentecost and in Masses of the Holy Spirit, in memory of the tongues of fire of the First Pentecost.
Green
: The color of budding and living vegetation, it is the symbol of hope. It is used on the Sundays after Epiphany and after Pentecost.
Purple
: A symbol of penance and expiation. It is used during the penitential seasons of Advent, Septuagesima and Lent, and on fast days and vigils.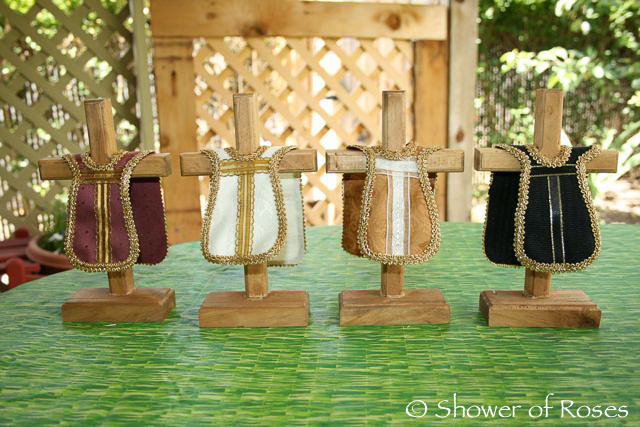 Rose: This color is permitted, in place of purple, on the third Sunday of Advent (Gaudete) and on the Fourth Sunday of Lent (Laetare), when the Church tempers the sadness of the penitential seasons with an invitation to rejoice in the goodness of God our Saviour.
White
: The symbol of innocence and triumph (Apoc.3,5) It is used on all feasts of the joyful and glorious mysteries of our Lord's life (e.g. Christmas and Easter), on the feast of our Blessed Mother, on the feasts of angels and of all saints who were not martyrs.
Gold
: Vestments made of real cloth of gold are permitted in place of white, red and green vestments
Black: The color of death and mourning. It is used for the services of Good Friday and for Masses for the Faithful Departed.
Didn't they turn out great?!? My children couldn't wait to show their dad when he got home from work. As soon as he saw them he said, "Wow!!! Those are Awwweeeesome!" I had a feeling he would be impressed.
Update: There is just one cross for each set of vestments. The children will then change the vestments to coordinate with the correct Liturgical Season. They are just displayed on individual crosses for the picture.
8/4/2011 Update: Here is the link to download the Fiddleback Vestment Pattern I created!