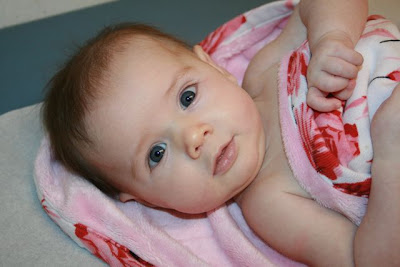 Today we were finally able to see the pediatric cardiologist for Rose's follow-up echocardiogram. (A couple days after she was born she had her first echocardiogram which detected a couple of small holes (Ventricular Septal Defects, aka: VSD's) in her little heart in addition to a Patent Ductus Arteriosus (PDA). However, we haven't heard the murmurs since her first doctor's visit, when she was one week old.)
Rose did wonderfully! She smiled for the nurses and didn't cry at all during the actual echocardiogram, which took quite some time.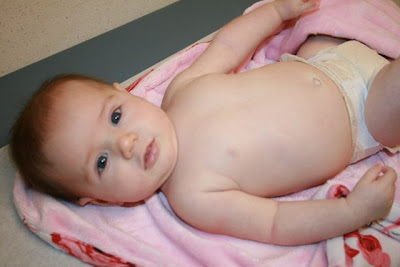 We were really hoping to hear that her little heart was all better, and that the holes had closed.
The good news is that the holes DID close! The bad news is she still has a Patent Ductus Arteriosus (PDA). Sigh. . . Usually, if a PDA hasn't closed at birth, it will most likely close within the first 4 days of life. Since she was only two days old when she had her first echocardiogram, the doctors had been pretty confident that it would close in the next couple days. . . It didn't close.
At this point, since it doesn't seem to be causing any enlargement/strain to her heart, and since there is still a chance that it might close, we are going to wait a year and then do another echocardiogram. If it still present at that time the cardiologist will want to go in and close it to prevent the risk of infection.
Anyhow, it has been an emotional day, and I am trying very, very hard not to worry. . . Thank you again for all your prayers. If you could continue to pray for our precious little Rose, it would be greatly appreciated!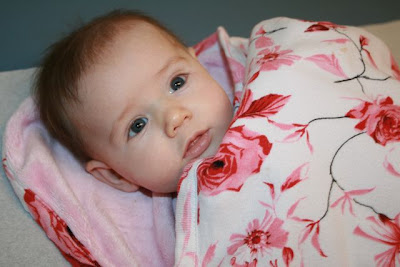 "Enjoy in peace the joy God is giving you, without worrying about the future. He is reserving for you, I am sure, new graces and many consolations." ~ St. Therese, The Little Flower