~ Sunday, May 9th ~ Mother's Day ~
Mother's Day was lovely, despite the fact that 4 of us had to stay home from Mass since we were recovering from a stomach bug. How could it not be perfect when I am surrounded by sweet smiling faces, handmade cards, chai tea, and roses! I have been so blessed with such a wonderful family!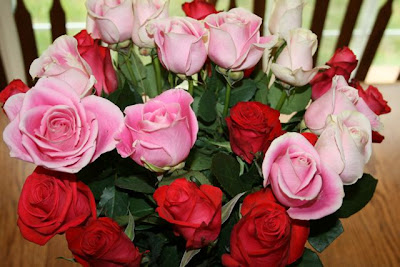 ~ Monday, May 10th ~
By Monday everyone was starting to feel much better. However, at 8:30 am, I had a call from the contractors who are working on a bid for us saying they were on their way over. It was necessary, but not the best way to start the school week. (Is it summer yet?!) They gave me a list of things that I needed to make decisions about, and, when they came back at 6:00 pm (to check out a few more things and to meet with both Hubby & I) we discovered a septic leak under the house. YUCK!!
* * * * * * * *
As my friends on Facebook may have noticed, I was
super excited
when the UPS man showed up with
something
I had been saving to purchase for a
very
long time! Oh, and it goes perfectly with one of my Mother's Day
gifts
from Hubby! 🙂
~ Tuesday, May 11th ~
Tuesday morning it was time to start dealing with the septic leak, which had me completely overwhelmed in no time. (Not to mention that between the stomach flu and a day of meeting with contractors I was loosing control of my house, running out of groceries since it had been well over a week since I had even left the house, and the car battery was dead.) A good great friend called at one of my most overwhelmed moments and within an hour was at my home (coffee in hand!) putting dinner in my crockpot, washing dishes, and helping me "catch up." What a blessing! I sure wish I had her energy!!
After Hubby got home it was time to go to town for Bunco and a much needed night out with friends. After Bunco Marci & I went grocery shopping, getting me back home around Midnight with a car full of groceries! (Note to self: Next time, do not lay down to feed the baby, and then fall asleep, before making sure ALL the refrigerated items have been put away. . . Argh!! I guess we won't be making Barbecue Pork this week.)
~ Wednesday, May 12th ~
Wednesday was
crazy
, and included
three
trips to town! We had Dentist appointments, Doctors, Appointments, Pampered Chef Orders to deliver, Hockey Lessons for the boys, and a cute
skirt
to pick up at the Mall for Twinkle Toes. I was pretty much gone from 8:30 am until 10:00 pm, with a
couple hours
at home in the afternoon.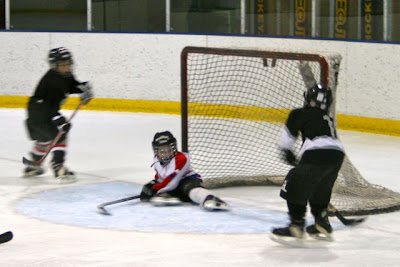 Captain is on the left and Rascal is on the Right. They are really enjoying Hockey and have improved so much since the last time I was able to stay and watch!
Back to the doctors appointment… I thought it was interesting that I was given a
gift
at the baby's check-up as a "thank you" for breast-feeding Rose for (not quite) 6 months!?! I've never needed any encouragement to nurse, but do love my wrap and was excited to receive another in a different color!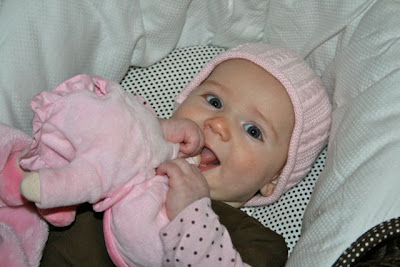 ~ Thursday, May 13th ~
We celebrated the feast of the Ascension, enjoyed another
Ascension Thursday picnic
, and then the boys headed to Blue Knights. They have been having such a fun time at Blue Knights this year, and the crafts have been awesome! The boys just have one more meeting next week, and then a Knights Tournament & Potluck to finish up the year.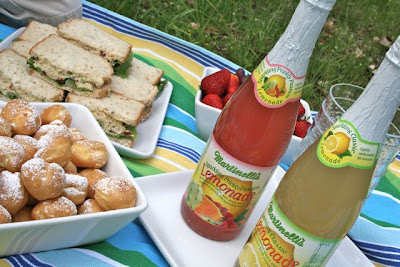 ~ Friday, May 14th ~
Let me just say that, when you aren't exactly sure where the septic tank is, yet know that it is buried under at least 3 feet of dirt, it sure helps when Dad is willing to bring his tractor over to help! The good news is that my Dad & Hubby were able to find the tank pretty quickly and it was emptied a couple hours later. The bad news is, we still have a stinky problem under our house. 🙁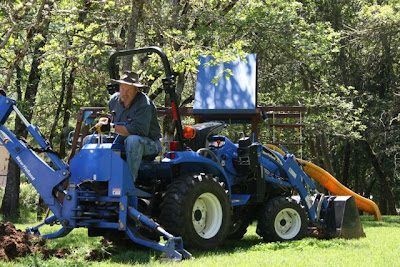 While they were busy digging, I met with a friend/interior decorator and my mom to discuss our floor plans and then go look at flooring, countertops and cabinets. There are so many (too many!) choices…
I also was able to stop by and see my niece again while I was in town. She is still tiny, but seems so much stronger every time I see her!
Oh! And guess what!! Hubby GOT THE JOB!!!!!!!!!
(He recently applied for a transfer which would reduce his commute by about 40 minutes each day. He was offered, and accepted, the job this afternoon!)
~ This Weekend ~
On Saturday two of my brothers (the youngest is also my Godson) will be Confirmed, and on Sunday one of our God-daughters will receive her First Communion! Deo Gratias!
I hope you all have a beautiful weekend!