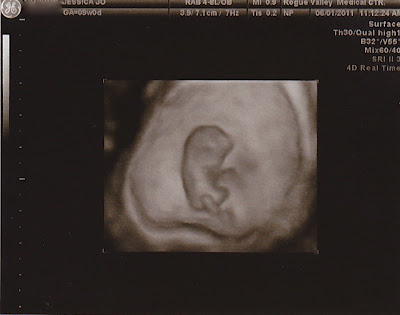 "My brain is sending signals to my muscles so I can move.
My fingers and my thumbs appear, and I continue to improve."
~
The Miracle of Me
, Week 9
I am back home from my ultrasound, and I must say that it was one of my favorite ultrasounds ever. It was so fun to see how much that little one of ours has grown in the past three weeks, not to mention that it was quite reassuring to see that the baby's heart was beating strongly and everything looks great. (Even though I didn't miscarry Gabriel until I was 11 weeks, he had stopped growing at 7-8 weeks.)
It was absolutely precious to see this little one wiggling and bouncing around, waving it's tiny little arms and legs all over the place. I don't think I've ever seen one of my unborn babies so ACTIVE!! (Could that be causing my nauseousness to be worse, I wonder?)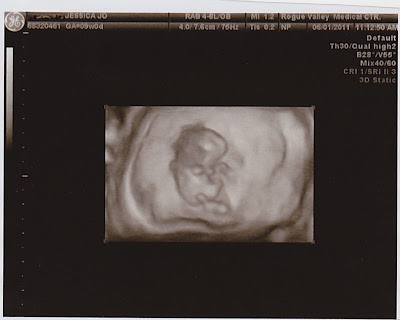 The women at the office were wonderful, as always! This time I got to go back to the office where I have been seen many times in the past. The sweet woman that did my ultrasound was the same one that had done many of my past ultrasounds, including Gabriel's and Rose's. (Her dad is also one of my favorite people to visit with after Mass on Sundays… The one that has surprised us in the past with amazing outdoor furniture for the kids.) Oh! And one of the nurses that worked with my midwife when I was pregnant with our first few came out to say hello, and was disappointed that I didn't have a picture of all the kids for them to see. (I don't generally carry a picture, since they are usually always with me! lol!) The poor girl who was taking my blood pressure and weight had to put up with all of our visiting!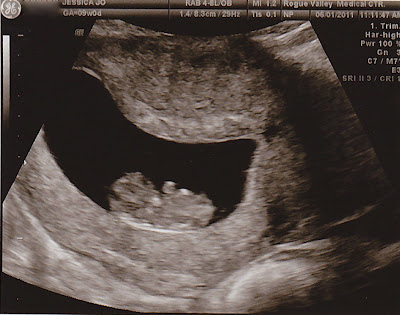 As for my due date, this ultrasound indicates January 1st, which I think is the most accurate so far, according to all of my dates. We'll see what my midwife thinks, and whether or not she will change the "official" date.
Most of you probably wonder why it is such a big deal to have such an accurate due date… However, being high-risk and having dealt with pre-term labor a number of times, including the helpless feeling of not being able to do anything when one of my babies was
born too early
to be admitted into the NICU, days can and
do
make a difference.
I will feel a lot better once I have made it past 24 weeks, but in the meantime I'll happily put up with all this nauseousness, knowing that our little one is alive and healthy and just as CUTE as can be!
Thank you all for your prayers!!!