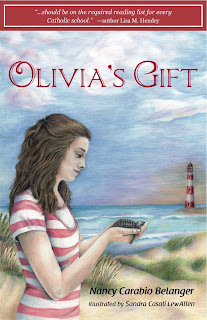 A couple years ago I had the pleasure of reading, for review, Olivia and the Little Way
by Nancy Carabio Belanger. This past December the author kindly offered to send me a copy of her newly released sequel, Olivia's Gift
! I just finished reading this delightful book.
Like Olivia and the Little Way, Olivia's Gift is also about Olivia Thomas, who is now 12 years old, and will be going into the seventh grade. She is out of school for the summer and will be spending a month at her aunt and uncle's summer beach house with her parents, little sister, grandmother (who I still just love!) and friend Hayley.
Over the summer Olivia learns that sometimes it is very difficult to be a good Catholic. As a mother, I found myself getting frustrated with Olivia as she gave into peer pressure and temptation, but the author uses this as an excellent opportunity to inspire the reader when Olivia makes an examination of conscience, goes to Confession (the priest reassures Olivia and helps her to overcome her fear of the sacrament), prays in front of the Blessed Sacrament, and resolves to amend her life.
"I understand very well why St. Peter fell, Poor Peter, he was relying upon himself. Before ruling the Church that is filled with sinners, her had to expierence for himself what a person is capable of without God's help."
– St. Therese
(Olivia's Gift, page 71)
Once again, I just loved the beautiful quotes from St. Therese at the beginning of each chapter, the special friendship that Olivia has with St. Therese, and how this dear saint's "Little Way" is interwoven throughout the story. I also loved the strong pro-life theme which encourages a deeper respect of life, including the unborn! I found myself tearing up when the sweet pregnant woman next door, who Olivia is helping, reveals to Olivia that she lost a child (the baby had been named Gabriel, just like one of my own precious little ones) to miscarriage, and is now expecting a baby with Down syndrome. The pro-life message is also portrayed when Olivia and Hayley try to save an endangered sea turtle nest from the new "friends" they had made at the beach.
"How often have I thought that I may owe all the graces I've recieved to the prayers of a person who begged them from God for me, and whom I shall know only in heaven." – St. Therese (Olivia's Gift, page 269)
Overall, I really enjoyed reading this book and look forward to having my own children read it when they are a little older.
With Easter coming up soon, both Olivia and the Little Way
and Olivia's Gift
would make excellent additions to Catholic Easter Baskets for tweens/teens! You can visit the website to read a few excerpts and order an autographed copy of Olivia's Gift. It is also available at Amazon
.