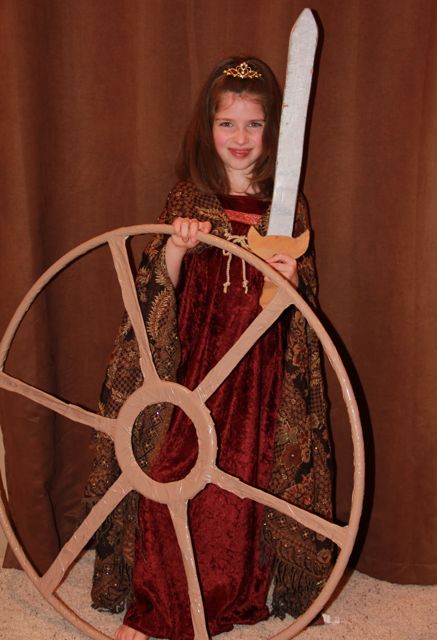 We have been busy preparing saint costumes for our upcoming All Hallows' Eve party! Last night I decided to try and make Twinkle Toes a "wheel" for her St. Catherine of Alexandria costume.
I pulled out an old hula-hoop from my closet and some brown duct tape (I wasn't able to find any Wood Print tape locally), while Twinkle Toes went searching for "something round with a hole in the center." My back-up plan was to cut out the center of a thick paper plate, but I was thrilled when she came back from the garage with a "Smokey the Bear Frisbee Ring" that one of the kids had brought home from the BLM at some point. It was the perfect size!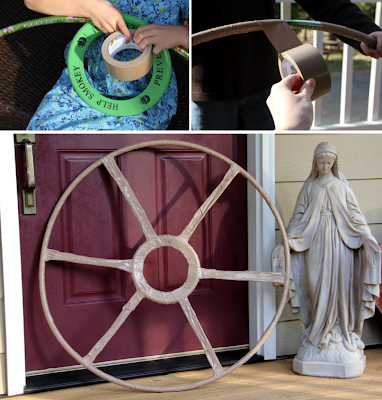 I wrapped the hula-hoop with the tape, wrapped and placed the frisbee in the center, created spokes with the tape, and then wrapped the spokes to make them a bit thicker. I used the whole roll of tape, and had just enough!
For a gown, Twinkle Toes decided to wear the burgundy one from her St. Margaret of Scotland costume in 2009. (I had ordered it extra big for Christmas in 2008, and it still fits!) We then pulled out an old brown beaded scarf of mine to make into a cloak. I had picked up a clasp, but either it never made it out of the store or it is hiding around here somewhere, so I improvised with the cords off a gift bag and some gold safety pins, to create a tie. We then finished her costume with one of her brother's swords and a pretty little Gold Tiara Crown, complete with hearts for St. Catherine!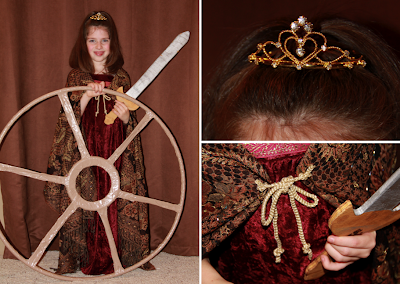 The tiara arrived much smaller than I had imagined, but it ended up working out nicely and Twinkle Toes is very excited about her costume!
I still have a few costumes to finish up, but it looks like we are going to have St. Ignatius of Loyola, St. Francis Xavier, St. Catherine of Alexandria, Blessed Teresa of Calcutta, St. George the Dragon Slayer, and St. Cecilia.
You can find other costume ideas in the archives including Saintly Costumes, A Costume for St. Maximilian Kolbe, and a St. Francis of Assisi Costume. You can also scroll through all of our past costume pictures here.