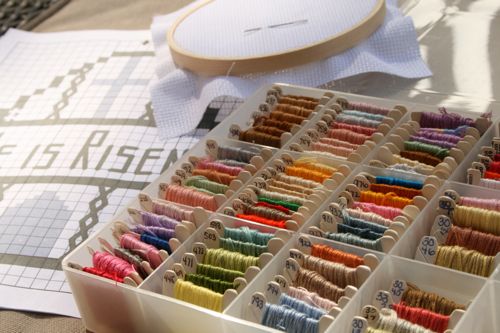 When I was a child, one of my favorite things to do (besides read) was cross stitch. My Grandmother (my mom's mom, who passed away last August) had given me all of her old floss and helped me set up a craft box to store it in (pictured above). She would also give me advice and tips as I was learning.
At the beginning of April I decided to pull out all of my old supplies and try and teach my oldest daughter. It was so much fun! With Easter coming up, I decided to show her how to make a cross stitch Easter Egg, like the ones I would make years ago. In fact, when I was in 4-H I actually gave a demonstration on making these little eggs!
First we decided to use a
simple pattern
from about.com, and then she choose the various colors of floss that she wanted to use… She did such a great job coordinating them, and then picked right up on the actual cross stitching.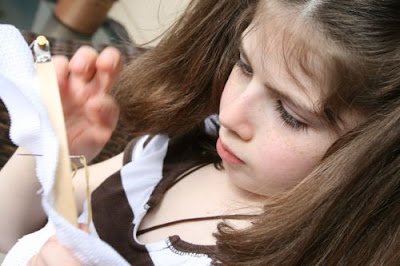 First she started with yellow, for the borders.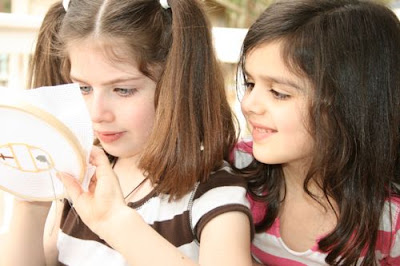 Then, after adding some pink beads, she cross stitched a brown cross and gray tomb. Chiquita loved watching and wanted to know when it would be her turn to learn!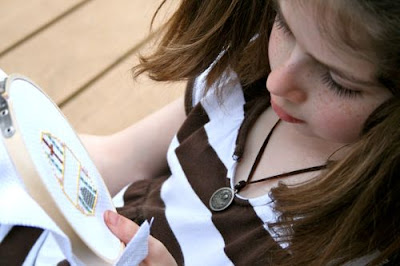 Next she added a bit of green…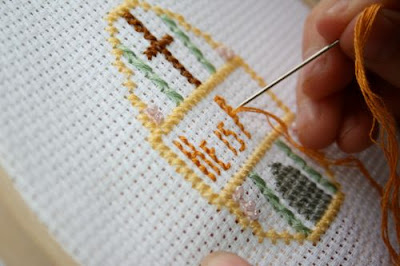 … finishing it up with the words "He is Risen" in gold.
As soon as she was finished, her and I made a special trip to the store to pick out some coordinating fabric, ribbon, and lace to finish up the Easter Egg!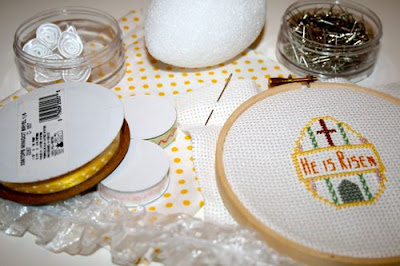 We already had the styrofoam egg and straight pins.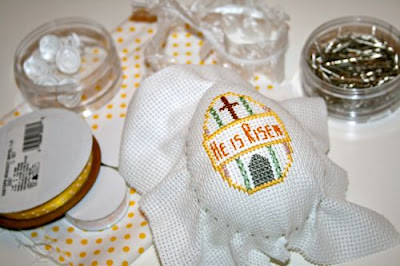 To assemble the egg, first you pin the completed cross-stitch onto the front half of the stryofoam egg, trimming off any excess fabric.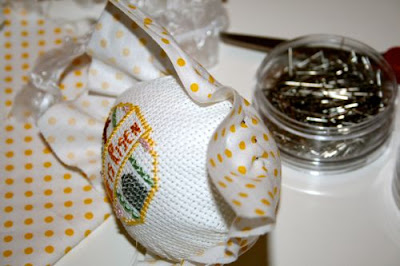 Repeat with a coordinating fabric for the back of the egg.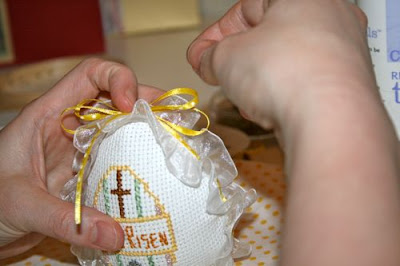 I helped her with the final step of wrapping the sides (to cover the pins) with lace and ribbon, adding a bow and a little rose to the top.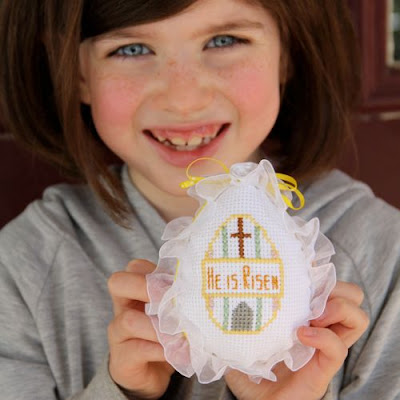 Didn't she do such a great job?!?