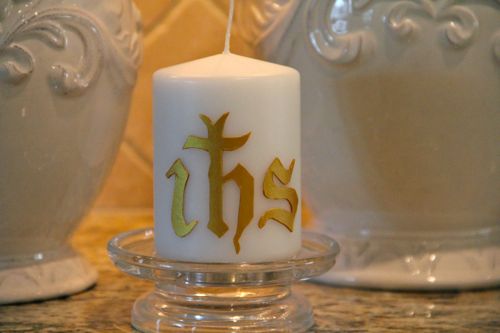 Incorporating the IHS symbol, which is part of the symbol for St. Gertrude, we will be decorating candles for our 3rd Meeting for Wreath IV of our Little Flowers Girls' Club. This meeting focuses on the Gift of Knowledge, St. Gertrude, the gemstone Topaz, as well as the symbol of "Fire" making this a perfect craft for this meeting!
Supplies:
White Pillar Candles
Gold Decorating Wax (I ordered this 12 pack
from Stockmar/Amazon. It is also available in a color combination pack from Magic Cabin.)
IHS Template
Xacto Knife
Pre-Meeting Prep:
Trace/Cut Letters from the Gold Decorating Wax using an X-acto Knife.
Directions:
Peel the Gold IHS from the Backing paper.
Apply the letters to the candle.
Press with hand against candle, and the warmth/heat from your hand will adhere the wax letters to the wax candle.
Note: Another option for this November/Fall meeting would be to have the kids roll candles using a Beeswax Candle Kit
(Magic Cabin also has a great Autumn Kit), in preparation for Thanksgiving!