Can you believe that Advent begins in just 20 days?!?  This weekend I spent some time trying to check the first couple things off of my list, including finding a set of Advent Pillar candles (the ones I have purchased these past few years aren't available this year) and deciding on a "Nativity Stocking" for our newest little guy (our boys all have nativity themed stockings and the girls have angel themed stockings), who might just decide to arrive in time for Christmas this year.
Anyhow, those of you that have been visiting here for any length of time know just how much I love all of our family traditions for Advent and Christmas.  One of our favorites, ever since our oldest children were just toddlers, has always been the Jesse Tree.   I made our Jesse Tree and Ornaments out of felt, and even though it was a ton of work that first year, we have re-used it every year since.
This year I am so excited to add a new ornament set to our collection!   I was recently asked to review this beautiful wooden set of Jesse Tree Ornaments, along with a set of gorgeous O Antiphon Ornaments, made by Jesse Tree Treasures.  I couldn't be more happy to recommend them to you all and am so excited to have these extra sets to use with my own children this year!
As the Catholic Encyclopedia notes, "Advent is a period beginning with the Sunday nearest to the feast of St. Andrew the Apostle (30 November) and embracing four Sundays." That means that the First Sunday of Advent can fall as early as November 27 or as late as December 3, resulting in a maximum of 28 days leading up to Christmas Eve.  The Jesse Tree set comes with 28 beautiful wooden ornaments, giving you enough symbols for every day of Advent, not just the 24 days of December!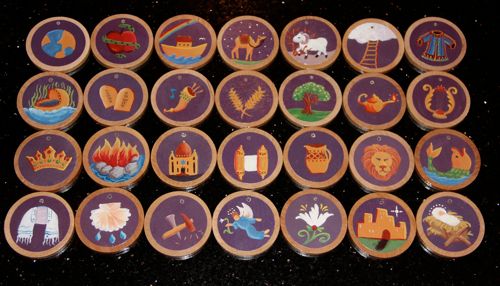 In addition to the beautifully decoupaged ornaments, the set also includes beautiful gold cards with all of the scripture references.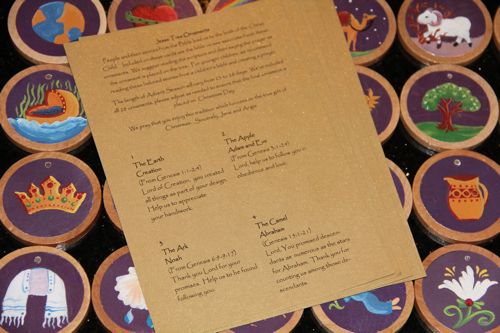 Instead of the actual bible verses, we usually read the corresponding bible stories (I'm working on this year's list) from the New Catholic Picture Bible, which works out nicely for our family.  This year I plan on having my older children read the bible story each day to the little ones…  For some reason reading aloud is so hard for me during my last trimester! 😉
Note:  A companion booklet for this ornament set is also available here.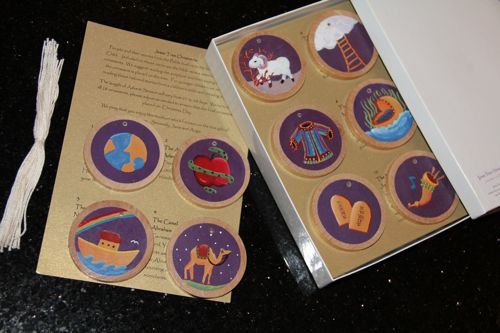 (also available in Crimson)
"Each ornament measures 2-3/8″ in diameter and 1/4″ deep. Ivory yarn for stringing is included. The ornaments come in a white gift box and include a card with scripture references and a devotion for each day. They are made with Jo Sonja's paints which was carefully selected to be safe and lead-free."
**In order to recieve these Jesse Tree Ornaments by the beginning of Advent, all orders must be placed by
November 15th
.
Another one of our favorite traditions is celebrating the O Antiphons!   Every year I come up with some sort of treat for each day (2007, 2008, 2009, 2010) and a couple years ago we also made an O Antiphon House.    These Gold O Antiphon Ornaments from Jesse Tree Treasures will make such a lovely addition to these special days leading up to Christmas: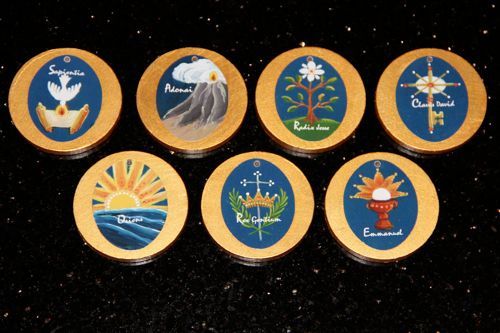 "These stunning wooden ornaments reflect the light of Christ coming in the darkest part of winter as an infant in a manger. They are handpainted a beautiful gold which is the "O" in the antiphon. Then lovingly decoupaged with a beautiful handpainted image that reflects the meaning of each antiphon.  These ornaments are made with Jo Sonja's paints which are made from the finest quality pure pigments, the colors will remain vibrant and true for generations. The paint was carefully selected to be safe and lead-free.  Each set of seven ornaments also comes with a devotional booklet. The antiphons correspond to a verse from the traditional hymn "O Come, O Come Emmanuel". These verses are included in the devotional, as well as the corresponding scripture and a short devotion."
**In order to recieve the O Antiphons Ornaments by December 17th, all orders must be placed by December 7th.
Thank you to
Jesse Tree Treasures
for the sets that were given to us, in exchange for this honest review here at Shower of Roses!
UPDATE:  Jesse Tree Treasures has made a few minor changes to the sets pictured in this post. They have also added customizable sets as well! 
If you would like a set for your family, be sure to place your order soon.  
Advent begins on November 27th! 
Note: Currently a limited number of sets are listed as available over at Etsy, but Angie let me know that she will make as many as needed. So, if it says that a set is sold, just send her a note and she will be sure to make you a set. Thank you Angie!!