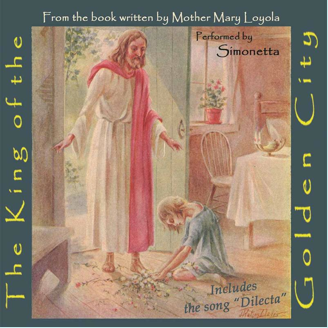 The St. Philomena Foundation has recently released The King of the Golden City on a 2 CD set! The original version, which was only available on cassette (and was our first introduction to this beautiful story), has been completely digitally remastered and is finally available on CD.
"Simonetta's "King of the Golden City" is a dramatic reading of a book written by a nun, Mother Mary Loyola of the Bar Convent in York, England in 1925 (with Imprimatur and Nihil Obstat). The book was written as an allegory, which means that it uses fictional characters and events as symbols for real characters and events. In this case, the true meaning of the story tells us of Christ, the Church, the Sacraments, guardian angels, Heaven, Purgatory and hell, among other Catholic truths too numerous to mention. Our family loves the story and so does everyone we know who has ever read it. Simonetta takes this great and touching Catholic story and brings it to life, with her engaging reading and all original music and sound. I know you and you're families are going to love it and that it's going to touch you in the same way that her music does. It comes on two, full-length cassettes, including a new song written by Simonetta just for this recording: "Dilecta"."
I have used this story as part of my children's First Holy Communion Preparation, and my oldest daughter will be studying it soon, along with the study guide available as a free download (this is no longer free but can be purchased here) from CHC.
You can purchase the CD (for a donation) from The St. Philomena Foundation or from Amazon, or you can download the CD here or here. As always, you can order 1 free copy of this CD by mail. (We also own another audio dramatization of this story, which is available from Pro Multis Media.)
Anyhow, I just thought I would pass this along in case any of you have been waiting as long as we have for this version to be released on CD!