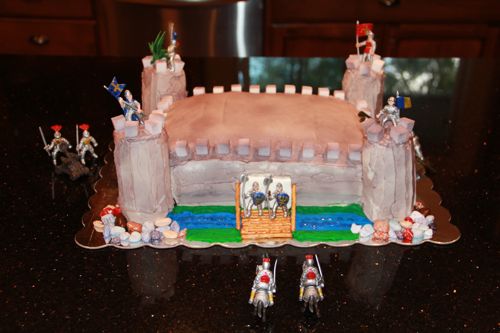 I am almost finished putting together the post from my son's Medieval Birthday Party, but first I thought I'd post a quick "tutorial" for his cake. (Birthday morning post: Hear Ye, Hear Ye!) I wasn't planning on posting this at all, but since I had a few requests (a couple moms who would like to make it for their sons, and another mom who would like to use it for an End of the Year Blue Knights Party next year – which is a great idea, by the way!) here you go.
I was really just winging it, when I made this cake… Plus I didn't even get started until 9pm when I ran to the store for a couple last ingredients – which explains the really dark pictures – but my kids all LOVED it (especially the birthday boy) and it was worth the effort!
Supplies:
2 – 9×13 Cakes
1 batch of Rice Krispie Treats
Buttercream Frosting
Black Color Mist
Sugar Cubes or Mini Marshmallows
Green and Blue Decorating Frosting
Blue Sparkle Gel Frosting
2 StackerMallows
12-18 Pretzel Sticks
Milk Chocolate Rocks
Large Cake Board or Platter
Safari Ltd Knights and Dragon Toob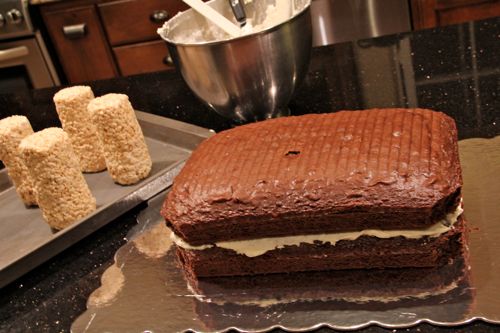 Stack two 9×13 cakes, trimming the 4 corners at an angle.
Prepare one batch of Rice Krispie Treats, spreading evenly on a large cookie sheet. When slightly cooled cut in to 4 equal pieces, rolling the rectangles into 4 round "towers."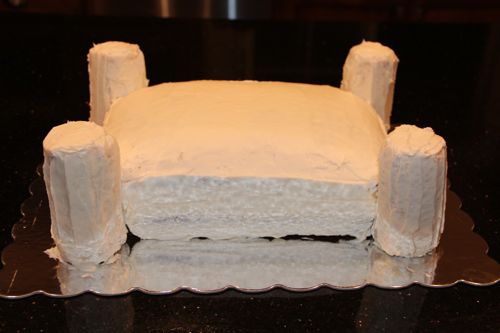 Frost the Rice Krispie Towers and Cake, attaching the towers to the 4 corners of the cake. Here is the recipe that I used for this cake, which was just enough:
Buttercream Frosting

1 c. butter
1/2 c. shortening
1/4-1/2 tsp. salt (to taste)
2 tsp. vanilla
2 lbs. powdered sugar
1/2 c. water

Cream first 4 ingredients until well blended (3 minutes) on medium speed. Add sugar and water; beat until well blended. Keeps indefinitely in refrigerator.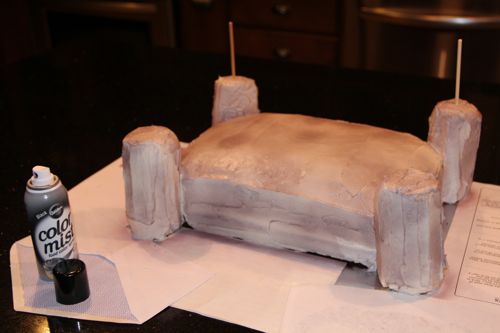 * Please ignore the bamboo skewers sticking out of a couple of the towers… I thought about placing flags on each tower, and then changed my mind! 😉 They would be perfect for a Blue Knights Cake!
Spray the cake with Black Color Mist, creating a stone like appearance. I only had one can of mist, and for this cake two would have been much better. You could also just opt to dye your frosting grey to keep things simple.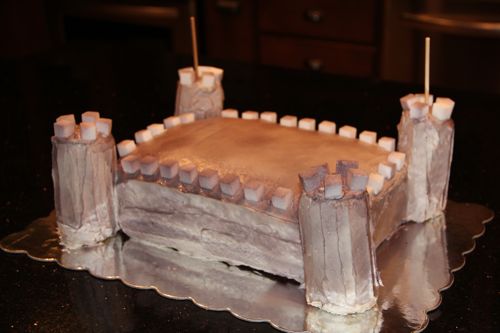 I was really starting to worry at this point, since it wasn't looking too great! lol!
Add Sugar Cubes around the top of the cake and towers. Mini Marshmallows would work great too, but I wasn't sure how the grey color mist would stick to them, so I opted for the sugar cubes. (These were not eaten, by the way!) The color mist was sticking nicely… at least until I ran out!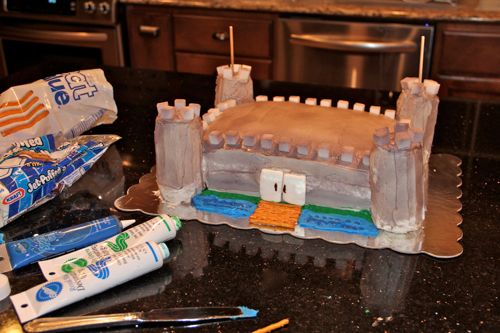 Next I created doors with a couple StackerMallows and chocolate cookie icing, and a "moat" in front of the castle with Green and Blue Decorating Icing. I added a little Blue Sparkle Gel to the top of the water as well. Using Pretzel Sticks I created a little bridge across the water.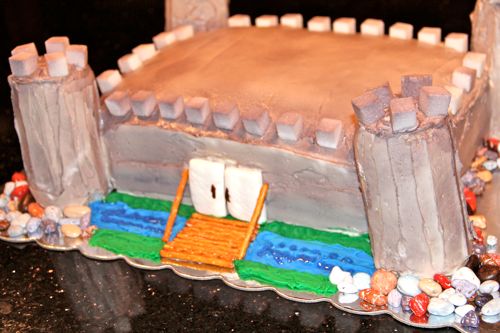 I then placed Milk Chocolate Rocks
around the rest of the castle. Aren't they so cute?! They are delicious as well!!
(I found mine at WalMart, but it looks like Amazon
carries some as well.)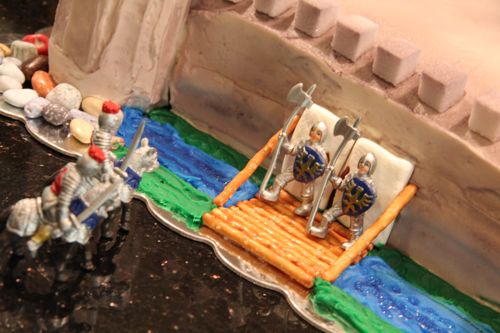 All that left was adding some
Knights and Dragons
, which of course were "fixed" in the morning by my boys…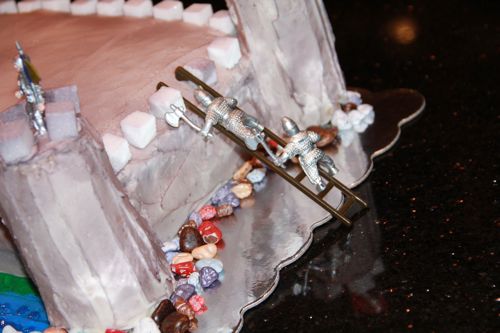 …in addition to adding a couple more little "decorations," like this ladder for example! 🙂