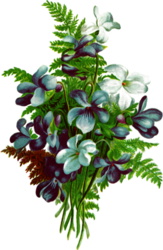 Last Friday we had our 4th Little Flowers Girls' Club meeting for Wreath IV. Even though I had to reschedule our meeting from the week before, due to our colds, everyone was able to make it and I didn't go into labor prior to the meeting! Yay!!
I wasn't nearly as organized for this meeting as I would have liked, and actually didn't start even printing the coloring pages until the night before, and then created the sample craft, notebook page the morning of our meeting, and I was actually trying to finish up the cupcakes as the meeting began… Thankfully my husband had the day off and was able to help, in addition to picking up pizza for the meeting, before taking off with all the boys to a Hockey game, and Amy's daughter "Rose" agreed to read the story of St. Catherine of Siena (from Around the Year with the Saints) to all the girls during the meeting.
This meeting focused on the gift of Counsel and St. Catherine of Siena. We will now be taking a couple month break, as both Amy and I prepare to welcome our new little ones! Our next meeting will take place in March.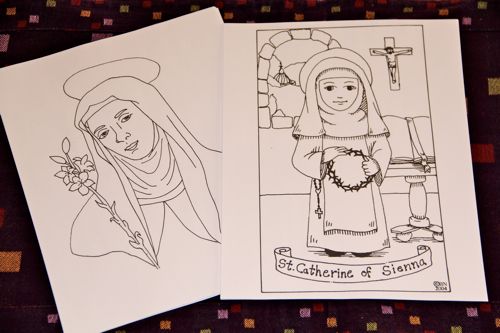 St. Catherine of Siena from Waltzing Matilda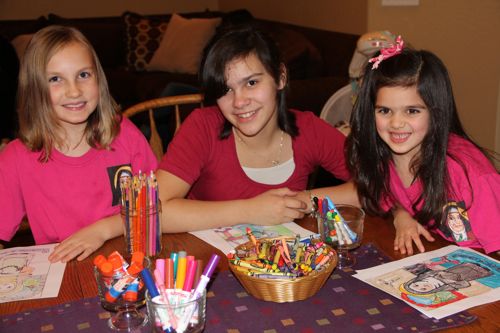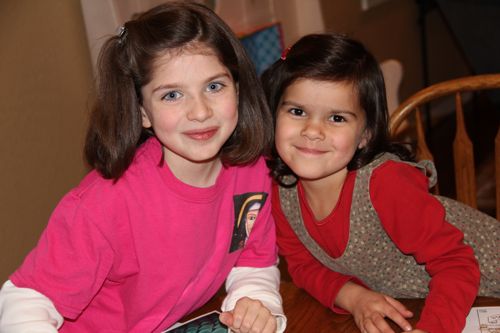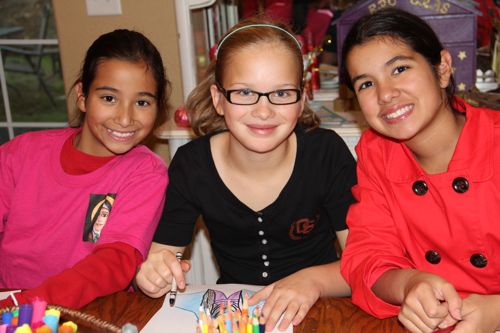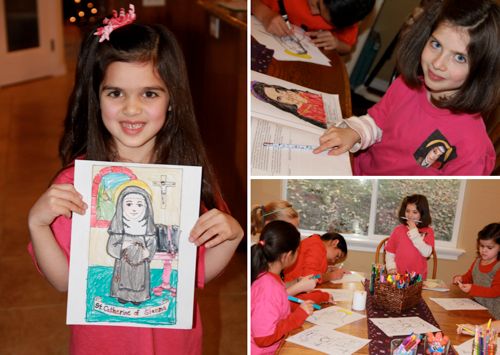 Here are some of the completed coloring pages: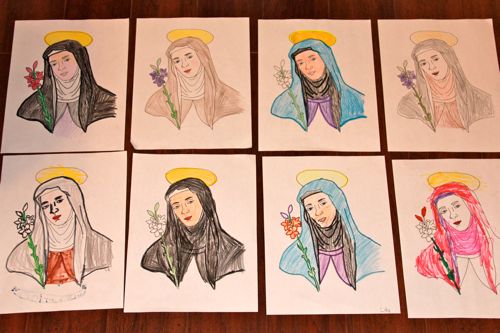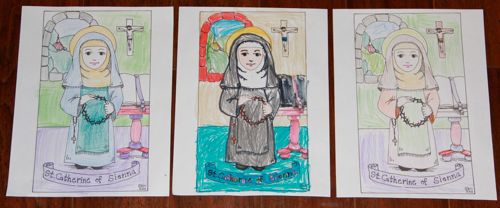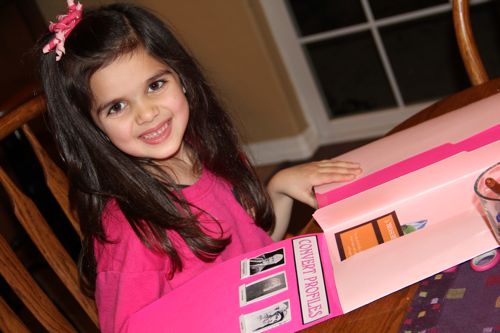 We had a short lesson on the gift of Counsel and St. Catherine of Siena, and then continued our lesson by reviewing our
Lap Book mini-books
from last month, and then working on the new additions for the gift of Counsel.
Here is an overview of what was completed (*some are taken home to complete):
Additional Resources: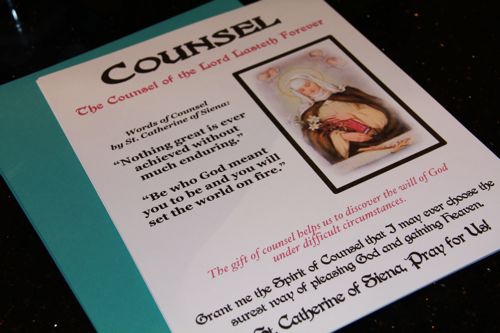 For the notebook pages, I used the motto for counsel, a couple quotes (or "words of counsel") from St. Catherine of Siena, an image of St. Catherine of Siena, a definition on the gift of Counsel from My Catholic Faith, along with a short invocation to St. Catherine. You can download my document here.
Here is a picture of the sample page I created: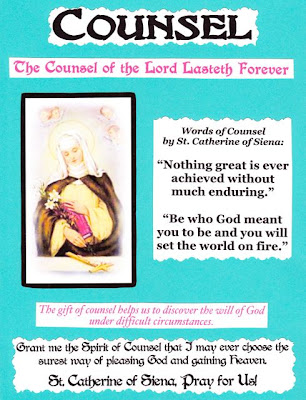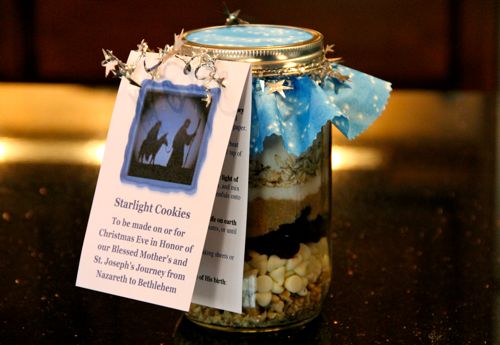 We adapted this recipe from over at Catholic Cuisine for our "craft" for the gift of "Counsel" (following recipes). I purchased a light blue cloud fabric for the jars, tying in the color/jewel of "aquamarine" and the symbol of "clouds."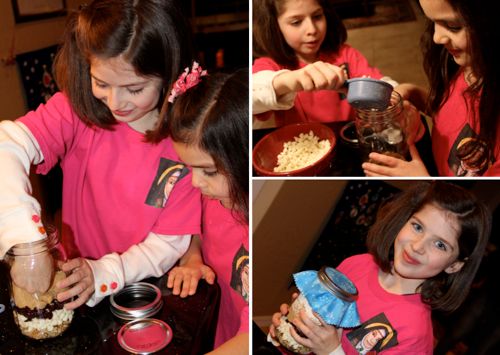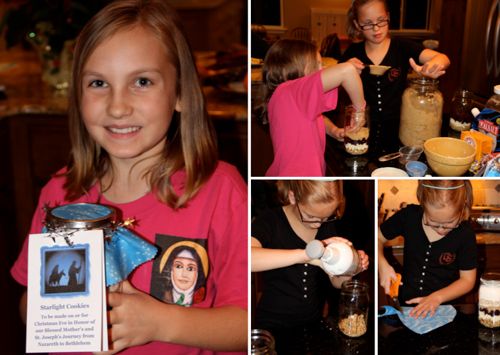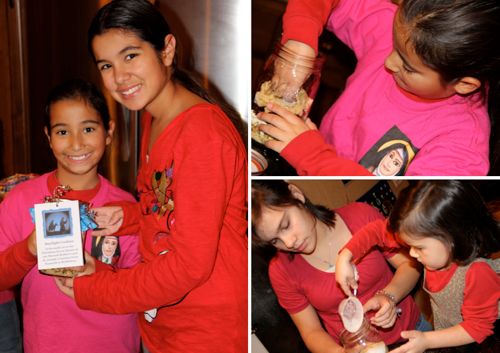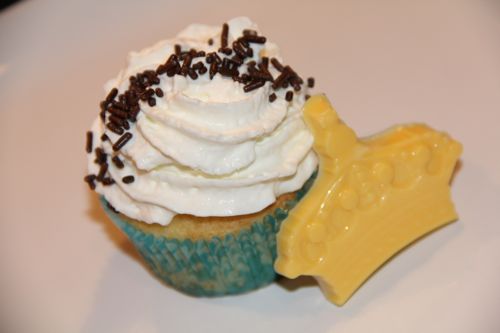 Saintly Symbols Cupcakes :: St. Catherine of Siena's Crown of Thorns
Our Lord offered St. Catherine of Siena two crowns in a vision, a golden one or the crown of thorns. St. Catherine choose a crown of thorns and is is often seen on the head of Saint Catherine of Siena, and is also occasionally represented with other saints, signifying suffering for Christ's sake.
White Cupcakes (baked in Aquamarine Cupcake Liners), topped with some homemade Whip Cream, chocolate jimmies (for the crown of thorns), and a gold crown on the side (made with the Crown Candy Mold).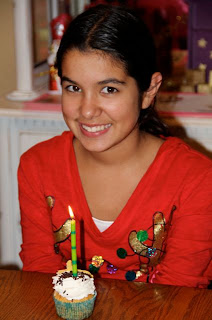 We served the Cupcakes along with the pizza, Hot Apple Cider, and a Starlight Cookie for the girls to sample. We also had a sweet girl who would be celebrating her birthday the following day, so we lit a candle and sang Happy Birthday to her too!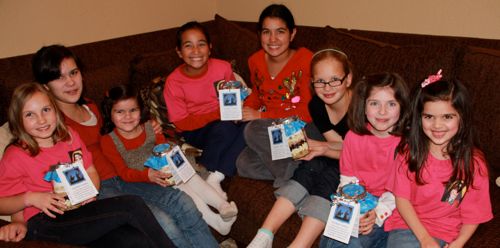 Grant me the Spirit of Counsel that I may ever choose the surest way of pleasing God and gaining Heaven.
St. Catherine of Siena, pray for us!