Yesterday afternoon we had our 3rd Little Flowers Girls' Club meeting for Wreath III, on the virtue of Initiative. A few of the girls weren't able to make it this month, so we only had 5 girls attend. (Actually we had 7 if you count Rose and Sweet Pea, who was wearing her adorable new Milo Vest!) Nevertheless, it was a great meeting and we are already looking forward to our next one, which will be based on the virtue of Orderliness / Organization. Hummm… Let's see if I can actually take the initiative and get the rest of the year planned out and organized before then, rather than waiting till the last minute like I did this month! 😉
Here is a quick overview of our meeting:
~ Coloring Pages ~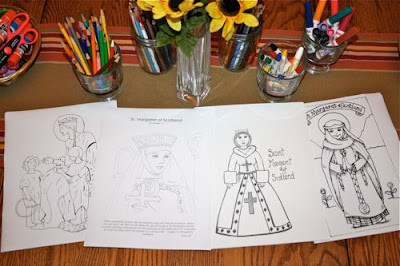 The girls had a whole bunch of great options for coloring pages: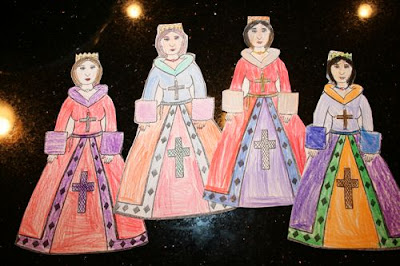 St. Margaret of Scotland Paper Dolls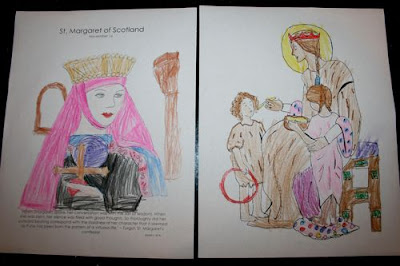 Coloring pages by Chiquita and Twinkle Toes
~ Notebook Pages ~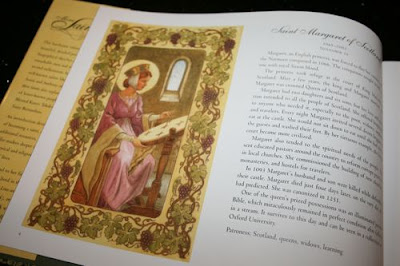 After our lesson/discussion on the virtue of Initiative, and reading about St. Margaret of Scotland from More Saints: Lives & Illuminations
, the girls put together their scrapbook/notebook pages, I used the memory verse for Initiative, a quote from St. Francis of Assisi that tied in well with Initiative, a quote from St. Margaret's Confessor (Thank you Charlotte!), an image of St. Margaret of Scotland, and a couple images of Black Eyed Susans. You can download my document here.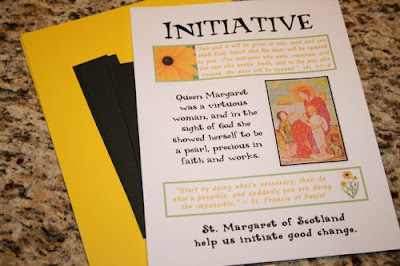 Here is a picture of the sample page I created:
(The yellow scanned in a lot brighter than the original "Golden Yellow.")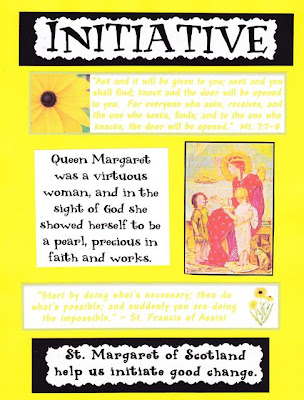 Here are the girl's completed pages for this "Initiative":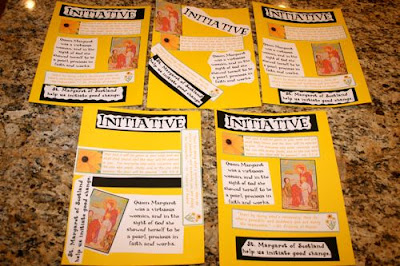 ~ Craft :: Chore Charts ~
I decided to have the girls make chore charts for this virtue, since they are a great way to teach children to be self-motivated and take the initiative to complete their responsibilities, as well as learn important life skills and principles.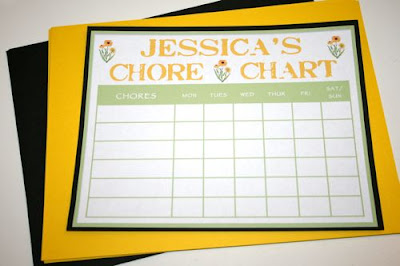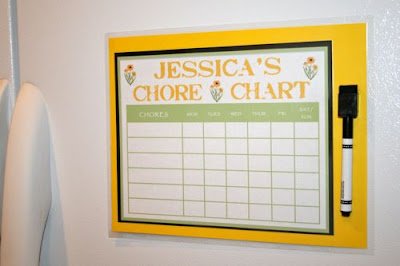 Chore Chart Supplies:
Card Stock
Chore Chart Printout (If you would like a copy, you can download my Word Document here, though you will have to modify the fonts, using ones on your computer. Or here is PDF option, with the name spot blank.)
Glue Sticks
Laminator and Laminating Pouches (I have the Purple Cow Laminator from Costco and have loved it so far, but the Scotch one on Amazon has better reviews.)
Magnetic Dry Erase Markers (They are actually cheaper at Amazon then what I paid locally, though it doesn't look like they have the best reviews. Another option would be to attach a piece of velcro to any dry erase marker and to the chart.)
Magnet Strips (or old refrigerator magnets)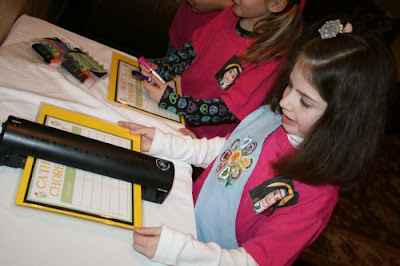 ~ Snack Time ~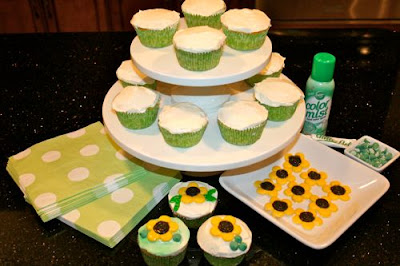 Orange Muffins
(our meeting fell on the feast of Our Lady of Altagracia)
topped with Cream Cheese Frosting, to be decorated by the Little Flowers with
homemade
Black Eyed Susan Chocolates and the options of green mint meltaways, green color mist and/or green glitter gel.

As usual, the girls had so much fun decorating their cupcakes! They all looked so cute wearing their Wreath III Little Flowers' aprons, which they had just finished ironing on all their Little Flower Friends names to the apron strings
(as a review for our last meeting)
since "Friends hold you up!"
I wasn't sure about the chocolate "Black-Eyed Susan" flowers I had made at first, but they sure looked cute on top of the cupcakes and the girls loved them!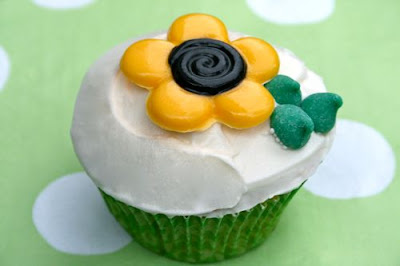 St. Margaret of Scotland help us initiate good change.
St. Therese, the Little Flower,
pray for us!