A Nesting Doll Birthday Cake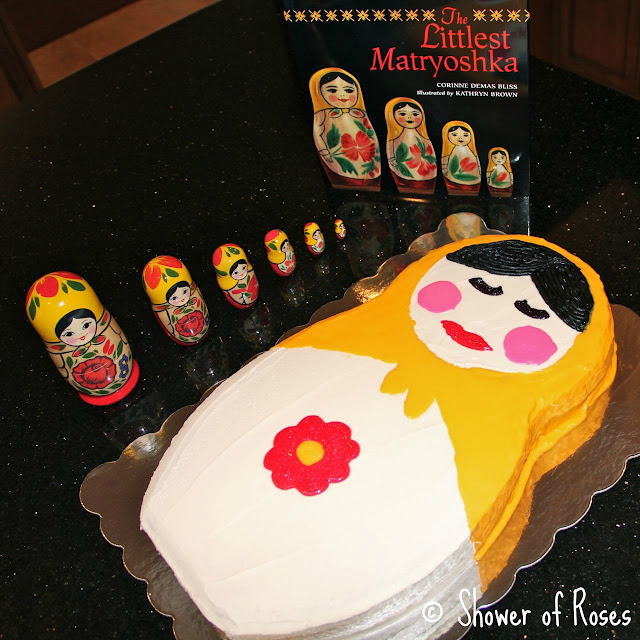 I'll be back tonight – or maybe after Easter 😉 – with some more pictures from today, but just like
last year
, I couldn't wait
any longer
to share a picture of my daughter's birthday cake!
Looking at
the pictures from her past birthdays
reminded me that it was on her 3rd birthday when, inspired and encouraged by
Charlotte
, I started getting a little more creative with birthday cakes. Now, three years later, it is a much loved family tradition!
This year, after falling in love with the
nesting doll measuring cups
that we received for Christmas, Chiquita requested a "Nesting Doll" themed birthday party! After consulting the
expert
on the topic, I ordered the book
The Littlest Matryoshka
and the
matching set of nesting dolls
, which then inspired the rest of the party
.
I made the cake by cutting off one end of a
13″ oval pan
(the body) and cutting out part of a
8″ round pan
(the head) so they would fit together nicely. After frosting it with white buttercream, I outlined the face (using the rim of a 6″ round cake pan), cheeks (using a small cup), and the rest freehand with a toothpick, before decorating it with the various color icings.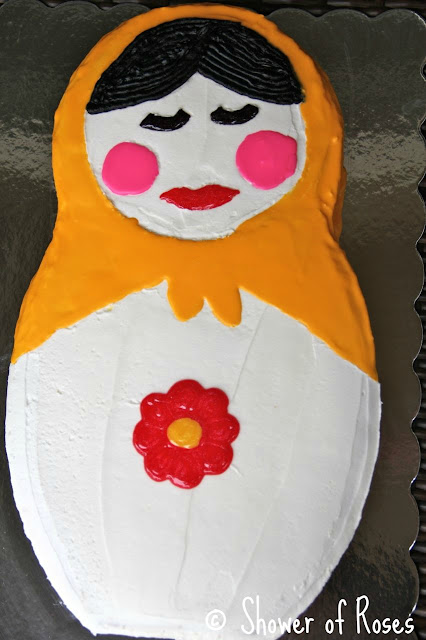 I did have a bit of trouble with the icing running all over the place
(I had purchased yellow and pink cookie icing instead of cake icing),
but des
pite the little challenges, I thought the cake turned out cute and it is loved by the birthday girl – which is all that matters. 🙂 Now back to the party!