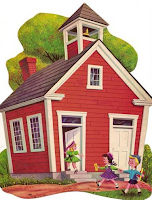 I never did get around to posting the list of curriculum that we used last year, and now, I am not even going to try… Instead I will mention (mainly for my own reference) what worked for us, or didn't, as I share our plans for this coming school year.
This coming year our oldest boys will be going into 5th and 4th grade, the girls will be in 2nd and 1st. Snuggles (who just turned 4) is still Pre-K.
I am not quite finished finalizing our History plans, and then I'll still need to update our weekday schedule, but at least it is a start! Here is what we are planning for the year:
We have been using the Baltimore Catechism to teach our children the Catholic Faith since our oldest was a toddler. Another one of our favorite resources is My Catholic Faith
. Usually my husband is the one that does most of the formal catechism "classes" with the kids, and I focus on teaching the kids through celebrating the liturgical year in our home, leading Little Flowers for the girls, Lap Books, etc.
Towards the end of our 2009-2010 school year, I ended up switching Math programs yet again… Even though we loved Right Start Math, with so many little ones, I just wasn't able to keep up. At that time I switched the older boys to Teaching Textbooks, and the girls to workbooks that I already had on my shelves – still supplementing with the Math Games from Right Start. I think we have finally found the perfect fit for our family!
Phonics/Reading
This past year Twinkle Toes completed Teach Your Child to Read in 100 Easy Lessons
and is reading splendidly! She breezed through the Faith and Freedom Readers for Grade 1 and is reading all sorts of books now. I plan to use the same for Chiquita this coming year. For additional phonics practice my girls both really enjoy the Explode the Code books. Last year I did the online version (I purchased our subscription at 50% through Homeschool Buyer's Co-op), but this year we will be going back to the printed workbooks, since my girls need all the practice they can get with handwriting.
Spelling
In 2009 we also switched from using Seton's spelling workbooks to All About Spelling. Shortly afterwards I attended a seminar, on "Dyslexia: Symptoms and Solutions" that was given by Susan Barton, and learned that children who are dyslexic learn the best using Reading and Spelling programs which are based on the Orton-Gllighmam method of teaching. Sure enough, it has been a perfect program for my boys!
Now that they are getting a little older, I have been searching for a program that they can complete a little more independently (freeing up more time for me to spend working with the younger children), but still includes a multi-sensory approach. After discussing it with a friend, I think that The Phonetic Zoo from The Institute for Excellence in Writing is just what I have been looking for. It is designed for children ages 9 years old and up, and I was very happy to see that they suggest beginning with All About Spelling. Perfect!!
Grammar
We were also very happy with our choices for Grammar last year, and will be continuing on for this school coming year.
Writing
This will also be a continuation from last year. The only thing I am going to do differently, is make sure the boys each have their own workbook. Last year I tried to save a little money by photocopying the Student Pages for the boys, which is allowed within your own family. However, it was just not worth my time, not to mention the cost of paper and ink! 🙂
Vocabulary
Last year Captain used Word Study
and Rascal used Wordly Wise. Captain hated vocabulary and it was one of Rascal's favorite subjects. This year they will all be using Wordly Wise. 😉 The only thing that I haven't decided on, is whether to continue using the old editions, or try the Wordly Wise 3000
series… (Update: After a couple emails mentioning that the new editions contain some stories with a liberal slant, I think we'll stick with the old editions.)
Handwriting
This is the one subject that I haven't made a decision on yet. . . The girls will be continuing on with Handwriting Without Tears, but I am torn whether to continue using the Handwriting for Young Catholics series for the boys, or to switch to something
a little less expensive. In the meantime I have been watching for the Handwriting for Young Catholics books on Cathswap… We'll see!
Ever since switching to the Exploring Creation series, my children have really enjoyed Science. The boys didn't love Botany nearly as much as they loved studying Astronomy, but they still learned so much and had lots of fun in the process!
If by chance we finish early, we will move on to Zoology 2:
Chiquita always loves to just listen along whenever we are reading aloud from the Exploring Creation books, but she also enjoyed Science and Living in God's World 1A last year, and will continue on to Science and Living in God's World 1 this year.
For the past three years we have been using, and loving, Connecting with History! We are never able to get to quite as many of the hands-on activities and other projects as we would like, but my children (the boys especially) love the book lists and reading assignments. This past year was a little harder than usual. . . I ordered all the books on the book list, but I kept waiting to order the completed teachers guide (which was originally scheduled to be published last summer) instead of downloading the units as they were available. (I really prefer having a hard copy and didn't want to spend the money on the downloads, if I planned to purchase the print edition.) Anyhow, we did the first three units and then continued with just reading assignments from the book lists for units 4-8, skipping any of the books that have to do with Early American History.
Since Volume 4 of Connecting with History has not been published yet, and since my boys have been begging, we will be revisiting American History this coming year! It will be the perfect opportunity for the boys to focus (and hopefully complete) their State-by-State Scrapbook for Geography as well. Over the past week I have been working on creating plans for the year, which makes me even more thankful for the wonderful resource that the Connecting with History Books have been!
I've decided to use From Sea to Shining Sea
as a spine for the boys, and America, My Country along with American History 1 for Young Catholics for the girls. At this point I am looking at breaking the year into 6 Unit Studies, including: New World Explorers, Colonial Life, The American Revolution, The Early 19th Century, The Civil War, and The Industrial Revolution through the Great Depression. I've been working on coming up with book lists, reading assignments, lap books, various projects, and timeline dates to add to their Record of Time Timeline Notebooks for each unit. It still needs some work, but so far the plans are coming together nicely!
Music is something that has been put off for way too long (at least formally), and so this year the kids will hopefully begin piano lessons, in addition to starting a study on composers which will include creating a "Composers" lap book. Here are some of the resources we will be using, most of which we already own:
As a few of the new school books arrive, our children are already getting excited for "school" to begin again!