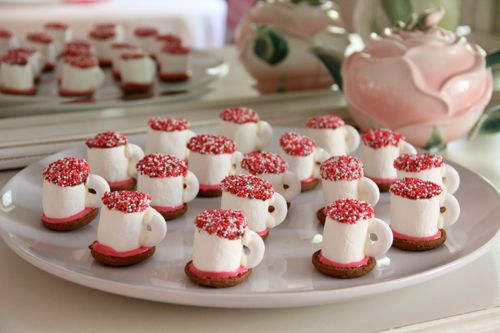 I am making myself take a break from housework, packing, and planning to sit down for a few minutes, so I thought I would share another recipe from the birthday party yesterday. I found this idea through a google search, and I think it might have originated (at least online) here. I modified the recipe to be able to use ingredients I already had on hand. The girls and I had so much fun and they were so fast and easy to make!
Marshmallow Teacup Cookies
Ingredients:
Round Cookies – We used Trader Joe's Triple Gingersnaps
1 Package Marshmallows
Sprinkles
Lifesavers
Cookie Icing
Cocoa and White Candy Melts
Directions:
Dip the top of each marshmallow into some melted Cocoa Candy Melts and then into the sprinkles.
Cut all lifesavers in half. Dip the ends of each lifesaver half into melted White Candy Melts and attach one lifesaver "handle" to the side of each Marshmallow. Hold for a second or two to make sure it adheres to the marshmallow.
Cover the bottom/flattest side of each cookie with a little bit of cookie icing. (We used Trader Joe's Triple Gingersnap Cookies. I had purchased a box of Vanilla Wafers, but they were too rounded on the top and kept tipping over. Ours were a little too small, but they worked… A slightly larger sugar cookie, that is mostly flat on the top would have been perfect.)
Place a marshmallow teacup in the middle of each cookie, pressing down lightly.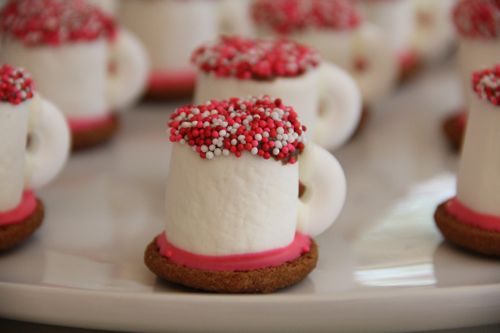 I think they turned out looking more like mugs of Hot Cocoa, but the kids all loved them and I thought they were a perfect addition to the Tea Party birthday menu! They would also be a fun addition to the Little Flower Tea Parties.