Outside my window… the sun is starting to set on this beautiful feast of the Assumption.
I am thinking… about my little one. Will we be welcoming another baby girl, or perhaps a boy, this coming New Year's?!? Tomorrow morning I have my next ultrasound, and we just might find out! I really don't have any idea this time around. At first I thought it was going to be a boy, due to my nauseousness, but now that it has almost gone away, I am not sure. . . Any guesses? 🙂
I am thankful… that my husband's brother will be back tomorrow night for a few more days! His visit to our home was broken up by a quick little trip (across the country) to give a retreat at a Carmelite Convent. The kids can hardly wait for his flight to arrive. Tomorrow is going to be an exciting day!
From the kitchen… Berry Cobbler with homemade whipped cream, our favorite dessert for the feast of the Assumption. We also have a big bowl of Blackberries that we picked this morning, alongside our walking trail! Yum!!
Learning all the time… Decisions, decisions. Our new school year is about to start and I have a few decisions that need to be made. There is a new homeschool charter school available in our area, and my husband and I think it might just be the answer to some of our prayers. With another new baby arriving this year, and 4-5 children in "school", I had really wanted to look into a tutor to help out one day a week, but financially it is just not a possibility at this time. With this charter school I would have a lovely woman (I met her today) coming to the house for 4 hours a week "to help make my job a little easier" plus an allowance to use towards the children's education! Of course I already have most of the books that we need for the year, but I can use the allowance towards the various consumables I still need, in addition to paying for all the extracurricular activities (like Hockey, Fencing, Ballet, etc) that our children wouldn't otherwise be able to participate in this year. Do any of you belong to a charter school? If so, I would love to hear about any drawbacks that you have noticed… With the "first day of school" coming up on September 6th, we need to make a decision pretty soon!
Living the Liturgical Year at Home… Happy Feast of the Assumption!
I am creating… We just mailed out the cutest birthday party invitations to all of Twinkle Toes' little friends. She will be turning 8 at the end of this month, and decided on a Tea Party to celebrate! It should be lots of fun!! Now I just need to get on with making all the decorations and favors!
I am wearing… flip flops! What was I thinking wearing flip flops while walking and picking berries?!? I really need to get a new pair of walking shoes soon! Do you have a favorite pair ? I'd love some suggestions!
I am reading… the pdf download of Beyond the Pilgrims. After finishing up our plans for American History, I ran across this little booklet. I really didn't need it since I had already planned out our year, but I have enjoyed reading it, especially all the interesting little known facts about the Catholic Church in American that are included. I thought it was worth the $4.50 that I spent to purchase it from St. George Books, and we will definitely be incorporating some of those facts into our timeline!
Pondering these words… from today's reading in Divine Intimacy
:
"O most Blessed Virgin Mary, assumed into heaven, I beg you to purify my senses so that I may begin to enjoy God even while I am on earth."
Noticing that… I am feeling quite "lived in" at the moment, especially with this active little baby kicking and rolling around all the time. I love it! Yesterday Snuggles grabbed my shirt and quickly peeked up saying "Hey! I don't see a baby in there?!?" I can't wait until he is able to feel this little one moving too… Soon!
Towards personal care… As I mentioned already, we went walking this morning. I'm gaining weight much quicker than I would like this pregnancy, and really need to find more ways to be active.
Around the house… I still have a couple boxes of books that I would love to pass on to new homes before school begins! I created a page with all the remaining books (I just haven't updated the pictures), reducing the prices on almost all of them by about 40-50% (some are even free). Please take a look and let me know if there is anything you might be interested in. Next I hope to tackle all the excess clothing from my girls' bedrooms to post on ebay! I'm just not sure there is enough time left to get to it all this summer!
Also, Thank You to everyone that participated in the Online Curriculum Sale Blog Hop! I was so pleased with all the participation, and perhaps we can make it an annual event. 🙂
I am hoping… to finalize my plans for Wreath IV of Little Flowers this coming week, in addition to responding to some of the emails waiting patiently in my inbox. With company coming again, it might not happen! 😉
I am praying… for Lucy Mae, in addition to a number of personal intentions for my extended family.
One of my favorite things… My new Catholic Daily Planner! I love, love, LOVE it!!!
A few plans for the rest of the week:
Movie Night with my little sister, one of the twins, before she takes off for ROME!!
Welcome home the other twin, who will be home from Hawaii for a few weeks before heading off to Texas!
A sneak peak at our precious little one, and perhaps the answer to that little question – Boy or Girl!
Another visit from "Uncle Father"
A Picture thought I am sharing: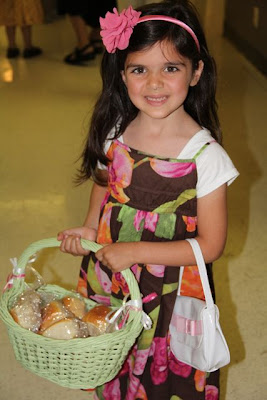 Our little Chiquita, passing out Sweet Bread at the Saint Anthony's Festa we attended this past weekend
I have so many other pictures I'd love to share, but my sister will be arriving soon and I need to get off the computer! Good night and God blessl!