Outside my window… the weather has been so interesting this past week. Snow, Rain, Sun, Sleet – we have had it all! Yesterday it was so warm and sunny, and today is is back to freezing and even snowing at the moment. Here is the picture I took from the couch the other morning. Our children were so excited that the snow stuck around for a few hours.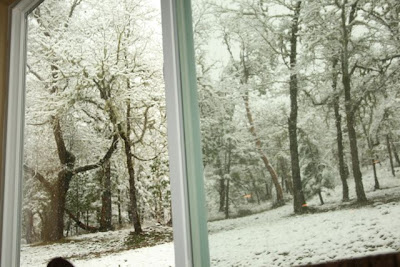 I am listening to… Teaching Textbooks. It's Rascal's turn on the lap top. . . Usually the boys wear the ear buds while they are doing their math, but for some reason he isn't today. Teaching Textbooks has been my favorite change in curriculum this past year!
I am thinking… about my remaining Little Flowers meetings for the year and planning out the notebook pages, crafts and snacks. I still haven't decided on a craft for patience (perhaps an embroidery project?) or fortitude. Any ideas?
I am thankful for… Four day weekends! Hubby had Friday-Monday off and was able to paint the doors and some of the trim in our remodel and I was able to clean and organize a couple of my "hot spots."
I am hoping and praying… for my Father-in-law. The recovery from his operation has been very challenging for him, and he will be needing radiation after all. Please remember him in your prayers!
From the kitchen… Edible Chairs for the Feast of the Chair of St. Peter! I still haven't made plans for dinner, but since we are heading to town this afternoon, I think I will just pick up a Baked Chicken and Salad mix while we are at Costco.
From the learning rooms… These pictures were from a couple weeks ago – you can tell, since my boys still needed haircuts badly! The kids had so much fun "Pollinating Donuts" as an extra activity for Botany
…




… a little too much fun!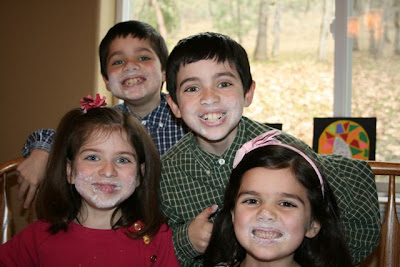 Living the Liturgical Year at Home… Last week we really enjoyed celebrating St. Valentine's Day and attending the Valentine's Day Brunch following Mass at our parish. I brought a Cherry Cheese Coffee Cake to share and even remembered to bring a wedding photo! It was so fun to see all the wedding pictures and Father even gave a blessing to all of the married couples, Hubby & I included.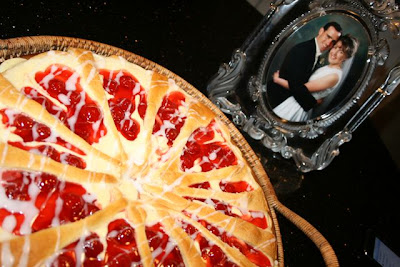 I am creating… a compilation of all my past Lenten Posts. I started working on updating my Feast Day Plans and Celebrations post, but decided to break it up into monthly posts (with the additions of Advent, Christmas, Lent and Easter) like I've done over at Catholic Cuisine. I'm hoping that it will make it a little easier to keep updated this way. . . I guess we will see.
I am Snuggles is wearing… new Buzz and Woody underwear! Yesterday he finally had his very first potty training success, thanks to Buzz and Woody and the promise of a M&M for each successful attempt. I learned with my older boys that it just isn't worth the fight and they will potty train easily when they are ready, but I was starting to think that Rose might be potty trained before Snuggles! He had two successes (It was so cute when he said "I'm doing it!!!!"), followed by a couple accidents, and today isn't going that great, but at least it is a start!
I am reading… the same stack of books is still sitting on my nightstand, with the addition of The Gift of Summer Snow: A Tale from the Garden of Mysteries
. I just haven't had much time for reading lately. Hopefully I can get back to them soon, since I have a couple other books I'd like to read this Lent.
On my iTouch… Words with Friends. I think it has become an addiction. . . Not really, but it sure is fun! My brother just added it to his iPhone as well, so I have another new opponent. Yay!
Pondering these words… from Chapter 15 of The Cure Of Ars
. This is really such a great little book. Hubby read it to us, a chapter or two each night at dinnertime, and we recently finished reading it before moving on to a short book about St. Therese.
To a mother of a large family who was expecting another child, he said with fatherly kindness and consideration: "Be comforted, my child. If you only knew the women who will go to Hell because they did not bring into the world the children they should have given to it!"
Noticing that… I am not "expecting another child", but that 42 day cycle sure made me start thinking otherwise and spend way too much money on tests. 😉
Towards personal care… I haven't decided yet, but I am thinking about joining Lena's team for a Nun Run on March 12th.
Around the house… lots of little projects that need to be completed in the next week. Father will be coming over this Friday for dinner and then next Tuesday we are having a little get together, so I am hoping to finish them soon!


One of my favorite things.. Celebrating my children's birthdays! Our children just love having themed birthday parties, regardless of whether it is celebrated with friends (certain years) or with just our family. They are already talking about which "theme" will be next. 🙂 We also just celebrated my brother Scott's 21st birthday and my Dad's 56th birthday this past week. Happy birthday to you both!!
A few plans for the week:
Monday :: President's Day
Tuesday :: Birthday Party and Errands
Friday :: Mass, Little Flowers and Father coming over for Dinner
Saturday :: Baseball Evaluations
A Picture thought I am sharing: