Outside my window… it isn't raining at the moment, and there are five little ones running around, climbing trees and enjoying the fresh air, while Rose naps.
I am listening to… Women in Chant: Recordare: Remembering the Mysteries in the Life of Jesus, Son of Mary
.
I am thinking… about how being a home educating mother changes the way I look at things. I never would have thought I would be so excited to receive flowers on my birthday, so that my children could dissect them for one of their Botany lessons! 😉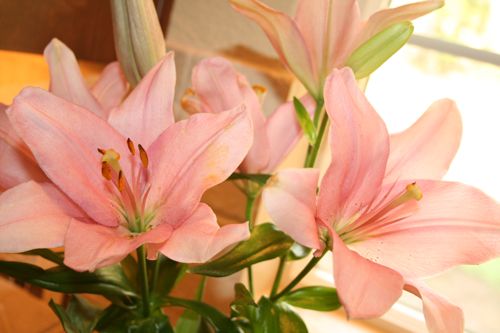 I am thankful for… my amazing family and all of my wonderful friends! I turned 33 on Sunday, and had such a lovely day. It started with Mass and a whole bunch of precious cards from my children. (Not to mention all the birthday greetings on Facebook!) My brother and sister-in-law then watched our kids so that Hubby could take me to see The Voyage of the Dawn Treader and then meet my parents for dinner. Then it was back home to for cake and to open a beautifully wrapped birthday gift which was sitting on the counter. It was such a nice day! I sure love my family and have been truly blessed!!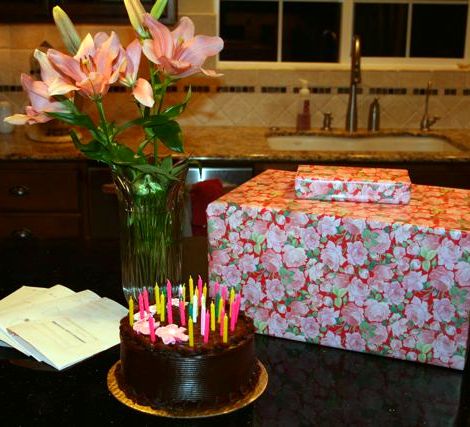 I am hoping and praying… that my niece's MRI goes well today, for a very special intention, and that my father-in-law has a quick recovery from his surgery.
From the kitchen… lots of leftover chocolate birthday cake, which I am trying not to eat! 😉 I am also trying to come up with meals with the food I have in my pantry and freezer this week. I haven't gone grocery shopping since just before Christmas, but I think I should be able to pull off one more week if I have Hubby pick up some milk, fruits and vegetables.
Monday :: Chicken Cacciatore with Dinner Rolls
Tuesday :: Tacos, Steamed Corn and Spanish Rice
Wednesday :: Baked Steak in Tangy Tomato Sauce and Scalloped Potatoes
Thursday :: Get Yo' Man Chicken, Rice and Steamed Broccoli
Friday :: Brown Rice Vegetable Casserole
Saturday :: Grilled Tilapia with Steamed Veggies and Rice
Sunday :: Lasagna, Salad and Garlic Bread
From the learning rooms… I finally feel like we are making progress! Each (weekday) morning we have been working on Religion, Language Arts (Handwriting, Phonics, Spelling, Writing and Grammar) and Math, which leaves the afternoons free to study Science, Geography, History, etc. Following a schedule once again is really helping to get our days off to a good start, and use the time most efficiently.
Living the Liturgical Year at Home… we will be celebrating the feast of Our Lady of Altagracia later this week, on January 21st. Last year I painted a little wooden peg doll in her honor, read A Gift of Gracias: The Legend of Altagracia
and served Orange Smoothies. I haven't quite finalized our plans for this year, but we just love all of Alice's Teas so I am leaning towards serving her Tea in Honor of Our Lady of Altagracia.
I am creating… a little village of paper houses with my girls, using the birthday
gifts
from my sweet Hubby!
I am wearing… the next size down!!!
I am reading… I haven't had much time for reading this past week, but I am hoping to get back to the books on my nightstand soon: Large Family Logistics, I Believe in Love: A Personal Retreat Based on the Teaching of St. Therese of Lisieux, Olivia's Gift, and Small Steps for Catholic Moms
.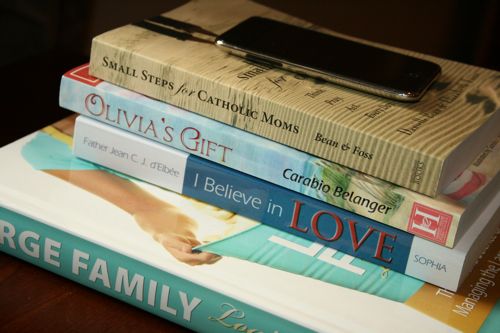 On my iTouch… after seeing the Bob Books app suggested by others, I finally downloaded the Bob Books Lite version to try. Chiquita loves using it, so I think I'll download the full app soon.
Pondering these words… from Chapter 10 of The Cure Of Ars,
which Hubby read to all of us last night at dinner:
"To suffer lovingly is to suffer no longer. To flee from the cross is to be crushed beneath its weight. We should pray for a love of the cross – then it will become sweet."
Noticing that… blowing out 33 candles creates a LOT of smoke!!! (… and that it was really hard for me to post this "really neat" picture that my children wanted me to share with you all! lol!)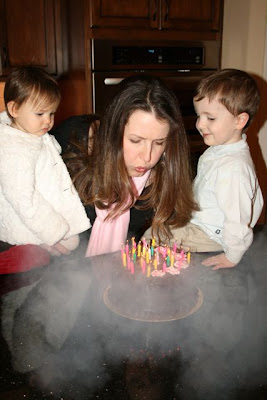 Towards personal care… I am trying to keep the weight off, which I lost while I was sick off, and so far have been successful. I was actually even able to lose a couple more pounds on top of the first seven, but those came right back due to the cake, coffee, and burger on my birthday… Now that the coughing isn't nearly as bad as it was, I am hoping to start exercising again. I'm not sure the balance games on the Wii Fit
count? 😉
Around the house… The weekend before last, Hubby and I added curtains to the windows, to match the ones over the sliding glass door, in our bedroom and we just love them. However, I must say that it has made getting up a bit harder since it stays so dark in the morning when they are closed!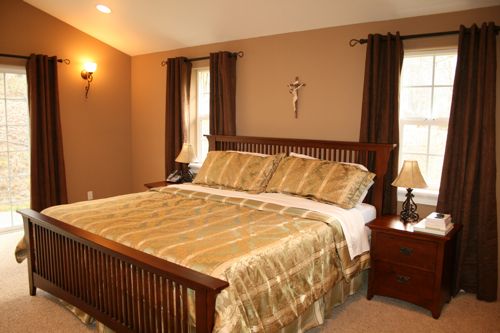 On keeping home… Here is a favorite quote from St. Frances of Rome:
"It is most laudable in a married woman to be devout, but she must never forget that she is a housewife; and sometimes she must leave God at the altar to find Him in her housekeeping."
One of my favorite things… The "Watch Instantly" feature on Netflix! While we were sick earlier this month we all watched (and loved!) The Sissi Collection. We also enjoyed watching Booky and the Secret Santa
(starring Megan Follows) and Booky's Crush. Last week, before my sister headed back to college, she came over one night and we watched Relative Values
(starring Julie Andrews). Have you run across any great movies that are available to watch instantly? I'd love a few suggestions!
A few plans for the rest of the week:
Doctors Appointment for Snuggles on Wednesday
Prepare for our next Little Flowers Girls' Club Meeting
Attend Mass on Friday and Sunday
A Picture thought I am sharing: