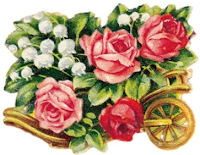 Outside my window… it's a beautiful day! The sun is shining, and it should get up to a lovely 74 degrees today. I'm planning on heading outside to work on the yard, starting with cleaning up all the cupcake crumbs all over the deck… 🙂
I am thinking… about the kindness and generosity of the Catholic Community online! Thank you to all of you that have contributed towards the gifts for Charlotte, both the crib and the spiritual bouquet of prayers and advice, through the Virtual Baby Shower I am hosting here at Shower of Roses. There is still plenty of time to contribute towards the gifts and participate in the games! I've added a banner link to the top of the blog which I will leave until June 24th, so you can easily find your way to all the fun.
I am thankful for… the gift of blogging and all of the very real friendships that are formed online.
From the kitchen… lots of cupcakes! The children loved the baby rattle cupcakes that I made for the Baby Shower, and my girls asked if they could please decorate the rest of the cupcakes, to enter into the competition. I'll post some pictures soon!
Learning at Home… we are wrapping our school year up this week! Right now my children are working on reading the last chapter of Exploring Creation with Botany
, and assembling their second Botany Lapbook for the year – which includes all the mini books they made for the second half of their textbook, Lessons 6-13.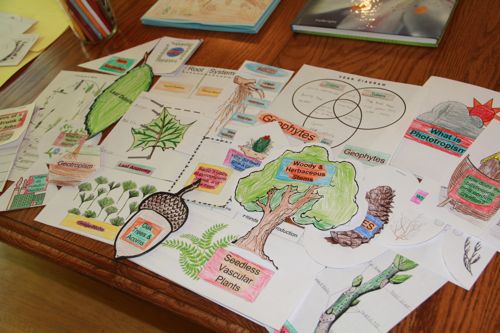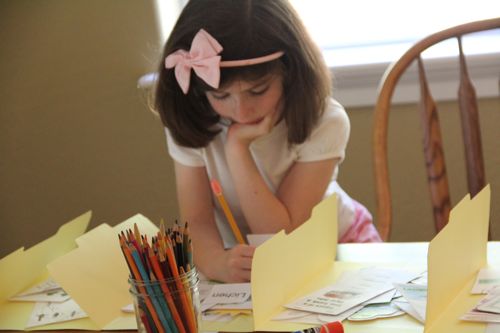 Living the Liturgical Year at Home… Pentecost Sunday is coming up this weekend. I have all sorts of ideas and suggestions in the archives, including the Pentecost Windsock that we made last year!
I am creating… a summertime plan. Which is looking almost identical to last year's! 😉
I am wearing… Bella Bands!
I am reading… The Monastery Garden Cookbook: Farm-Fresh Recipes for the Home Cook
. I'm hoping to try out one of the recipes this afternoon.
Pondering these words… which are from today's reading in Small Steps for Catholic Moms
. I always find the quotes in this book so very inspiring!
"One great means of preserving constant peace and tranquility of heart is to receive all things as coming from the hands of God, whatever they may be, and in whatever way they may come."
St. Dorotheus
Noticing that… the Name that Baby Game turned out to be a lot harder than I thought it would be… I've been enjoying seeing which baby you all this is me!
Towards personal care… I finally broke out my Walking DVD's
and started exercising again yesterday. Why is it so hard to find make the time? This morning sickness has made it so difficult to get up early, and when I am up early, exercising is the last thing that I've wanted to do… Hubby says that we should probably invest in a treadmill, and he is probably right.
I am listening… to Snuggles and Rose playing together. Those two have so much fun together, at least most of the time!
Around the house… piles of clothing waiting to be sorted… This job seems to keep getting harder and harder to do each year, and I have been putting it off. After reading the "Act" for today, following the "Think" (Saint Quote shared above) and the "Pray" (short prayer), I am going to get started on those piles.
"Do some small, slow, deliberate task with your hands – folding laundry, sewing, making bread, dusting bookshelves. Offer each moment of your work in thanksgiving to God for the privilege of blessing your family with your hands." ~ Small Steps for Catholic Moms
I am hoping… that I might be able to make a quick trip to California this weekend, to attend the funeral and burial of my dear childhood friend's baby, Abigail, who was born into heaven on June 1st. My heart is breaking for Amy and her family…
I am praying… for Art & Amy, and their two other daughters, as they grieve the loss of sweet little Abigail. May Our Blessed Mother wrap her mantle around all of them, and May Our Dear Lord comfort them in this difficult time.
One of my favorite things… brown paper packages, tied up with strings!! My mail man has been dropping of little packages quite frequently over the past few weeks, and I feel so completely BLESSED to have such wonderful, thoughtful friends here online!
I haven't posted about all of them, but we received a lovely care package from an old college friend (filled with items from the John Paul II Cultural Center in DC which recently closed), some products from Monastery Greetings and Arma Dei (for review at Catholic Cuisine and here), a beautiful St. Sylvia doll (as a pregnancy gift from St. Luke's Brush!), an adorable Matroyshka Doll and lovely scarf (arrived yesterday from Megan, who purchased them on a recent trip to Russia!), and today the mailman just left a sweet picture book called Baboushka: A Christmas Folktale from Russia (a gift from Dessi!). Thank you all!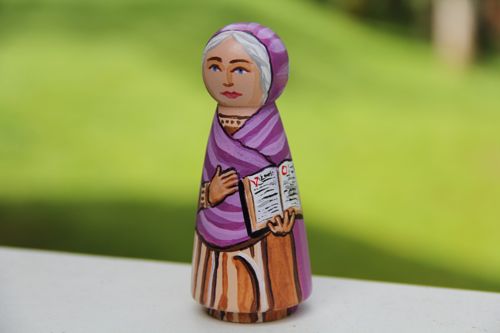 Saint Sylvia was the mother of St. Gregory the Great. Sylvia was noted for her great piety, and she gave her sons an excellent education. After the death of her husband she devoted herself entirely to religion in the "new cell by the gate of blessed Paul" (cella nova juxta portam beati Pauli).
She is invoked by pregnant women for a safe delivery.
A few plans for the rest of the week:
Last Fencing Class for the session, this afternoon.
Last Day of School!!
Start preparing for an upcoming camping trip!
Have our last Good Shepherd's Garden Party and Celebrate Pentecost!
A Picture thought I am sharing: