Outside my window… I keep spotting two cats. Did I mention that we have cats now? Somehow I was convinced (or rather ambushed) by a neighbor, Hubby, and 6 begging children, to adopt the two eight month old kitties. They were recently abandoned, when the family across the street moved out of town. Since they "arrived" on Columbus Day, and since they kids had all been studying New World Explorers, they finally decided to name the cats Ferdinand and Isabella.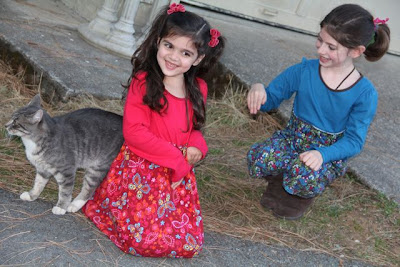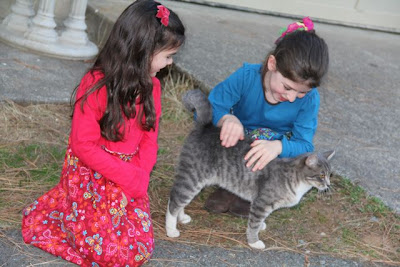 The girls with Ferdinand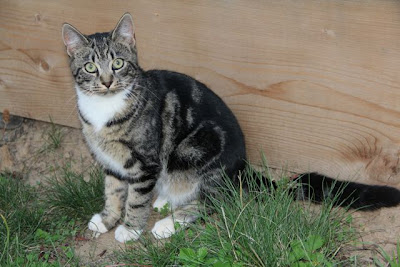 Isabella (the hunter!)
This picture was taken right after she killed a snake and laid it across the entry to the garden… Now if she could just get the gophers that have been digging through our garden!
I am thinking… that it is SO. MUCH. EASIER. to pack for one than it is to pack for seven! It wasn't nearly as overwhelming as I thought it was going to be, and I am all ready to fly to Texas tomorrow morning – if a 6:00 am flight can actually be considered "morning."
I am thankful… that I finally will get to meet Charlotte and her family. I am so excited!
From the kitchen… yummy treats from our field trip to Harry and David!
Learning all the time… I took a break from Little Saints this week, to focus on getting some extra school work done with the older kids, and we will continue our "Fall" theme next week when I get home. In the meantime, Snuggles is still loving All About Reading's Pre-Reading Program. This morning, after his lesson on the letter D and some more work on rhyming words, he got to complete another letter from "My First Book of Letters." The older kids have all moved on to their second unit of History and are now studying the Colonial Times. History has definitely been everyone's favorite subject this year, and Writing With Ease the least favorite (at least for the boys – the girls have been pretty happy with everything).
Living the Liturgical Year at Home… I have started making plans for our All Hallows' Eve / All Saints Party, and our children have been trying to decide which saint they will dress as this year. Snuggles has decided to be St. George and was so excited when his dragon arrived this past week!
I am creating… a few new games for our All Saints Party, including a Saint Bingo Game. I will have to share it with you all when I get back from Texas.
I am wearing… old clothes. All my nice clothes (that actually fit) are sitting in a suitcase next to the front door!
I am reading… nothing at the moment, but I did pick up a book
from the library to read on the plane.
Noticing that… as much as I am looking forward to a vacation, I am really going to miss my family. All day today the kids have been counting the hours until my plane leaves with sad faces, and giving me extra hugs constantly. I am so blessed!
Towards personal care… I never did get around to making an appointment to get my hair cut, but I have until December to use my gift certificate, so I still have time. I can't believe that it has been since February! I am so bad at making time for these sorts of things. . .
I am listening… to Chiquita singing "Work while you work, Play while you play, This is the way To be happy each day. All that you do, Do with your might, Things done by half, Are never done right!" It is the latest poem she has been memorizing in her First Language Lessons, and she has been practicing it so much I think the whole family has it memorized!
Around the house… the laundry is all caught up, lesson plans have been created for the rest of this week and next, and their is food in the pantry. I don't know why I am worrying so much, I am sure Hubby will be just fine and my mom has even offered to come over and help a couple days!
I am praying… for a safe flight, and that I don't have a panic attack. It has been 11 years since I was on a plane last, and I am just a little bit nervous. 🙂
One of my favorite things… playing board games with my kids!
A few plans for this week:
School… School…. School…
Hockey practice for the boys
Tutor on Wednesday morning
Early morning flight to Texas on Thursday
Finally "meet" Charlotte and her family!
Cupcake's Baptism on Saturday
Spend the night with my sister on Saturday night
and attend Mass at the Cistercian Abbey on Sunday!
A Picture thought I am sharing: