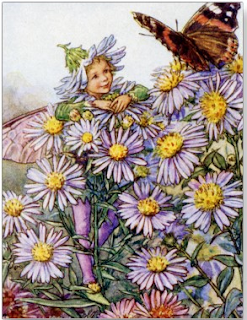 Happy Michaelmas!
Outside my window… It is a gorgeous fall day! It has been rather chilly in the morning, but warming up nicely in the afternoon. It is my favorite time of year!
I am thinking… our school plans for this year, and how nicely everything seems to be falling into place. After 4 weeks of "school," I still need to work on a better daily schedule for this year's plans, but so far everyone has been very happy with their curriculum.
I am thankful… that my husband is home from training and for the wonderful early Anniversary gift of not only a new Smart Phone (my first ever!) but also a TICKET TO TEXAS to attend the baptism of a precious little "Cupcake" later this month. This will be the first time I have flown in over 11 years (and by myself no less), and I am a little nervous, to say the least. Yet completely excited at the same time!!!
From the kitchen… It's Michaelmas Day, which, in our home, always means Blackberry Waffles for brunch, Apple Chicken, Angel Hair Pasta, Steamed Carrots, Sparkling Apple Cider or Blackberry Izze Drinks for dinner, and of course Devil's Food Cupcakes complete with little swords for stabbing the cupcakes the devil!
Learning all the time… Our school year is off to a wonderful start. I did end up signing up for the local charter school which offers an allowance towards some of our school books and extra curricular activities (that our children wouldn't have otherwise been able to participate in this year), and our ES (tutor) comes to our home 4 hours each week (on Wednesday mornings). She has been just wonderful with the kids, and a complete answer to prayer!
Living the Liturgical Year at Home… Isn't it a great week for celebrating the liturgical year?! So many wonderful feasts, including Michaelmas Day, St. Therese and the Holy Guardian Angels. It is my favorite week of the year, which is why I choose this week to be married, all those years ago! 😉 I have all sorts of ideas for celebrating these feasts in the archives. Also, be sure to visit Elisa Loves for a St. Therese Link-up on October 1st, and Stories of an Unschooling Family for a chance to win one of three Ecopies of A Little Way of Homeschooling
! Oh, and rumor has it that there will be a St. Therese Apron Giveaway coming up soon over at Catholic Cuisine… 😉
I am creating… all sorts of Crafts, Lap Books, Notebook Pages, and Saintly Symbol Cupcakes for my Little Flowers Girls' Club. In case you hadn't noticed!
I am wearing… I have been having some awful challenges with my pregnancy the past couple weeks – nothing too serious, just extremely painful – and started wearing this Baby Belly Band yesterday. I am really hoping that it helps! In the meantime, I am trying my best to offer it up for a safe delivery and healthy baby.
I am reading… lots of pictures books to my little ones for their Little Saints Pre-School, P is for Peach: A Georgia Alphabet
to the Girls, lots of History Books, Exploring Creation with Zoology 1: Flying Creatures of the 5th Day
and Sebastian Bach, The Boy from Thuringia
to all the kids. I think I need to find something for myself. Any suggestions?
Pondering these words… that I just read to my boys for them to add to their St. Michael Copywork Page (a great free printable from CHC) this year:
Brave St. Michael is my guide
As free and fearless forth I ride
With courage of St. George of old
I dare to fight fierce dragons bold.
~ Eric Fairman
Noticing that… I really, really, really need to start adding a short walk to my daily routine. Why is that so hard to do?
Towards personal care… I've been drinking protein shakes every day, after my sister convinced me to try the latest product she's selling. I've been having them for breakfast, or sometimes lunch, and have noticed an incredible difference in my energy and rapid weight gain (which has finally stopped, and actually went down a little!) this pregnancy. I have been mixing the Protien Powder (the "shake mix that tastes like a cake mix") with either coconut, almond, or soy milk, and adding in various fruits. My favorites, of course, are the "Pina Coladas" and "Cafe Mochas" I've been making, which completely curb my ridiculous sweet tooth!
I am listening… to my printer going non-stop as it prints out all the Lap Book supplies for 8 girls! I've already re-filled the paper cartridge a few times. It's a LOT of paper, but it will be so nice to have it all ready for the whole year.
Around the house… signs of fall! Our fall wreath is on the front door, their are baskets of books in the living and family room, cozy blankets on the couches, and the cushions from the furniture on the deck keep ending up inside the front door every time the forecast threatens to rain.
I am hoping… that I might be able to sleep tonight. I haven't been sleeping much lately and I don't even have a newborn yet!
I am praying… For the soul of my old, and very first, employer, you died this past week on September 21st, at the age of 94. I worked for him for many years, between the ages of 16 and 23, when I finally decided to start my own business. He taught me everything I needed to know to successfully start a local phone directory, which I later sold when I was expecting Twinkle Toes. Though hard to work for at times, I will be forever grateful to him. May he rest in peace!
One of my favorite things… celebrating name days. Happy Name Day to our little Snuggles!
A few plans for the rest of the week:
Little Flowers Girls Club Meeting #1 for Wreath IV
Celebrate Michaelmas
Celebrate the Feasts of St. Therese
Celebrate our 12th Wedding Anniversary
Basically just celebrate, celebrate, celebrate!!! 😉
A Picture thought I am sharing: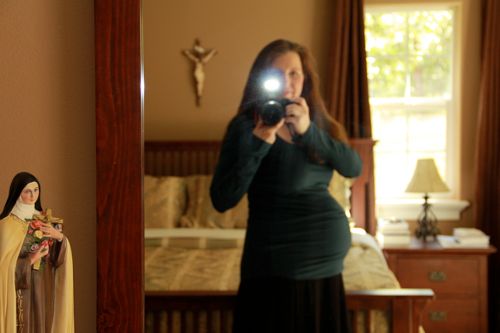 Inspired by Sarah, who looks
absolutely adorable at 19 weeks
, here is a picture of my ever growing little guy at almost 27 weeks! Can you believe that the New Year is only 13 weeks (and a few days) away?!?