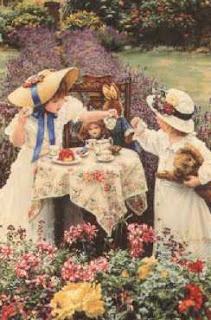 Outside my window… It looks like it is going to be another HOT day! We are in the peak of fire season here, but my husband hasn't been able to be listed as available, and won't be able to take an assignment until after he gets home from the two week training session he is began yesterday. As much as I hate to see him fighting fires, we pretty much rely on the overtime from at least one two-week fire assignment each summer to get us through the winter months, which means (if the fire season continues and he does indeed get an assignment once he arrives home) he could potentially be gone for at least 4 weeks over the next month or two. Sigh.
I am thinking… about everything I would like to get done while he is out of town. I haven't even begun to get ready for this baby… In fact, I am still trying to figure out where to put Rose's clothing. (I currently have a changing table/dresser that she is using, and I will need that for the baby.) I had hoped that we would be able to add a closet to that room, but perhaps just closet organizers (like the girls have in their room) would work for now. Someday we may get around to finishing the closets in those two rooms!
I am thankful… that my brother Paul was willing to babysit Saturday night so that Hubby and I were able to go out to dinner before he left on Sunday. We went to a restaurant in our little town and it made us question why we always thought we had to "drive to town" for dinner dates. I think we've found a new favorite place, and it is the closest restaurant to our home, only 3 miles away! It was so nice to have a little quite time away to talk.
From the kitchen… Smoothies for breakfast, and lots of veggies – including peppers, zucchini and tomatoes from our garden!!! I am trying to eat a little better since the weight is coming on faster than ever this pregnancy. I am also hoping to make a trip to the farm for some more locally grown peaches. A dear friend brought us a case a couple weeks ago and they were so delicious!
Learning all the time… Our second week of school is underway and so far everything is going great! Rascal even said Friday that he "loves ALL of his school books this year, and can't wait to do more school work on Monday." That made me very happy! Right now the boys are building some gliders for a science experiment from Zoology 1 and having so much fun. The girls are working on a mini-book for a Kaya lapbook while listening to the Kaya Audio Books
we downloaded from Audible.
Living the Liturgical Year at Home… Today is the feast of the Most Holy Name of Mary! This afternoon the girls are planning on making "Kaya's Dried Fruit and Nut Mix" (using Dried Blueberries, instead of Huckleberries, in honor of Our Lady).
I am creating… a Little Flowers Wreath IV Lapbook and I am so excited with how it is coming together. Our first meeting for the year is coming up at the end of this month and so I am hoping to finish it soon.
I am wearing… maternity clothes that are quickly becoming way too small. I had the most embarrassing incident happen on Saturday while grocery shopping, which I am trying very hard to forget! 😉 I just noticed that Old Navy is having a 30% off maternity sale (combined with the extra 2% cash back from clicking over from Ebates first, its a great deal – here's an Ebates referral link in case your not a member, it's free!) and I think I am going to purchase a few new things. They just don't make clothing like they use to… Nothing seems to last!
I am reading… the Little Flowers Wreath IV Leader and Member Guides, as I try to prepare for this coming year, making modifications for my younger group of girls, lots of books about Explorers to the kids, and
Pondering these words… preached by St. John Vianney on yesterday's gospel (Anger Does Not Travel Alone), and read during yesterday's homily by a wonderful priest:
"We should make use of all the annoyances that happen to us to remind ourselves that since we are in revolt against God, it is but just that other creatures should revolt against us. We should never give others occasion to curse us…. If something irritating or troublesome happens, instead of loading with curses whatever is not going the way we want it to, it would be just as easy and a great deal more beneficial for us to say: "God bless it!"
~ and here is one more interesting excerpt:
"If we encounter so many children who are wild and undisciplined, without religion, bad tempered and stunted in their souls, we need not – at least in the great majority of cases – search for the cause beyond the curses and bad tempers of the parents. ."
Noticing that… I still need to work on a new schedule for this school year. In the meantime, the checklists I started making at the end of last year and continued this year for each child, inspired by Sarah, have been so helpful!
Towards personal care… Despite the busy and hectic schedule, I am trying to "take it easy" and simplify where I can. A couple weeks ago I had to spend a couple hours at the hospital being monitored and having some tests done after cramping all day, before noticing a tiny bit of spotting. It really scared me, but everything was fine and the only explanation could be stress and/or dehydration. I've been drinking a lot more water, as for reducing "stress," I'm not exactly sure how to do that! 😉
Around the house… signs of the new school year and the upcoming arrival of fall, my favorite time of year!
I am hoping and praying… for so many intentions. Here are a few:
For my Husband (in particular) who was so discouraged and disappointed to hear this past Friday that the much-loved assistant pastor who arrived only 2 months ago – who has a special love of the Traditional Latin Mass, and has allowed my Husband to serve some of his private Masses (permission hadn't been granted for him to offer the Traditional Mass publicly, but he did come and offer Mass at the campground for us on both Saturday and Sunday while we were camping!!) and was an almost an answer to 12+ years of prayers to have the Latin Mass available in our area – is being transferred this coming Friday. We had just turned in a petition asking for the Latin Mass (which was promptly denied by the pastor since they were not going to "make any changes" for the next year) last month and then just this weekend his transfer was announced. We still haven't been told why he is being transferred, and where he is being sent. It has come as a shock, not to mention heartbreaking, for so many of us.
For Father, that he will be happy at his new assignment, and allowed to publicly offer the Extraordinary Form of the Mass in our liberal diocese.
For my friend Julie who is hoping to adopt again and asking for others to join a novena to St. Therese (beginning today) for the intention of health, safety, peace and joy for all those involved in their adoption journey, and for the intention of bringing their baby home soon.
For Daisy as she continues to recover beautifully from her heart surgery.
For Charlotte as she continues to recover from her delivery.
In thanksgiving for the safe delivery and health of sweet little Cupcake (who is going to be our Goddaughter!!!!!!!) and that I might just be able to find a way to make the trip to Texas next month to be there for her baptism!
One of my favorite things… my Snoogle
, or "new husband" according to Hubby. It is helping so much!! I even took it camping with us! hehehee 😉
A few plans for the week:
School, school, school…
Work on organizing all the hand-me-down clothing and the nursery
Mass on Friday and Sunday
A Picture thought I am sharing: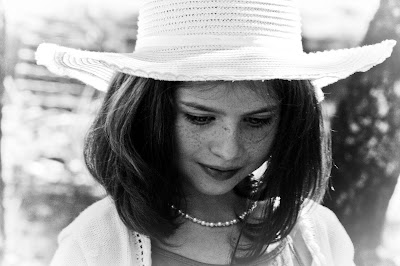 taken by my sister Mary during the birthday tea-party