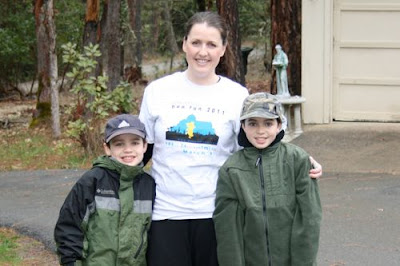 This past Saturday, March 12th, was the
2nd Annual Nun Run 2011
. After being
invited by Lena
, to join her "Shadow Team" named
All FOR!
, I decided to sign up despite my current lack of fitness.
(I spent last fall on crutches due to an ankle injury, and I haven't exercised much since it always hurts afterwards…)
I opted for the 5k after finding out that is only equals 3.10685596 miles, and that I didn't need to run the whole 5K, walking is allowed. I thought about driving down to the track, but I can never seem to remember how far I have walked, so I decided to stick with our road – which is exactly 3 miles to town. At that point my boys asked to go with me and were very excited about the prospect of actually running/walking to town! Little did they know that we would run, jog and then walk the first mile, before they were asked to carry me the rest of the way to town. 😉
It was so much fun to "see" our road in a whole new way, despite the rain and all the barking dogs (the main reason we have never walked it before). Thankfully we weren't attacked by any dogs and only one person stopped to ask if we needed a ride!
Here are some pictures of our "route" starting just down the road from our home: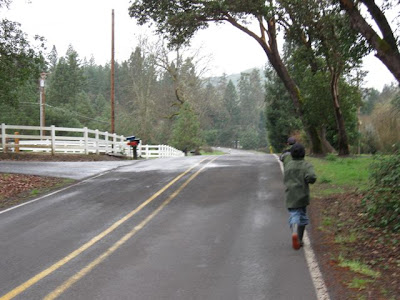 1 mile down, 2.1 to go!
The first mile was most definitely the hardest. At that point I thought I would never make it to town. . .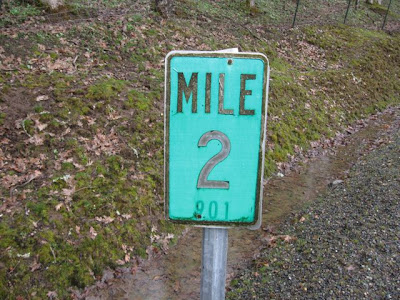 We were so excited when we made it to our final mile marker… Only another 1.1 miles left to go!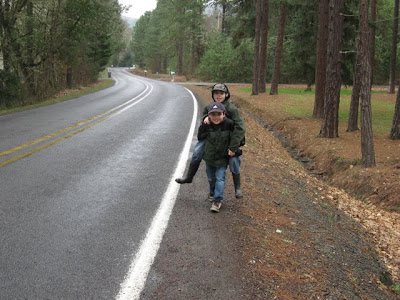 Yes, I did tell Captain not to wear rain boots. I think he (and Rascal!) was wishing he would have listened to me.
We left our home at 10:03 and finished at 10:56 = 53 minutes
The extra .1 of a mile took us right to our little local bakery… Since it is Lent, we decided to walk around the corner to the pizza parlor and order breadsticks while we waited for Hubby to pick us up. Overall we had a great time, and even though my legs are still super sore, my ankle is just fine.
You can see everyone else's (much more impressive) results