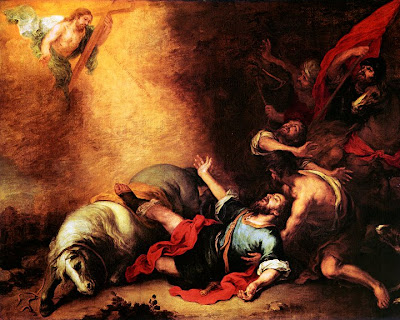 If St. Paul's day be fair and clear,
It does betide a happy year;
But if by chance it snow or rain,
Then will be dear [expensive] all kinds of grain;
If clouds or mist do dark the skie,
Great store of birds and beasts shall die;
And if the winds do fly aloft,
Then war shall vex the kingdom oft.'
~ A Yearbook of Seasons and Celebrations
We are enjoying an absolutely beautiful day here and will be headed outside to enjoy the sunshine soon! Before we go, here are a few ideas for today's feast day:
Read:
Coloring Pages and Activities:
Other Resources:
A Prayer for Conversions
O Blessed Apostle, St. Paul, greatest of all converts, who labored unceasingly for the conversion of other souls, inspire me with the ardor of your zeal that I may pray and work for the conversion of my brethren, redeemed in the Blood of Christ but not as yet blessed with the full light of His Truth. Mindful of the loving concern of the Divine Shepherd for the salvation of the "other sheep that are not of this fold," I now beg your intercession to obtain the grace of conversion for (name of family member, friend or others). May God, the Holy Spirit from Whom alone this gift can come, hear my humble prayer and thus enable me to share with others the riches of my heritage of faith through Jesus Christ, Our Lord. Amen.