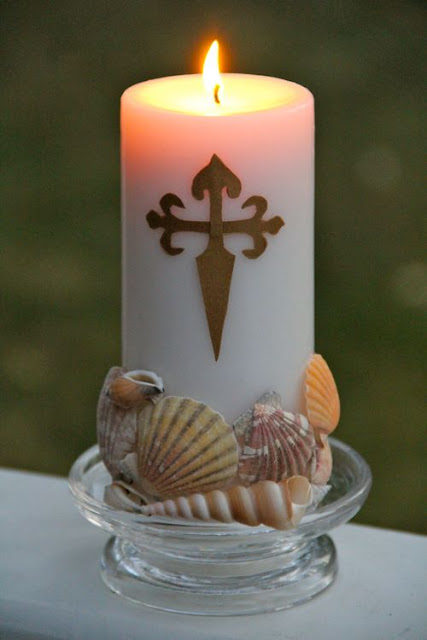 Today is the feast of St. James the Greater. It also happens to be a Nameday in our home! I had all sorts of ideas for celebrating… However, after spending most of the day in town for car repairs, errands, and a major grocery shopping trip, I had to keep it simple. We had Baked Chicken and salad for dinner, followed by a scoop of ice cream for the kids. After dinner we made this simple St. James Cross and Shells Candle!
1 White Pillar Candle
Sea Shells
(including Cockle Shells, the Symbol of St. James)
Gold Decorating Wax
(available from Stockmar in a
Variety Pack
or all
Gold
)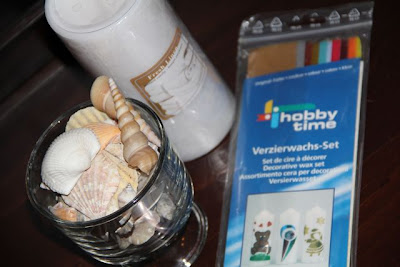 First we glued the Sea Shells around the base of the candle. This was the perfect opportunity to try out my new
CoolTool Ultra Low Temp Glue Gun
(I got mine with a coupon at Michaels)
.
I'm in love!
As always I ended up getting the glue all over my fingers, and, for the first time, I am not covered with blisters! 😉
The Low Temp of the glue, in addition to being much safer than the hot glue, also worked out perfectly for decorating the candle, since it didn't melt the wax.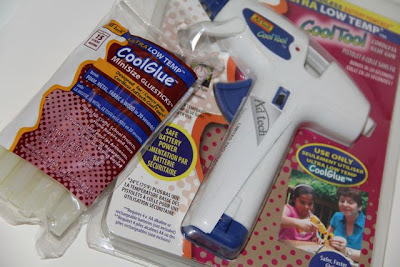 After we finished placing the shells I cut out a St. James Cross from
Gold Candle Decorating Wax
.
(The gold wax works so nicely for creating all sorts of candles – a Christ Candle for Christmas, a Paschal Candle for Easter, etc…)
First I printed out an
image
(resizing it to fit our candle), and then cut it out in two pieces from our strip of wax, using an exacto knife. We then placed the wax cross onto the candle.
That's it! It only took about 10-15 minutes to make from start to finish, and we ended up with a beautiful candle to decorate our table, in honor of St. James.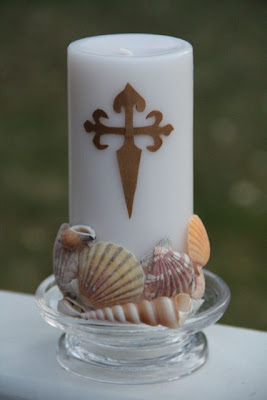 O Glorious Saint James, because of your fervor and generosity Jesus chose you to witness his glory on the Mount and his agony in the Garden. Obtain for us strength and consolation in the unending struggles of this life. Help us to follow Christ constantly and generously, to be victors over all our difficulties, and to receive the crown of glory in heaven. Amen.
St. James the Greater, one of the Glorious Twelve, Ora pro nobis.
St. Christopher, Ora pro nobis.