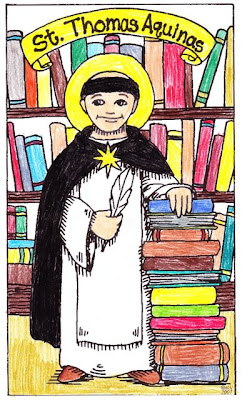 Prayer to St. Thomas Aquinas
O Angelic Doctor, St. Thomas, prince of theologians and guide of philosophers, bright ornament of the Christian world, light of the Church and patron of all Catholic schools, who has wisdom without deceit and did impart it without envy, pray for us to the Son of God who is Wisdom itself, that, by the coming of the Spirit of Wisdom, we may understand what you have taught and imitate what you have done, and that being made partakers of the wisdom and virtue in which you, while on earth, did ever shine, as the sun, we may last enjoy with you in heaven their sweetest fruits, praising the Divine Wisdom through endless ages. Amen.
Yesterday was the feast (on the new calendar) of St. Thomas Aquinas. It was a busy, yet fun-filled, day for our family, and we were very blessed to be able to spend most of it with Father T. and his visiting sister and her darling family! The morning started with two field trips: one was at a creamery and the other at a chocolate factory. Then we attended Father's noon Mass before heading home for lunch, some school work, and to get ready to have them all join us for dinner.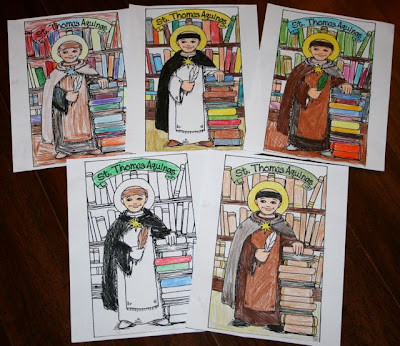 Somewhere in the there we did mage to find time to color pictures of St. Thomas Aquinas and bake a delicious Gluten-Free Apple-Walnut Spice Cake for dessert, decorated with stars.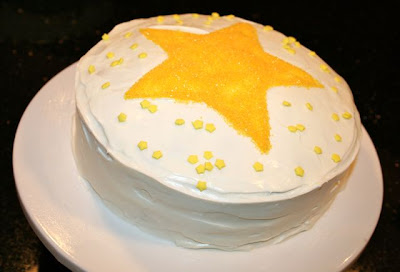 "
The star, St. Thomas Aquinas' symbol, signifies the divine guidance given him in his work."
~
My Nameday: Come for Dessert
Our children had SO. MUCH. FUN. playing with their new friends until way, way past their bedtime, but were all still able to get up this morning to go back to town for Father's Saturday morning Mass. Hopefully it won't be too long before we are able to have Father over again for dinner. What a blessing it is to have him in our area!
God our Father, you made Thomas Aquinas known for his holiness and learning. Help us to grow in wisdom by his teaching, and in holiness by imitating his faith. Grant this through our Lord Jesus Christ, your Son, who lives and reigns with you and the Holy Spirit, one God, for ever and ever. Amen.
St. Thomas Aquinas,
Patron of Students and Catholic Schools,
Pray for Us!