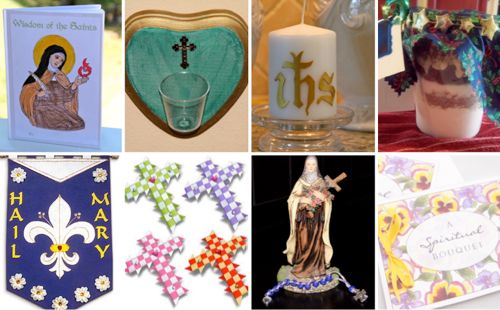 Here is a compilation of links for the crafts that my
Little Flowers Girls' Club
will be making this coming year, as we work our way through Wreath IV!
Starlight Cookies
*We will adapt this idea from over at Catholic Cuisine for our 4th meeting, for the gift of "Counsel" (following recipes!). I purchased a light blue cloud fabric for the jars, tying in the color/jewel of "aquamarine" and the symbol of "clouds."
Spiritual Bouquets
and/or
Marian May Baskets
*I love these little printable cards for Spiritual Bouquets and these Marian May Baskets! The girls will make the Spiritual Bouquets to give to their own Fathers and our local priests, as suggested in one of the Member's Guide assignments for this last meeting.
St. Therese, the Little Flower, Pray for us!