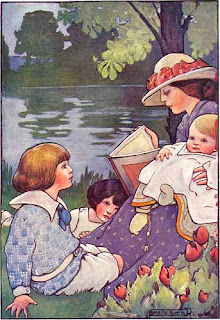 Over the past few months I have received many requests for an updated copy of our Daily Schedule. Our old schedule worked wonderfully for awhile, but, with the changes in our curriculum this year and a new baby toddler, it was time to make some modifications.
This past January I pulled out my copy of Managers of Their Homes
and created a new schedule, incorporating this year's learning plans along with some of the ideas in Large Family Logistics
. It was actually going really great until, well, Daylight Savings hit, followed by a number of birthdays, spring sports, Holy Week, Easter, and now "morning" sickness – which has ultimately caused me to throw all schedules out the window, and pray to just make it through the day! Okay, it's not that bad, but you get the general idea.
Thankfully the routines that we established during our first couple months of really following this schedule have been such a blessing and my children have taken it upon themselves to continue their daily learning, chores, etc, despite my sleepiness, sickness, and overall lack of organization.
Anyhow, with all the inquiries, I was finally inspired to re-print out our schedule, which is more of just a guide for the day, and share it with you all. Our days don't always ever go according to plan, but that is okay. The interruptions are usually little blessings in disguise and we just jump ahead to whatever is next. Our schedule allows plenty of room for flexibility and for the rabbit trails we love to follow.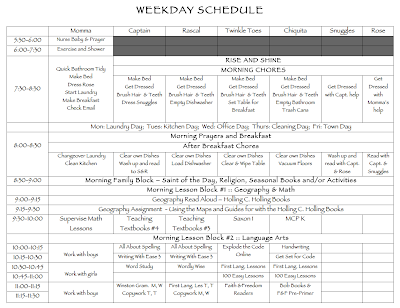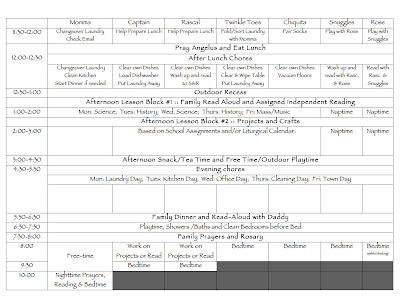 For a larger view you can either click on the images above,
Note: I never did finish filling in the afternoon/evening blocks with the childrens' chore assignments, etc, but I just assign what is needed each day, depending on our other plans, outings, and daily focus areas.