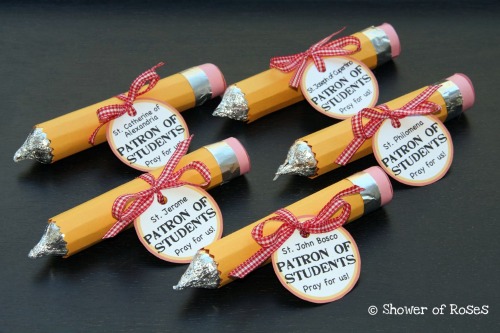 You may have already seen this CUTE idea already, but when I ran across it for the first time last week, I knew I had to adapt them for our children, as an added treat to the Schultütes they receive on their first day of school. The idea was originally from the September 2010 issue of Creating Keepsakes
.
These are basically just Rolos covered in two colors of scrapbook paper, some foil, and a Hershey's kiss on the end.
To make your own:
3 1/2 " x 4 1/2 " yellow cardstock

pinking shears
3 1/2″ x 1/2″ pink cardstock
1″ circles pink cardstock
3 1/2″ x 3/8″ aluminum foil
Rolos and Hershey kisses
adhesive – I used my Ultra Low Temp Glue Gun
Trim one short end of the yellow cardstock with pinking sheers (zigzag edge scissors), and score every 1/4″ lengthwise. Wrap around the Rolos and adhere. Next, wrap the pink cardstock at the opposite end, adding the pink circle to cover the exposed end of the Rolos. Cover the seam between the yellow and pink paper with the strip of aluminum foil. Add a Hershey Kiss to the top and you're done! They are super easy to make and turn out adorable.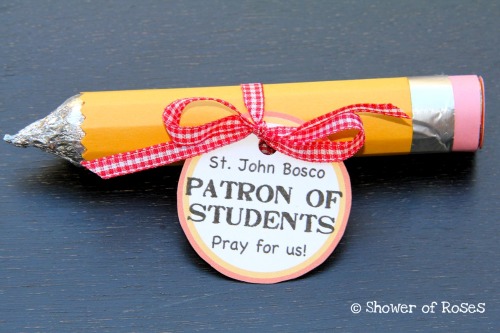 After I was done making the pencils, I decided to add a tags with little invocations to the various Patrons of Students, choosing a different saint for each of my children. I punched a hole in the top of the tag and attached them with some ribbon. You can download my document here.
Note: For those of you that would like to make this, but don't happen to have any pink or yellow cardstock on hand, here is a quick and easy printable version of the wrapper that I created!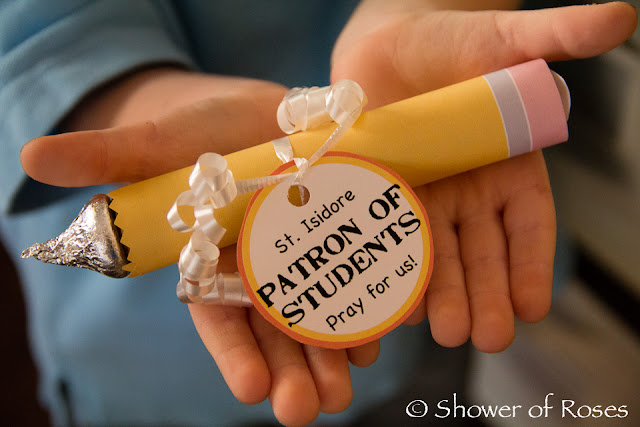 Whether your children will be studying at home or at a school,
I hope you all have a wonderful and blessed year!
A Prayer for Students by St. Thomas Aquinas
Creator of all things, true source of light and wisdom, origin of all being,
graciously let a ray of your light penetrate the darkness of my understanding.
Take from me the double darkness in which I have been born,
an obscurity of sin and ignorance.
Give me a keen understanding, a retentive memory,
and the ability to grasp things correctly and fundamentally.
Grant me the talent of being exact in my explanations
and the ability to express myself with thoroughness and charm.
Point out the beginning, direct the progress, and help in the completion.
I ask this through Christ our Lord. Amen.