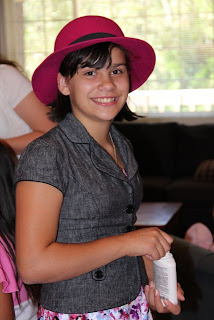 One of the sweet girls from my Little Flowers Girls' Club will be having Open Heart Surgery tomorrow, September 7th, around 1:00 pm (PST).
Could you all please keep her, and her parents, in your prayers? Thank you!
Heavenly Father, watch with us over your child, and grant that she may be restored to that perfect health which it is yours alone to give; through Jesus Christ our Lord. Amen.
UPDATE – 2:15pm (PST): Amy just posted on facebook that she just went into surgery. Please continue to pray! The surgery is suppose to be about 4-5 hours long. I will be sure to post another update later.
UPDATE – 5:33pm (PST): Amy posted an hour ago that the "procedure is going well, they will let us know more in about 2 hours. They are repairing the hole as I type this." Please keep praying!
UPDATE – 5:51pm: She is out of surgery and in recovery! Everything went beautifully and her parents should be able to see her in about an hour. Thank you all for your prayers!