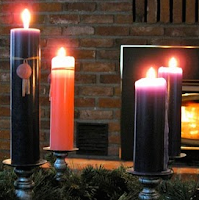 I mentioned yesterday that I spent some time this past weekend searching for Advent Candles. I had called the Monastery/Abbey Bookstore where we usually purchase our favorite Advent Candles to place an order, only to find out that the monk that usually makes the advent candles only made a very small batch this year, and they only have a couple 3″x2″ round sets and one 4″x2″ square set, priced at $18.95 per set. My concern is that we would burn through these much too quickly (since we light them for a couple hours each evening).
The woman at the Abbey bookstore suggested this lovely set of 100% Pure Beeswax Tapers, but I just love the look and practicality of the Pillar Candles for our family.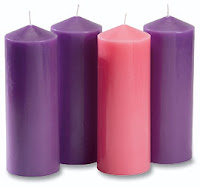 My search began… First I headed to Autom. I loved this Purple Advent Candle Pillar Set, but I wanted to keep my spending as close to $5 per candle as possible, which is what I have been spending in the past, and it was priced at $24.99 plus shipping. If I hadn't just missed their Free Shipping Offer on Facebook, I probably would have ordered this set.
The next set I considered were these smaller
3″ Pillar Candles
from Catholic Gifts and More.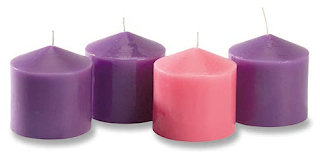 This set sells for only $14.95 and shipping is $5.95 on orders less than $19.99. They also currently have a
promotion
(I am on their email list and received the email)
offering $10.00 off any $20 purchase. This would be a great deal, if you are able to find something else on their site that you would want to order that is just over $5. The promotion expires on November 9th.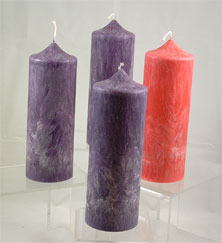 A friend then shared a link on Facebook, suggesting the Advent Candles sold by the Monastery Candle Shop. They looked like they would be perfect!! They are only $14 per set, and are approximately 6″x 2 1/2″ tall. I was about to order a set, but then the shipping calculated to be more than the actual candles… (Update: Unfortunately these did not burn well for me and I will continue searching for a new source in the future…)
Yesterday I called Brother David, the monk who makes these candles, at the St. Bernard Abbey in Alabama, and he agreed to ship 2 sets in a flat rate Priority Box (instead of using UPS), which would bring the total to only $19.00 per set. Yay!! I have a couple other friends that are looking for sets, so I might offer the extra set to one of them, or I'll just save it for next year.
I am so excited that we will have Advent Candles made at a Monastery again this year, and that we didn't need to resort to making our own, or painting some white pillar candles with crayon wax!
Note: I did consider this idea years ago, after the idea was shared by a visitor here in the comments, but I have been spoiled by the beautiful Monastery Candles. It would probably be a fun project though, and Lacy has a tutorial that she posted last year.

Speaking of crafts, I am considering ordering a set of beeswax sheets for the girls to roll candles as an American History Project. Amazon has this great Beeswax Advent Candle Kit
, which comes with enough sheets to create 3 complete sets of Advent Candles (perhaps to give as gifts), and Illuminated Ink also has a lovely Advent Candle Kit as well.
So, have you purchased your Advent Candles yet?