Last fall/winter we had a "Bear Attack" (I meant to post pictures and never did) in our little town… This summer the eagles landed, and we enjoyed "An Old Fashioned Celebration of America!" Placed along our main streets, and in the shopping center, were 23 shields featuring significant highlights of the first 23 decades of American history. Unfortunately I didn't take pictures of all the monuments as I would have liked to, while they were still displayed, but here are a few pictures that I did take one afternoon while we were walking around town: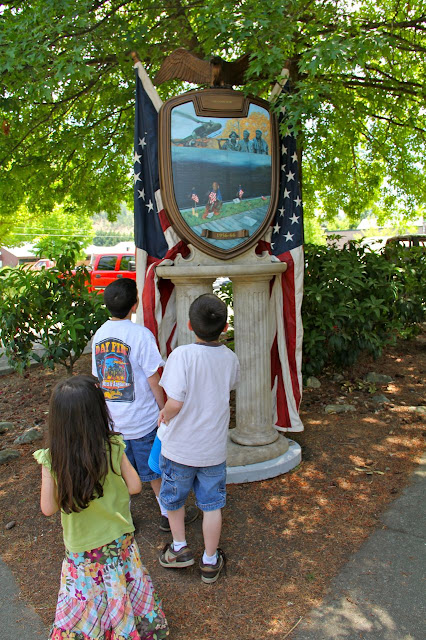 Each monument is comprised of two marble columns that hold a bronze shield that is between two U.S. flags, one with 13 stars for the original 13 colonies and the other with 50 stars representing the 50 states of the Union. On the top of each shield is the national bird, a Bald Eagle.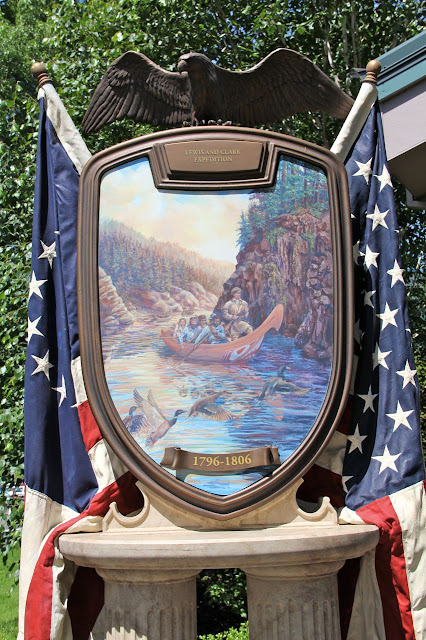 Lewis and Clark Expedition 1796-1806
Star Spangled Banner 1806-1816 (L)
Completion of the Erie Canal 1816-1826 (R)
Emancipation Proclamation 1856-1866
Building of the Transcontinental Railroad 1866-76
Chief Joseph 1876-1886 (L)
Dedication of Crater Lake as a National Park 1896- 1906 (R)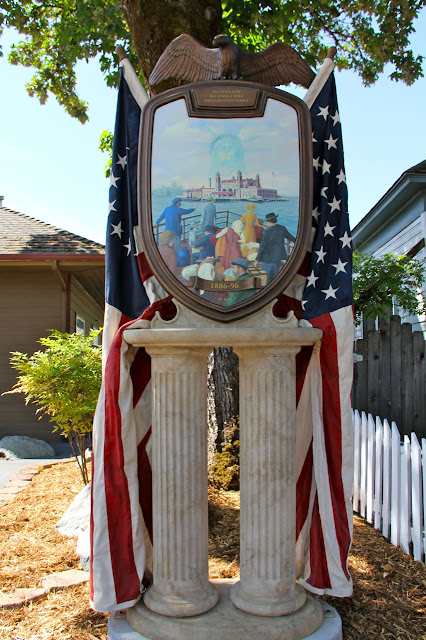 Ellis Island becomes Chief Immigration Point 1886-1896
World War 1 1916-1926 (L)
World War II 1936-1946 (R)
Lindbergh Flies Solo Across Atlantic 1926-1936
Vietnam War 1956-1966
US Lands First Man on the Moon 1966-1976
In addition to the monuments, several Bald Eagles swooped down and perched on the sidewalks!