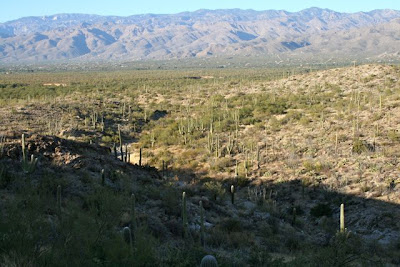 "S is for Saguaro (suh-WAHR-o), the cactus with branches like arms.
It can live for centuries in the desert. Sharp spines protect it from harm."
~ G is for Grand Canyon : An Arizona Alphabet
Our last field trip, during our visit to Arizona this past November, was to the Saguaro National Park.
"Enormous cacti, silhouetted by the setting sun, for most of us the Giant Saguaro is the universal symbol of the American West. And yet, these majestic plants are only found in a small portion of the United States. Saguaro National Park protects some of the most impressive forests of these sub-tropical giants, on the edge of the modern City of Tucson." ~ Saguaro National Park Website
When we arrived to the park, we headed to the visitors center to pick up activity booklets and check out discovery packs (containing a variety of tools to assist in completing the 12-20 page desert-themed workbooks) for the
Junior Ranger Program
. Even though the program is geared towards children ages 5 and up, they were kind enough to let Snuggles participate as well!
Our next stop was the picnic area, where we ate lunch and got started with some of the assignments in the activity booklets.
Hubby and the boys then went exploring (they were searching for a saguaro to study) while the girls and Snuggles stayed with me, close to the picnic area, observing all the wildlife.
We then all headed into the park, as "Desert Detectives," searching for certain plants, animal tracks, nests or nibble marks on cactus, and other clues that animals leave behind. We also had fun looking for, and identifying, some of the birds in the park including Gambel's Quail, Cactus wrens, Red-Tailed Hawks, Cardinals and Turkey Vultures. We even saw a couple Roadrunners!
Twinkle Toes was very happy when she "finally" found an animal hole and was able to check it off her list!
It was so neat to see all the different cacti and even a few "skeletons."
Hubby also took a picture of all of us next to the cactus we choose as our "family favorite:"
After completing the workbooks, and answering some question from a Park Ranger, all the children were awarded official Saguaro National Park Junior Ranger certificates and badges.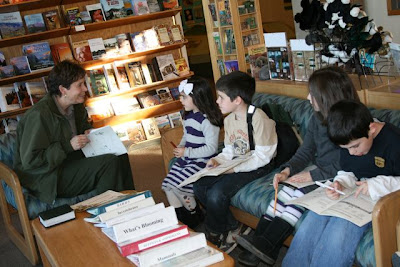 Well, with our late start in school this past fall, traveling in November, and then our Christmas break, we may not be as far along in this year's
science textbook
as I would like, but I am thankful for all the extra learning opportunities our children have had this year!