"It's important for moms to recognize that all the small successes in our days can add up to one big triumph. So on Thursday of each week, we do exactly that."
~ 1 ~
The other day my mom (I love that she reads a few blogs now, including mine!) wanted to know why I didn't include a picture of the new Easter Baskets, which I had been telling her about, when I posted some
Catholic Easter Basket Ideas
.
Yes, I am very excited about our Easter Baskets this year! Every year when the Spring Pottery Barn Kids Catalog shows up in our mailbox I fall in love with the Easter Baskets. Every year they are way out of our budget! So this year, knowing that I needed to get at least a few new Easter Baskets (some of the "affordable" baskets I have purchased in the past need to be replaced), I decided to try and improvise.
I was so excited when found very similar white wicker baskets 50% off at Michaels – only $8.49 each! I then was able to find a couple of the liners I wanted at a great price on ebay, ordering the remaining liners directly from Pottery Barn (the prices for monogramming have actually increased since I purchased mine, and most of the small liners have sold out). They are perfect! I just need to find a few brown wicker baskets for the boys… It will be so nice to have baskets that my children will be able to use year after year!
Here is a picture of the back of Twinkle Toes and Chiquita's new baskets. They have their names embroidered on the front in Bright Pink (TT) and Purple (C) thread.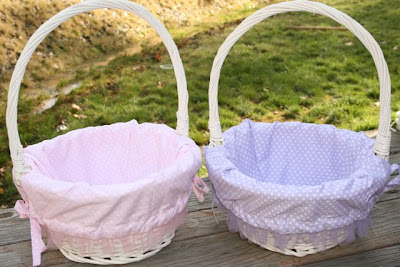 After the fact, I was thinking how neat it would be to sew your own basket liners and mail them to
Catholic Embroidery
for personalization – perhaps with the child's patron saint symbol, or a catholic quote!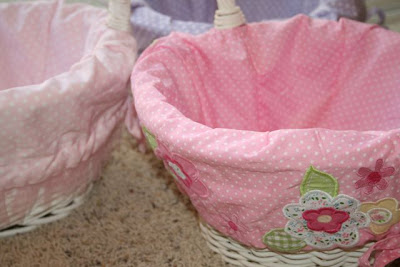 Rose's basket has cute little fabric flowers and her name is embroidered in
Green
on the front. I think, for her, I want to start a tradition that I read about in a
sweet little book
that was illustrated by my Godmother:
"If you have a young daughter, consider this heirloom idea. Each year on Easter, tie a different pastel ribbon in your daughter's hair. After Easter is over, tie the ribbon on her basket. When she gets older she will have a basket full of beauty and memories."
The kids and I nearly ruined made our family Paschal Candle for Easter yesterday! Despite all my mistakes, it turned out beautiful. I can't wait to share some pictures once I get them uploaded!
~ 3 ~
I also found beautiful Easter Dresses on sale for my older girls with matching headbands. (They will make perfect dresses for their Little Flowers Tea Party later this year as well!) It's so hard to find pretty spring/summer dresses with sleeves lately, but these will work great with a little white top underneath and a cardigan if it is cold. Now I just need to figure out Easter outfits for the other four children and myself. . . Here is a sneak peak at the colors.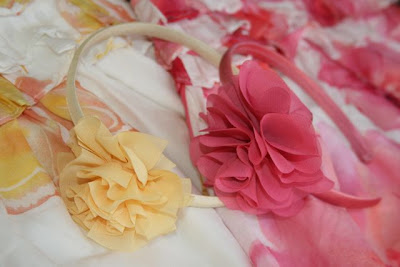 Well, I have to run. . . It is gorgeous outside and we are off to the library and to drop off four boxes (a big success!) to Goodwill. Hope you are all having a great day!