"It's important for moms to recognize that all the small successes in our days can add up to one big triumph. So on Thursday of each week, we do exactly that."

I haven't posted Small Successes since last November, but since I didn't have time for a Daybook this week, I thought I would post these instead.
~ 1 ~
I spent some time on Saturday working on a new header for Catholic Cuisine. I have received quite a few complaints about the layout this past year – some people are not able to see the sidebars, others would like the posts to have a white background for easier printing, etc. It isn't that hard to change the actual template, but the problem was that the header which is currently being used is part of the actual template and cannot be transfered to another blogger template. I did not want to hire/pay someone to create one for the blog… (Catholic Cuisine is a free site and we have never looked for sponsors or have had paid advertising on the blog. Some posts do contain affiliate links, which pay a percentage if a purchase is made after someone clicks over, but that very small amount is the extent of any "income" that is generated from the blog.) Anyhow, at the suggestion of a friend, I spent Saturday evening over at Picnik (what a fun site!) trying to create a new header, using a painting of The Last Supper by Domenico Ghirlandaio. I thought it turned out nice, but I am still nervous about actually making changes to the blog – it has been the same since I first created it back in 2008… So, I thought I would give you all a sneak peek here first. I'd love to hear whether or not you like it… 😉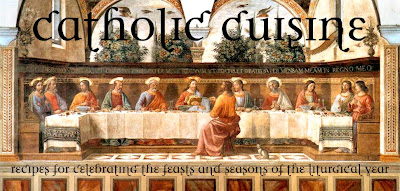 ~ 2 ~
The weather has been beautiful this week! Mostly sunny, with highs around 55˚… It is still chilly, but nice enough to go outside each afternoon. On Monday the kids and I worked on cleaning up our yard and then I even took the initiative to figure out how to fire up Hubby's leaf blower, after filling it up with gas, to clear all the fallen pine needles off the driveway. It's hard to pull start a leaf blower!
~ 3 ~
The girls and I spent most of Monday and Tuesday evenings cleaning and organizing their room
again
. It could still use a bit more work, but we made pretty good progress. We went through all of their clothes, pulling out what had been outgrown, filling a couple bags to donate, and sorting/organizing what was left. We then organized all of their toys. My favorite change was moving their
Dollhouse
and Fairy Forest Lodge, as well as all the
accessories
off the floor and into their armoire. The girls are loving being able to leave their toys all set up and just close the doors so their sweet little sister can't get her hands on all of it when she sneaks into their room. 😉