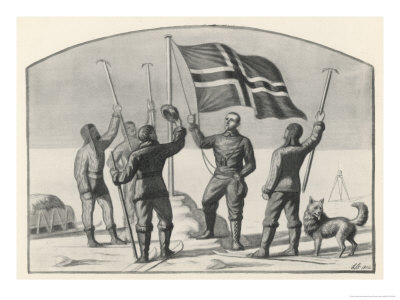 On Dec. 14, a century ago today, Roald Amundsen and the four members of his team became the first humans to reach the geographic South Pole, which sits in a lifeless desert nearly 1,000 miles from the Antartic coast. "That day," he wrote, "was a beautiful one," and at 3 o'clock in the afternoon they planted the flag of Norway, each man with one hand on the flagpole.
This afternoon, while I was in the middle of baking a cake for Rose's birthday tomorrow, I noticed that it was the 100th Anniversary of the first person to reach the South Pole. I happened to have some extra cake batter, along with a fun North Pole Cupcake idea I had been wanting to try, so I decided to surprise the kids with an afternoon snack and extra history lesson when they got home from piano! I was wishing that I had the Race to the South Pole Coloring Book, but instead we did a little research on The Frozen Continent of the South Pole and added the date of discovery to our timelines along with some illustrations inspired by some google images of the discovery and/or Draw Write Now, Book 4: The Polar Regions, Arctic, Antarctic.
I love it when these types of impromptu learning opportunities just fall into place, and in the meantime Rose's cake is all ready for tomorrow! Yay!