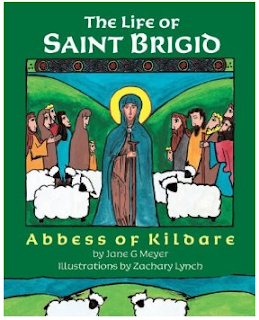 Today is the feast of St. Brigid of Ireland, Abbess of Kildare. This afternoon we will be reading a few books about St. Brigid. A couple of our favorites are Brigid's Cloak
(with the study guide in Catholic Mosaic
) and Saint Brigid and the Cows. This past year I also purchased The Life of Saint Brigid: Abbess of Kildare
to add to our collection. It is a beautiful book, and I am glad to have it in our home collection.
For those of you that don't have a picture book of St. Brigid (or even if you do), I wanted to let you all know that, like the book Lucia, Saint of Light, The Life of St. Brigid is also available to listen to at Ancient Faith Radio! I plan to play it for my children later today.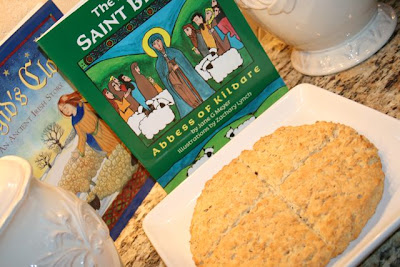 We will also be enjoying some more of St. Brigid's Oaten Bread and Irish Potato Pancakes. Don't forget to print out the lovely coloring page at Waltzing Matilda and/or copy the one from Fenestrae Fidei, and here are directions for How to make a St. Brigid's Cross.
O Glorious St. Brigid, Patroness of Ireland and Mother of the Churches, protect the Irish Church and preserve the true Faith in every Irish heart, at home and abroad. Obtain for us the grace to walk faithfully in the path of Christian perfection during life, and so to secure a holy and happy death, with life everlasting, in thy blessed company, through Jesus Christ, our Lord. Amen.
Happy St. Brigid's Day!