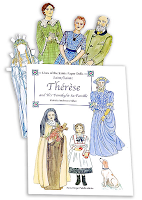 With the feasts of St. Therese coming up on Oct. 1st and 3rd (yes, we usually celebrate both her New and Traditional feast days, with our wedding anniversary in between the two on the feast of the Guardian Angels!), I thought now would be a great time to share some pictures of a fun little book I purchased for the girls a couple years ago: St. Therese and Her Family Paper Dolls!
This great little booklet, which helps the Little Flower and her amazing family come to life for little girls, includes 14 beautiful large paper dolls, approximately 10″ high: St. Therese as a child and as an adult; her parents, Blessed Louis and Blessed Zelie Martin; her sisters; her aunt, uncle and cousins; and even the Therese's dog, Tom. In addition to the beautiful dolls, it also comes with 46 different authentic outfits, including little girls' dresses, feast day outfits, traveling dresses, wedding gowns and religious habits for all 5 of the girls.
I loved the book and dolls so much when I first purchased it, that I didn't even want to cut them out for my daughters, thinking they would ruin them (since they were just made of paper) and decided to save them until they were a little older… Then I received an email with some photos and a suggestion from a visitor here, sharing what she had done with her paper dolls – cutting off the tabs, laminating, and then using glue dots to attach the clothes! I loved the idea!!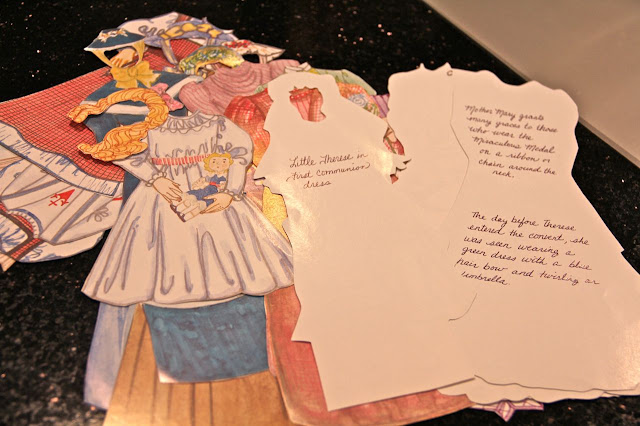 I started with cutting all the dolls out (which can be a very time consuming task, unless you have older children that can help, considering all the pieces), writing little notes about the outfit and who it belongs to on the back, then the laminating (I purchased this laminator from Costco for less) and trimming went pretty quickly.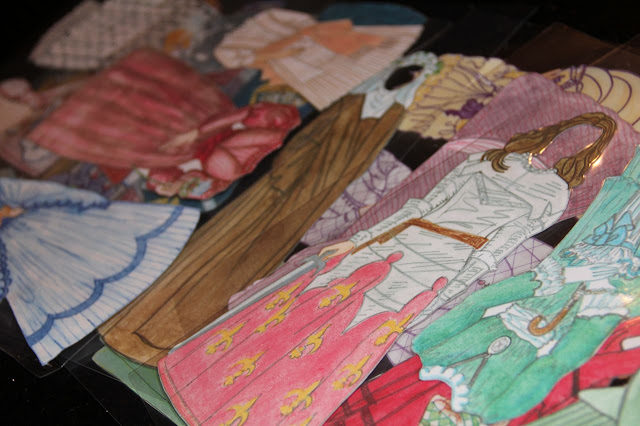 Here are a some pictures of all our completed dolls: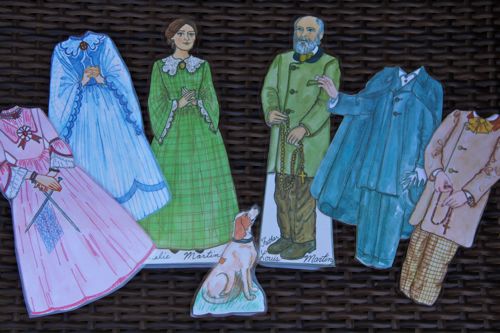 St. Therese's Parents, Blessed Zelie Martin and Blessed Louis Martin, and her dog, Tom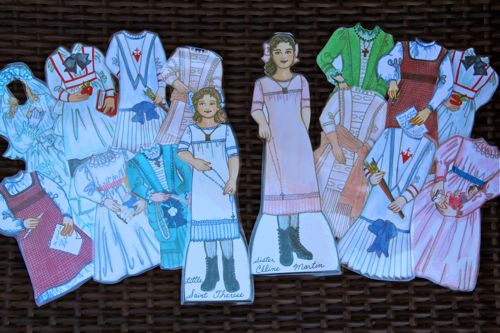 Little Therese and her sister, Celine Martin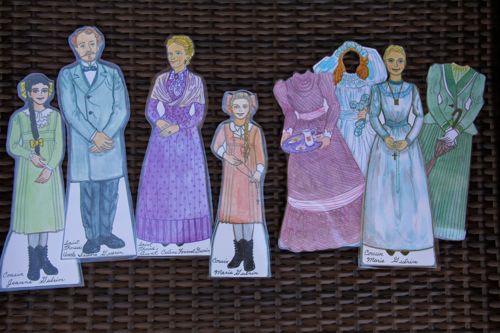 St. Therese's Cousin Jeanne Guerin, Uncle Isidore Guerin, Aunt Celine Fournet Guerin, and Cousin Marie Guerin as a child and adult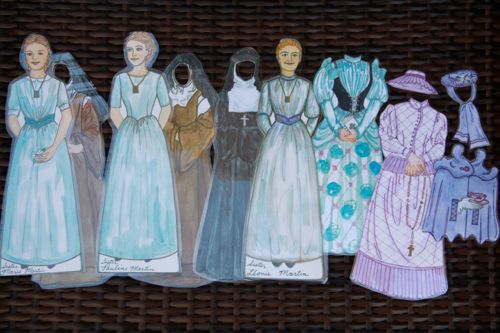 St. Therese's sisters Marie, Pauline and Leonie Martin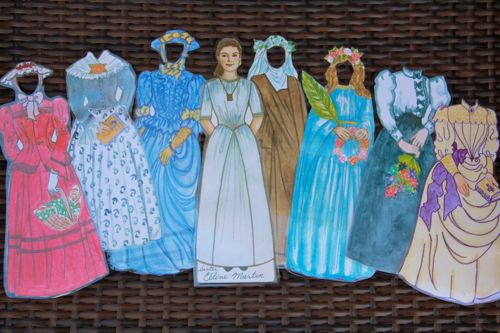 St. Therese's sister Celine Martin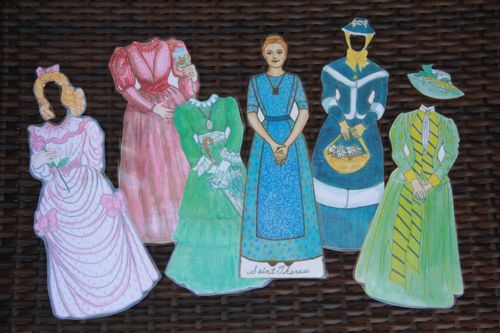 St. Therese with outfits from prior to entering Carmel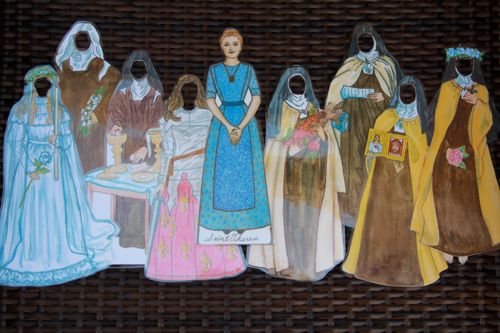 St. Therese after entering Carmel
Instead of using glue dots, I have been giving my girls a little bit of poster tack for attaching the outfits, which works wonderfully, and they don't get frustrated with the paper tabs falling off the dolls so easily, yet it is easy enough to remove and change outfits.
This book of dolls is available from Amazon or Sacred Heart Books and Gifts.
Now I am looking forward to eventually purchasing the other books in the series to do the same, including the St. Joan of Arc Paper Dolls and Blessed Kateri Tekakwitha Paper Dolls… Maybe for my girls for Christmas!