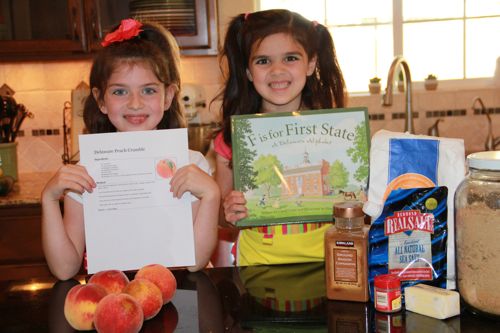 My boys have very slowly been scrapbooking their way through the 50 States. Since we are now focusing on American History I am hoping that they will be able to make much more progress this year, and perhaps finish the study. Now that the girls are a little older, they will also be joining the fun, and hopefully catching up to the boys soon, so we can study each state all together.
Like the boys, the girls will also be reading the Discover America State by State Books
and completing some of the Student Activities.
Unlike the boys, the girls will be taking a slightly different approach, completing simple Notebook Pages for each state (after reading and studying the Alphabet Book) and then spending some time in the kitchen preparing a recipe (or two) that tie in to each particular state in some way. They are very excited and just completed their study of Delaware this week!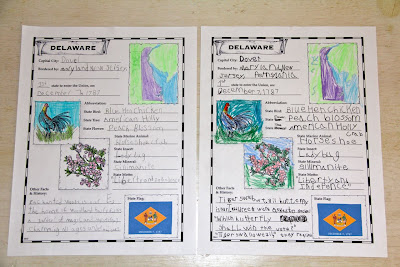 Delaware Notebooking Pages
by Twinkle Toes (L) and Chiquita (R)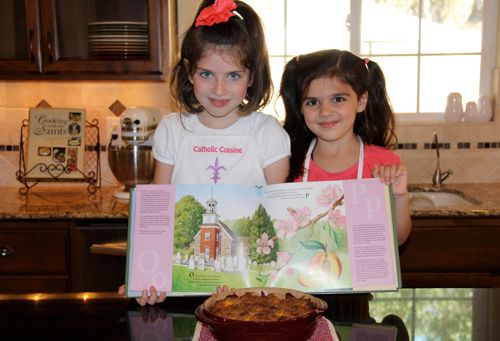 "The Spanish brought the peach to the New World,
a very bountiful fruit tree.
The blooms became our state flower,
so Peach blossom is our P."
Ingredients:
½ cup flour
½ cup brown sugar
½ teaspoon nutmeg
1 teaspoon cinnamon
Pinch of salt
4 tablespoons butter
5 peaches, or 2 16-oz. cans of peach halves, drained and sliced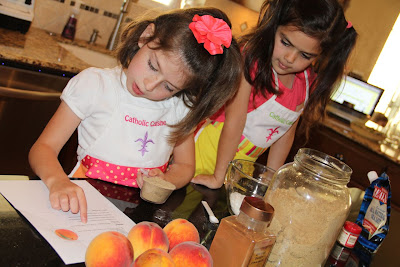 Directions:
First, make the topping by combining flour, brown sugar, nutmeg, cinnamon and salt in a bowl.
Cut in the butter and mix with your fingers until crumbly. Set aside.
Peel and slice peaches. Arrange the slices in a buttered 1-quart baking dish.
Cover with the crumble topping and bake at 450 degrees for 20 minutes.
Serve warm with ice cream or whipped cream.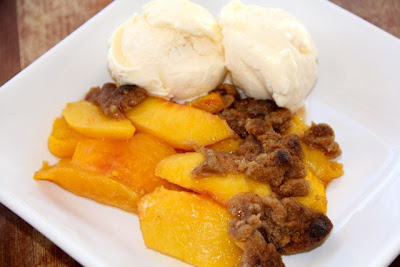 The Peach Crumble sure didn't last long, but it was such a fun way to end our school week!
Resources we used for this State Study:
F is for First State Teacher's Guide (
pdf
)
Other Posts of Interest:
State-by-State Scrapbook
State-by-State Scrapbook :: Delaware
P.S. Is there anyone out there from Delaware that would be willing to send my kiddos a Delaware postcard? If so please send an email to jessica.showerofroses(at)gmail(dot)com. If you have children studying the states, we'd gladly return the favor with a postcard from our state!