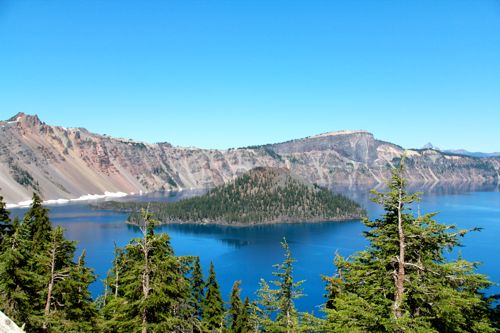 Can you believe that I have lived here for nearly 20 years, and this was my first visit to this gorgeous lake?!? Even my husband's sister, who lives all the way across the country, has visited (when she came out for our wedding) and even got engaged to her husband at this beautiful National Park!
Following a beautiful Mass in our home and brunch with Father, we made the drive to visit the lake!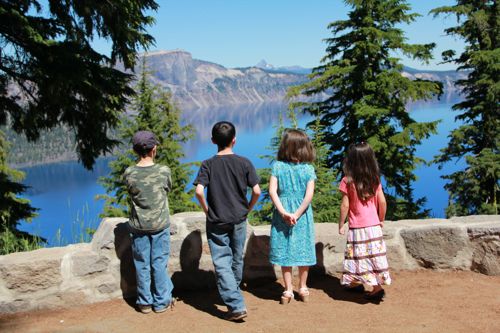 I have seen tons of pictures, and had a pretty good idea of exactly what the lake looked like, but still seeing it in person was absolutely breathtaking.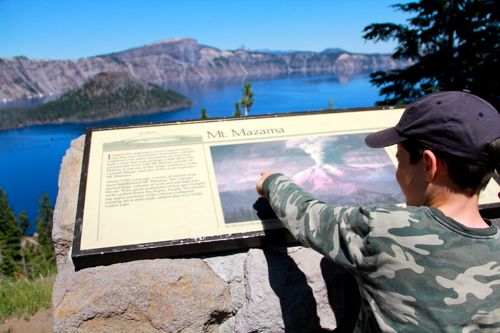 Crater Lake was formed many, many, many years ago, in the deep caldera formed following the volcanic eruptions and collapse of Mt. Mazama. The lake is 1,949 feet deep at its deepest point, making it the deepest lake in the United States and the ninth deepest in the world! However, when comparing its average depth of 1,148 feet to the average depth of other deep lakes, it becomes the deepest lake in the Western Hemisphere and the third deepest in the world. It is also one of the clearest!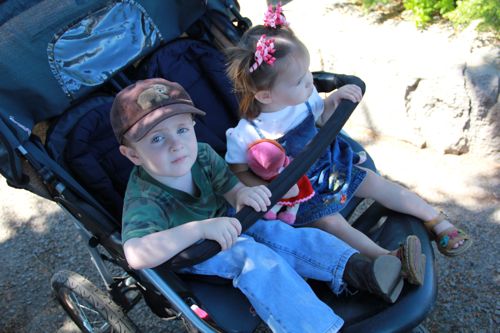 With the lake being surrounded by cliffs nearly 2,000 feet high, we kept the little ones in the stroller most of the time, much to Snuggles disappointment.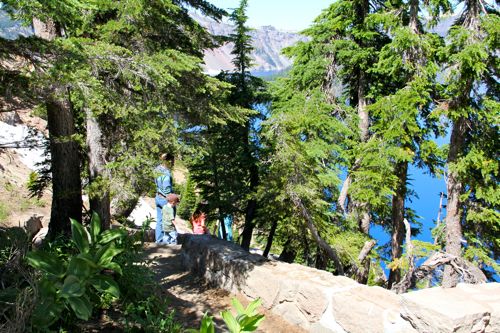 He was very happy when he was allowed to get out and explore with Daddy!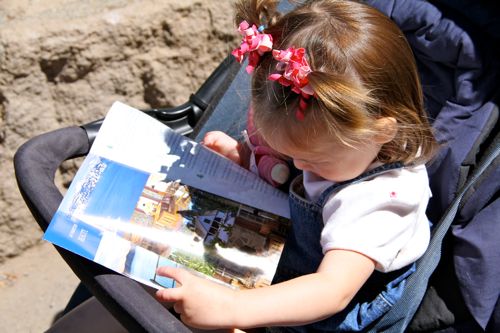 Rose was quite content with looking though the various brochures! 😉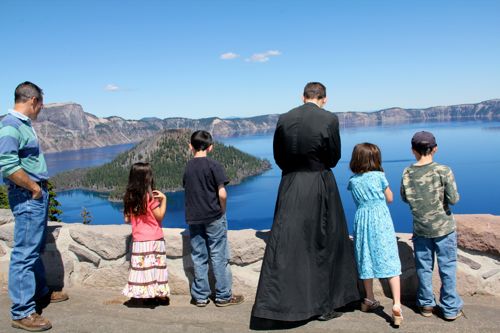 Crater lake doesn't have any streams flowing into or out of it, and all water that enters the lake eventually evaporates or is lost from subsurface seepage. The lake is re-filled entirely from snow and rain, and is considered to be the cleanest large body of water in the world.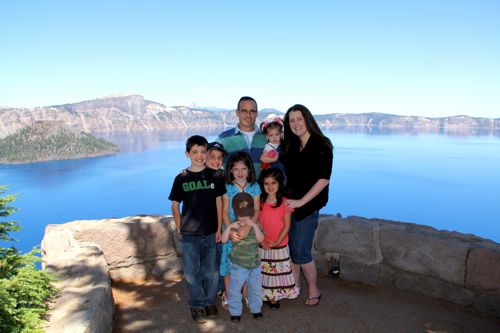 Father took a picture of our family in front of the lake, and, of course, Snuggles refused to look at the camera! 🙂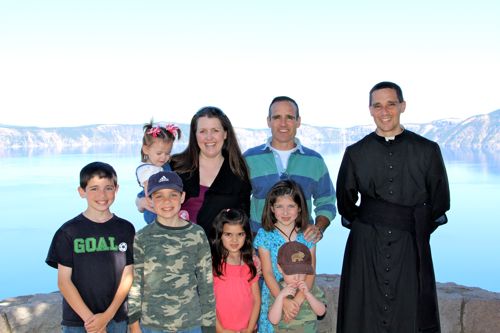 A passerby offered to take a picture of all of us! It's not the best picture, and the lake is washed out, but is the only one we have of all of us during Father's visit.
On our way home we picked up pizza for dinner and had just started to eat when our neighbor drove up to alert us to the fire that had just started… It wasn't exactly the way we would have liked to end our visit, but such a blessing to have him here at the same time! Hopefully it won't be too long before we are blessed to see him again.